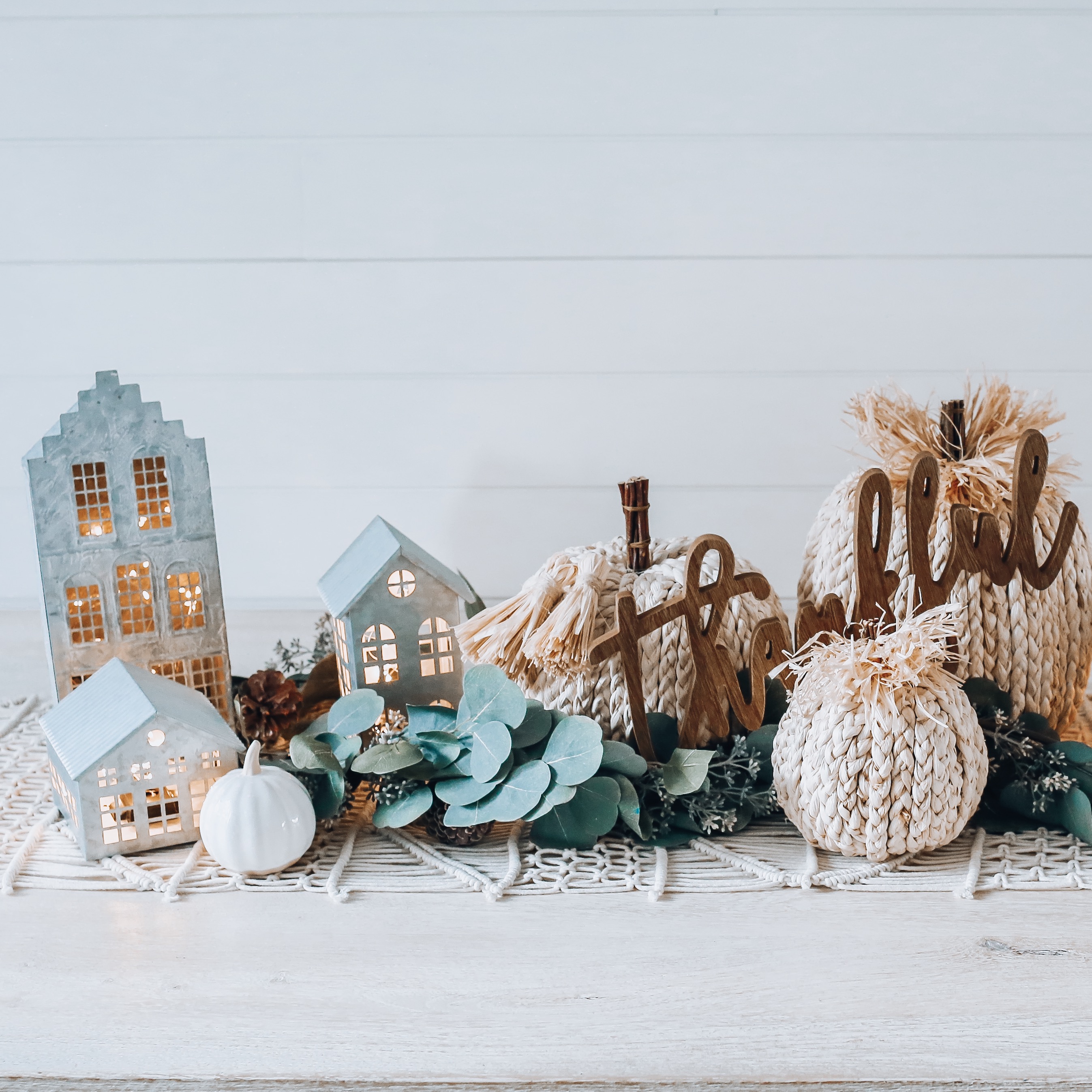 I can't believe its already November! Life is just flying by! I want to share with you my Thanksgiving and Fall tablescape to give you a little inspiration for the upcoming Autumn festivities. I always follow a few rules when building a table setting.
Mix and Match – I love to mix and match metals and textures. Don't be afraid to combine different patterns too. It creates visual interest and gives a special one of a kind look to your decor. I used gold, silver, wood, and woven textures.
Varying Heights – Use stands, flowers and candles to create different levels of height for the table. I used tall pumpkins and the thankful sign to add dimension.
Keep it casual – These stands true for me while my children are small. I never want my kids to be afraid of sitting at the table in fear of breaking something. The plates I used are actually disposable from Target!
Lighting – Lighting in any design is key. If you have small children and are afraid of using candles, use the battery operated wire lights. In my table setting I have the lights inside the houses to create ambiance and wonder.
Greenery – Always use greenery. It brings life to your table. If you can use real flowers or greenery that is always the best option, but if that can't happen, use faux!
If you would like to see a video of my tablescape visit my Instagram Stories to get an up close and personal view of what I used.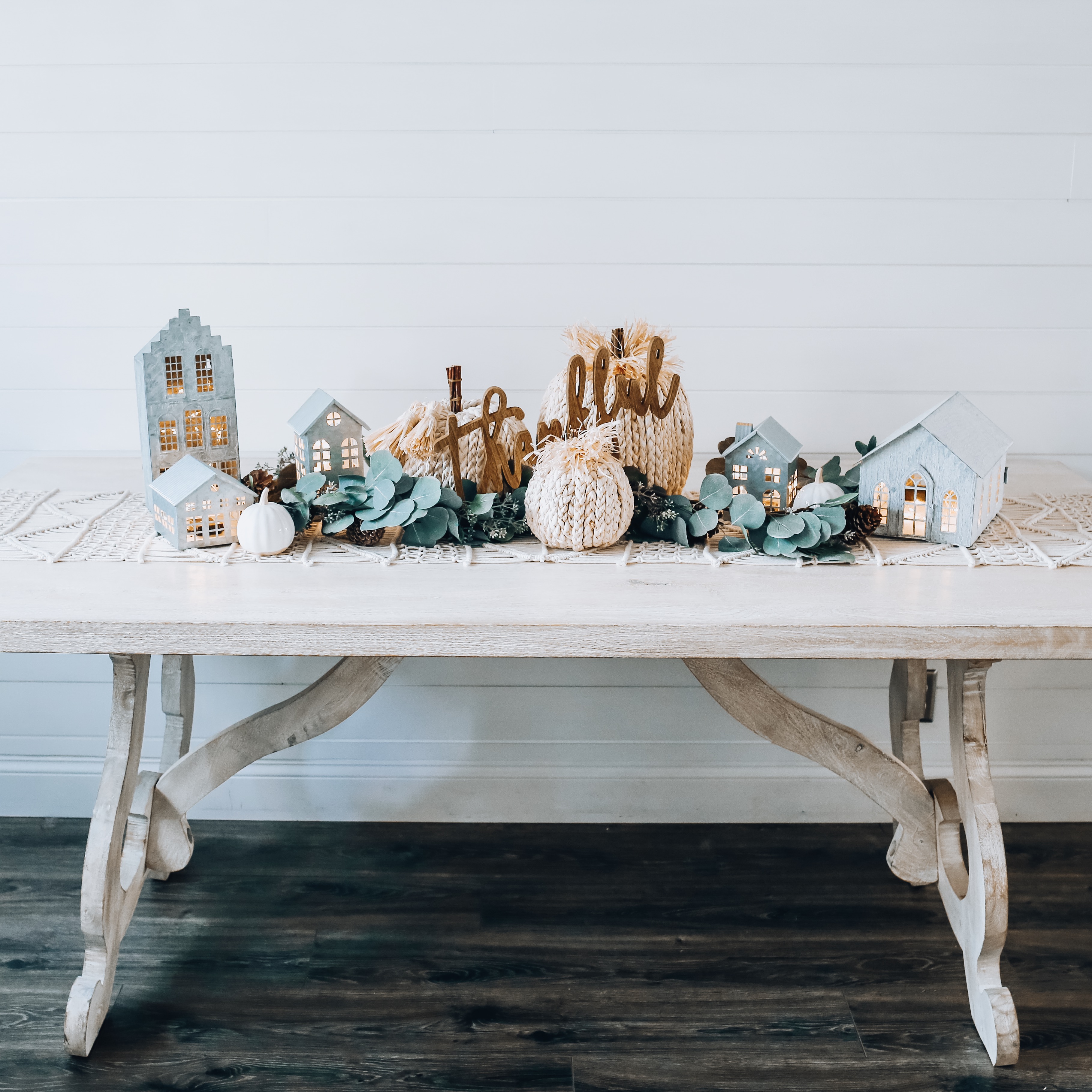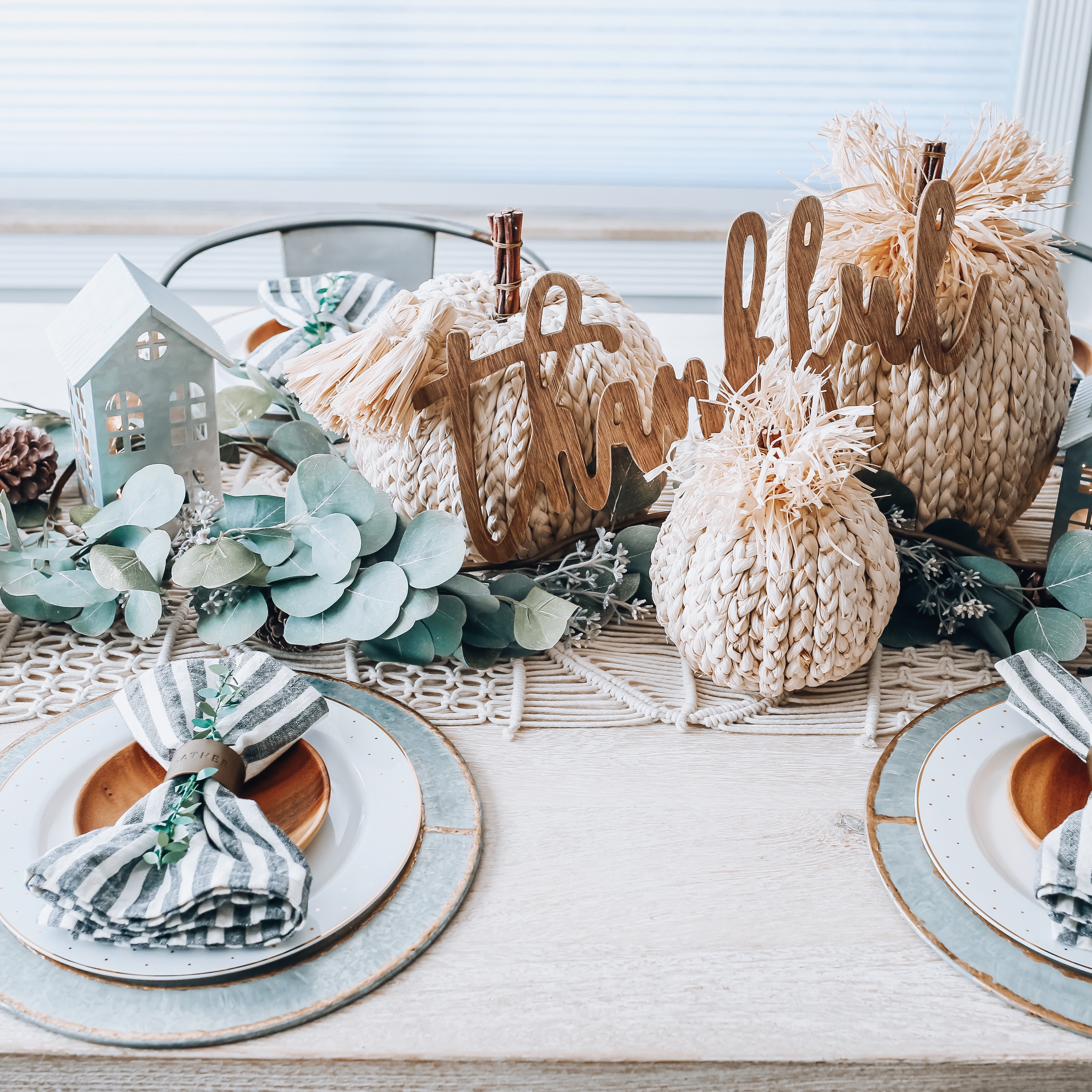 Shopping links for you to create my tablescape in your home:
Woven Pumpkins:
https://rstyle.me/+W-TrZIqGuoSNsrEjVSgQww
https://rstyle.me/+6U-Uy8sPebnnrzDtRScCWg
Wooden Thankful Sign:
https://www.joann.com/simply-autumn-thankful-script-wall-decor/16672008.html#q=thankful&start=1
Galvanized Small houses:
https://rstyle.me/+HNeYlQkDlfMTLwJtkF2j-Q
Large Galvanized Village Houses:
https://rstyle.me/+z2Lx3uTZEtrmVE-j3-bing
Galvanized Church
https://rstyle.me/+CpFzNx9JRCFszzk3WHc-Gw
Galvanized Half House:
https://rstyle.me/+5XOKYIQgPdXVm7zxuLoZBw
Faux Eucalyptus
https://rstyle.me/+wft66YCzAyBAz3gZIgSbhA
Macrame Table Runner
https://rstyle.me/+Qba1SINSFR_JO5Pex57Kdg
Hearth and Hand Chargers
https://rstyle.me/+Duqpbmjfy0Fyl_mk-ugOmQ
Gold Dot Dinner Plates
https://rstyle.me/+yhPYQiif2YqDE3uF-8r9GQ
Wooden Appetizer Plates:
https://rstyle.me/+nh_gyHaXWdJ3GMkoussBWw
Galvanized Napkin Rings (alternative)
https://rstyle.me/+UuNvPx1bBekz_kOOCAaUyQ
Cloth Napkins (alternative)
https://rstyle.me/+v-f5ktiLXT-ZaoVzO4ZLAA
Go check out these talented bloggers to see their Thanksgiving Tablescapes
chrissymarieblog.com/simple-thanksgiving-tablescape
katelynbmelton.com/my-thanksgiving-tablescape
mamajots.com/2019/11/modern-classic-thanksgiving-table-scape.html?m=1