It's the most wonderful time of the year!! Are you looking for a little Christmas Home Decor inspiration this year? Well look no further! Christmas is one of my favorite holiday's, of course after Halloween. Being able to bring my visions to life is what I love to do. I really like to incorporate neutrals and hints of pink into my Christmas home decor when I can.
This post contains affiliate links.
With the holiday's you can be as simple or as over the top as you envision it. Here are a few Holiday projects that were a hit last year. I'm excited to share so much more magical inspiration with you for this year! Follow me on Instagram to see what is new for this Winter Season.
Hanging snowflakes are such a great inexpensive decor idea for the Holiday's. You can get them anywhere, or make your own with some paper, scissors or Cricut and hang them from the ceiling. It gives a magical and whimsical touch with little effort. Hang with command hooks, gaffer tape or push pins.
Decorating Our Faux Tree- Mr. Twiggy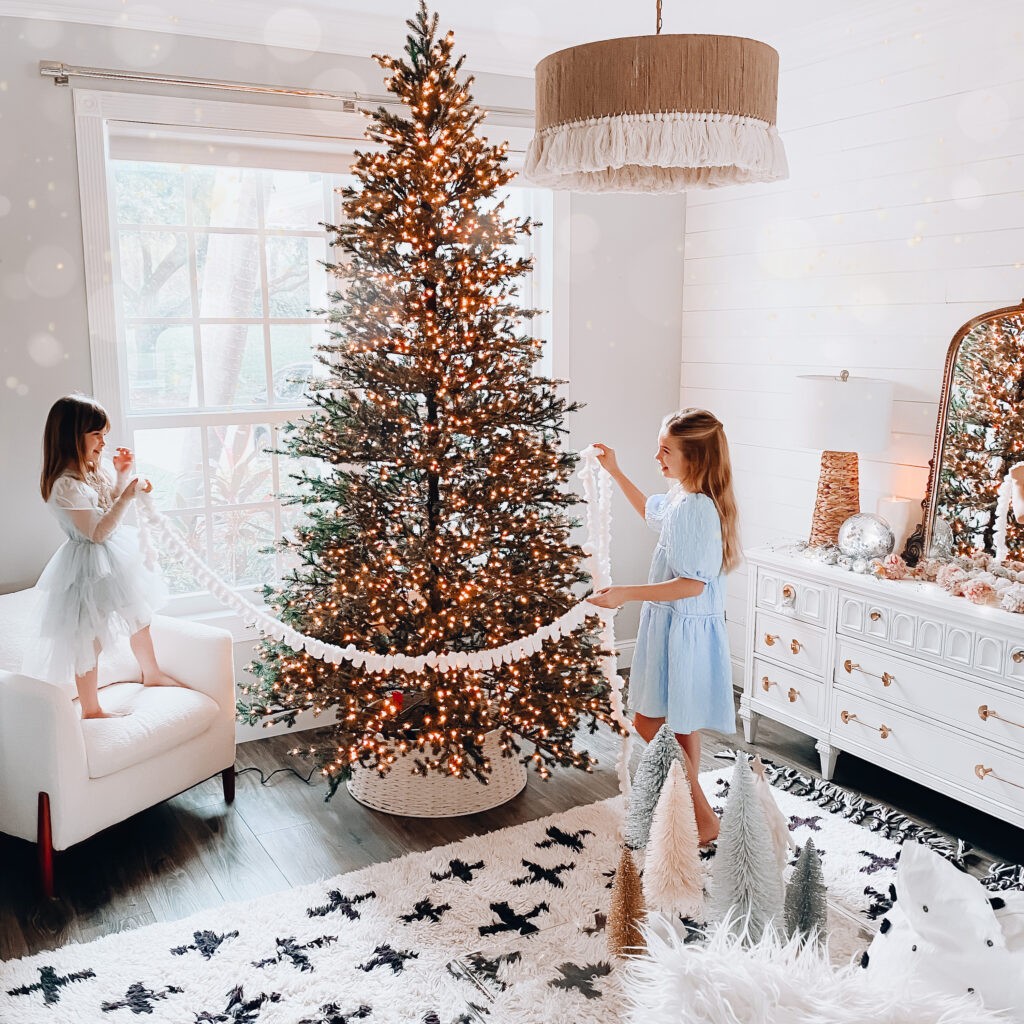 This was our first year with a faux tree. Mr. Twiggy is legit and we love him! I couldn't suffer through my allergies anymore with a real tree. So I'm embracing the faux life. You can purchase your own Mr. Twiggy here.
I used the Hobby Lobby yarn Fur a loop for an inexpensive garland, bird houses and frayed ribbon on the ends of the branches. The ribbon is gorgeous and comes in 11 colors.
DIY Advent Calendar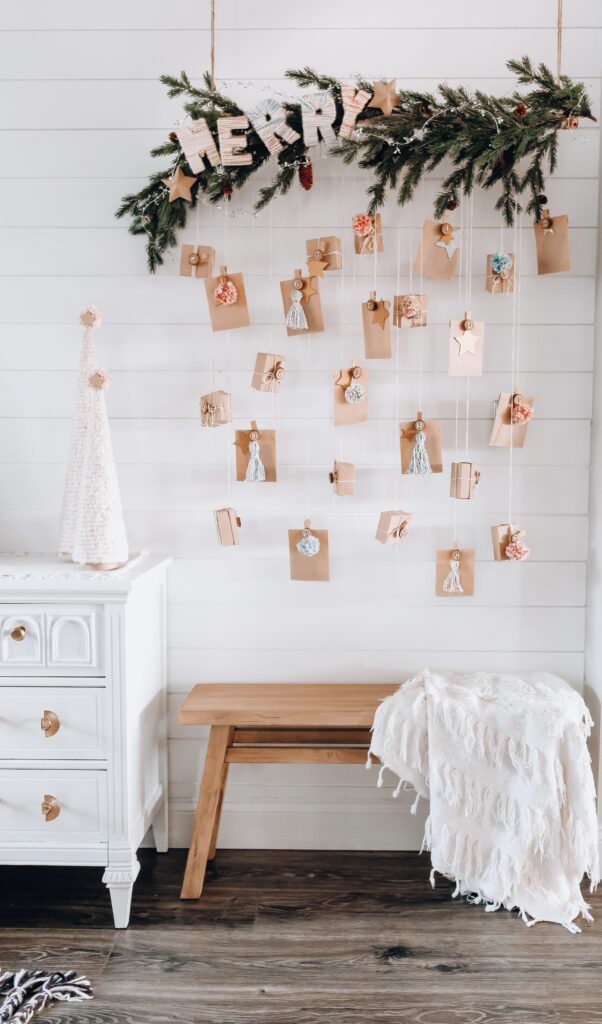 My girls love the advent calendar! Last year I created a fun Scavenger Hunt for each day. Each package is numbered for every day of December. Inside they will find a clue that will lead them to a treat or activity of the day. Check out my Advent calendar post from last year here.
Christmas Mantel Decor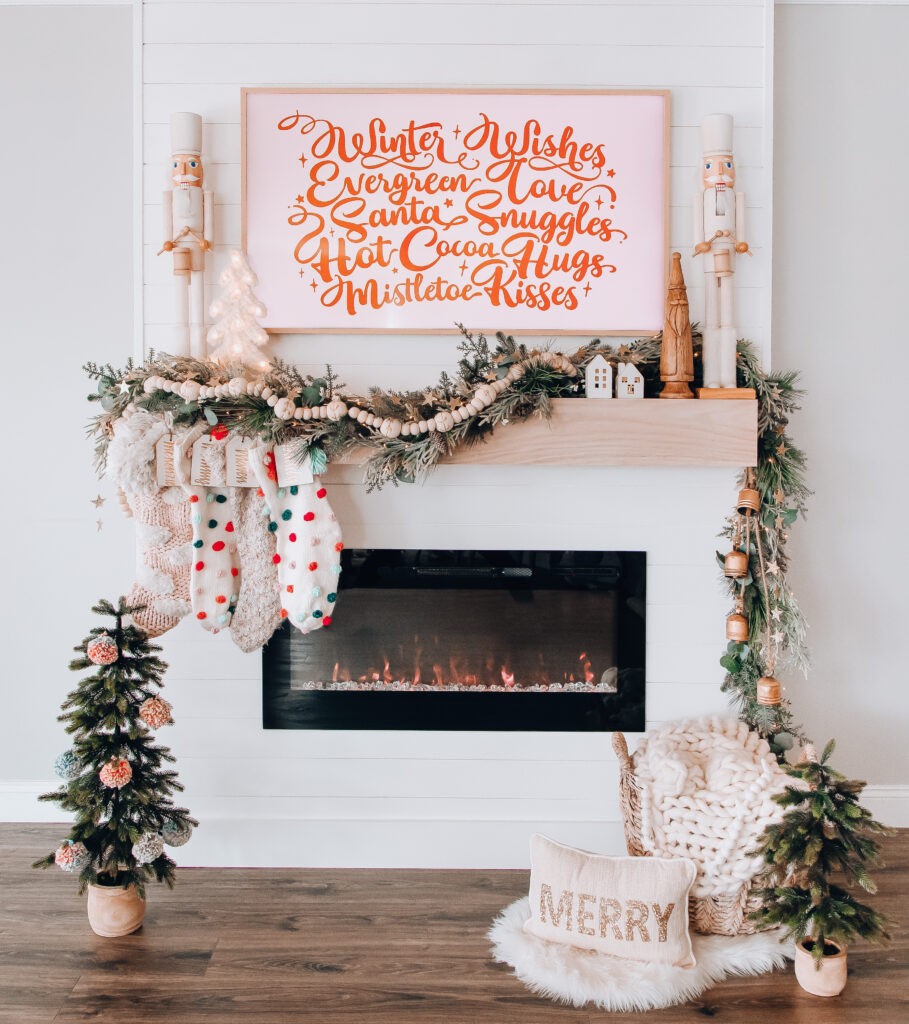 This was our first year with a mantel and it is glorious! This whimsical artwork that I worked with @threadmama_story to create is dreamy. You can print them out for home decor or if you have a Samsung Frame TV you can download it to your TV. Two different styles in 5 color ways!! And guess what!? They are FREE to download. Click HERE to get yours. A little gift for the best followers on the planet.  All the details of how I styled my mantel, more photos, free download links and shopping links all HERE.
DIY Nutcracker Squad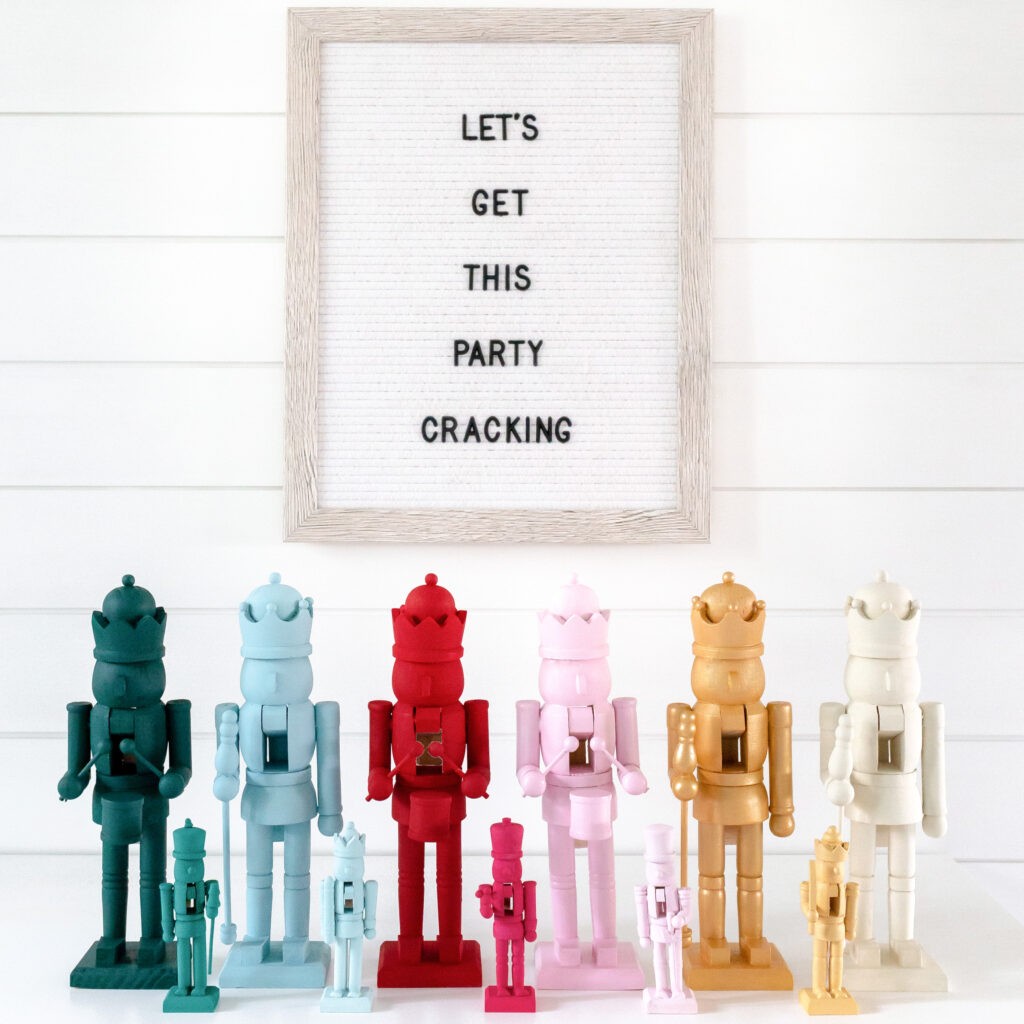 I love this fun diy that's easy enough to do with your kids. The wooden nutcrackers are from Hobby Lobby. You can get them at Michaels too. Just add your favorite paint colors and voila you have a great statement piece for your dining room table or mantel this Holiday season.
For these nutcrackers I used Ceramcoat Hunter Green, Folkart Sky Blue, Craftsmart Holiday Red, Craftsmart Light Pink, Martha Stewart Metallic Gold and Ceramcoat Light Ivory. I mixed the Light ivory acrylic paint in with the other paints to made the lighter shades for the baby nutcrackers.
DIY Door Mat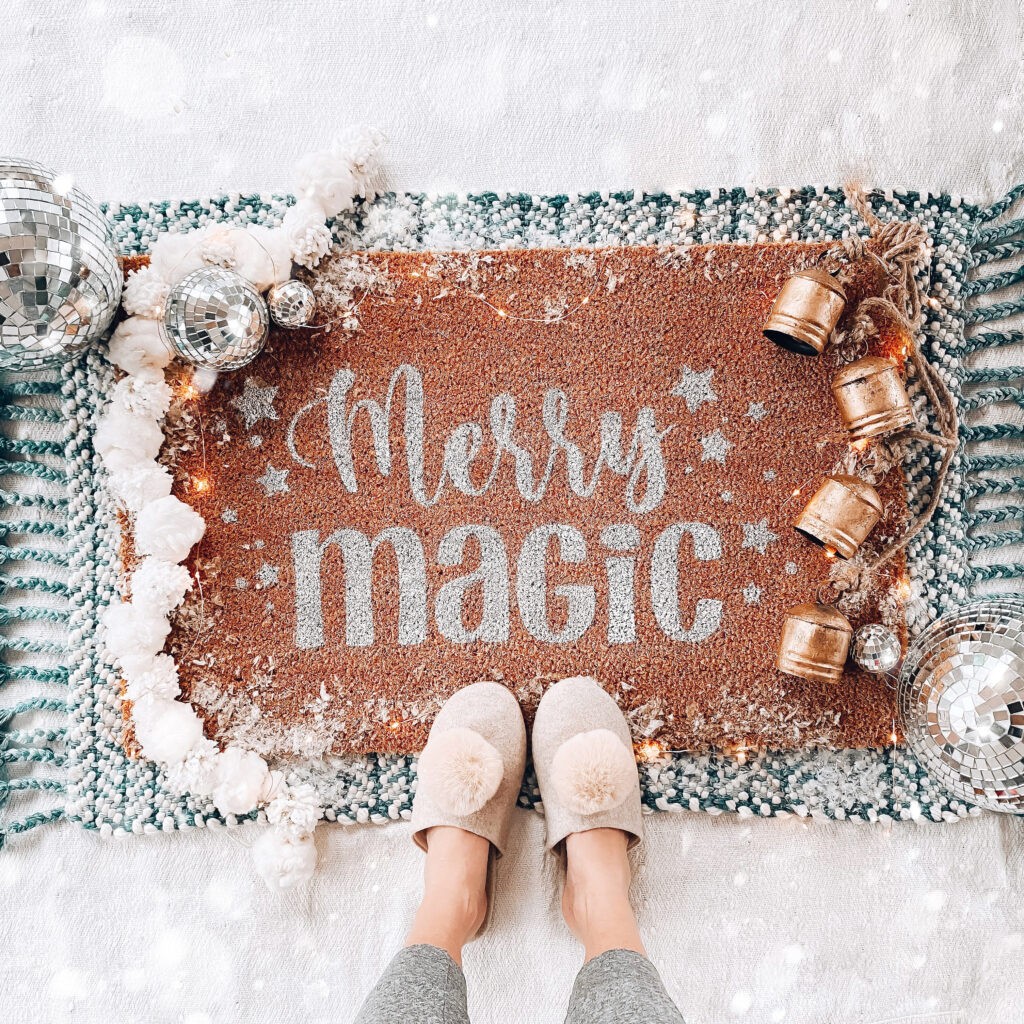 I love how our doormat came out last year! I used my Cricut to design my stencil and white Flex Seal spray for the letters. I wouldn't say this is easy but it is so worth it when it's done!
Wrapping Gifts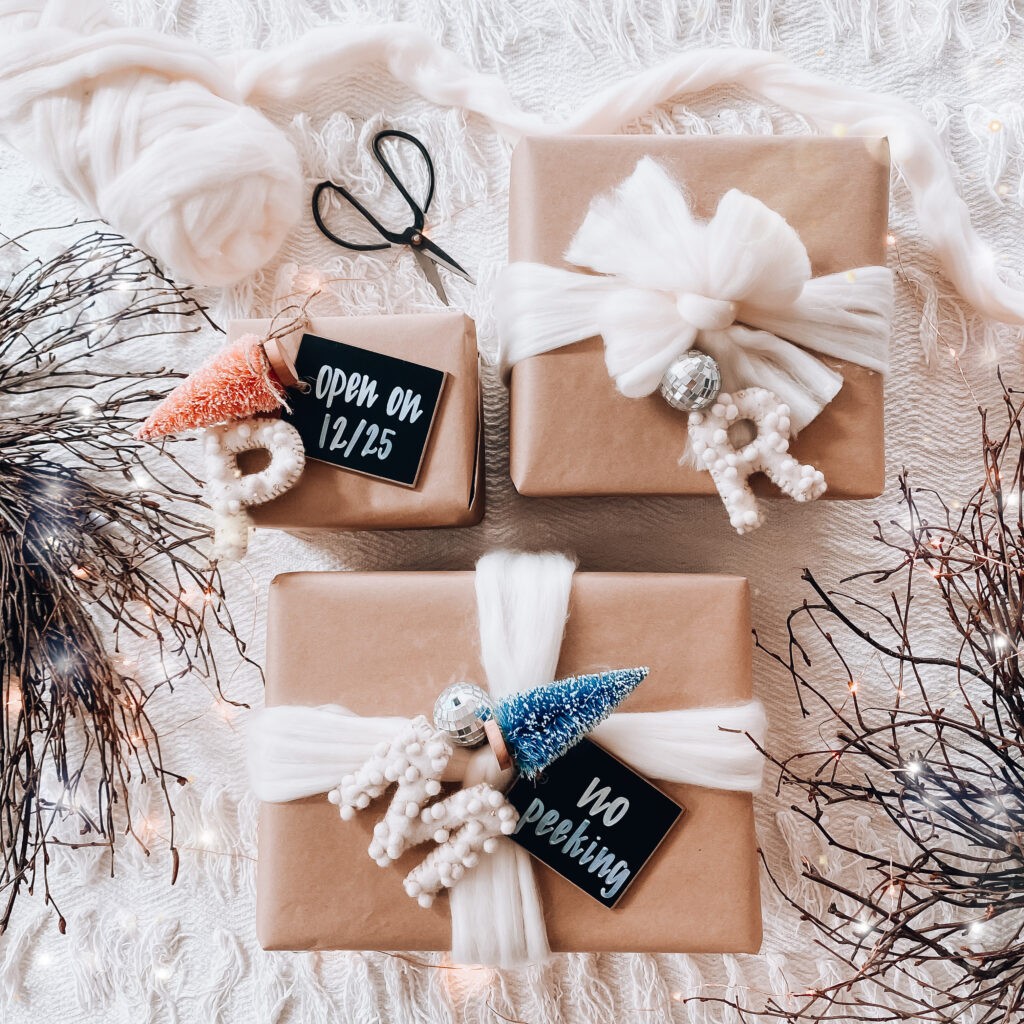 Wrapping gifts can be magical, it's pretty much a work of art. There is nothing like the simplicity of Kraft paper. Use chunky yarn to wrap it up. I love Showstopper yarn from Hobby Lobby. Add a cute topper like an initial, name tag or even mini bottle brush trees to finish it off. Do you need Gift Ideas for your loved ones? I've got you covered, you can find all of my Gift Guides HERE!
Letters from Santa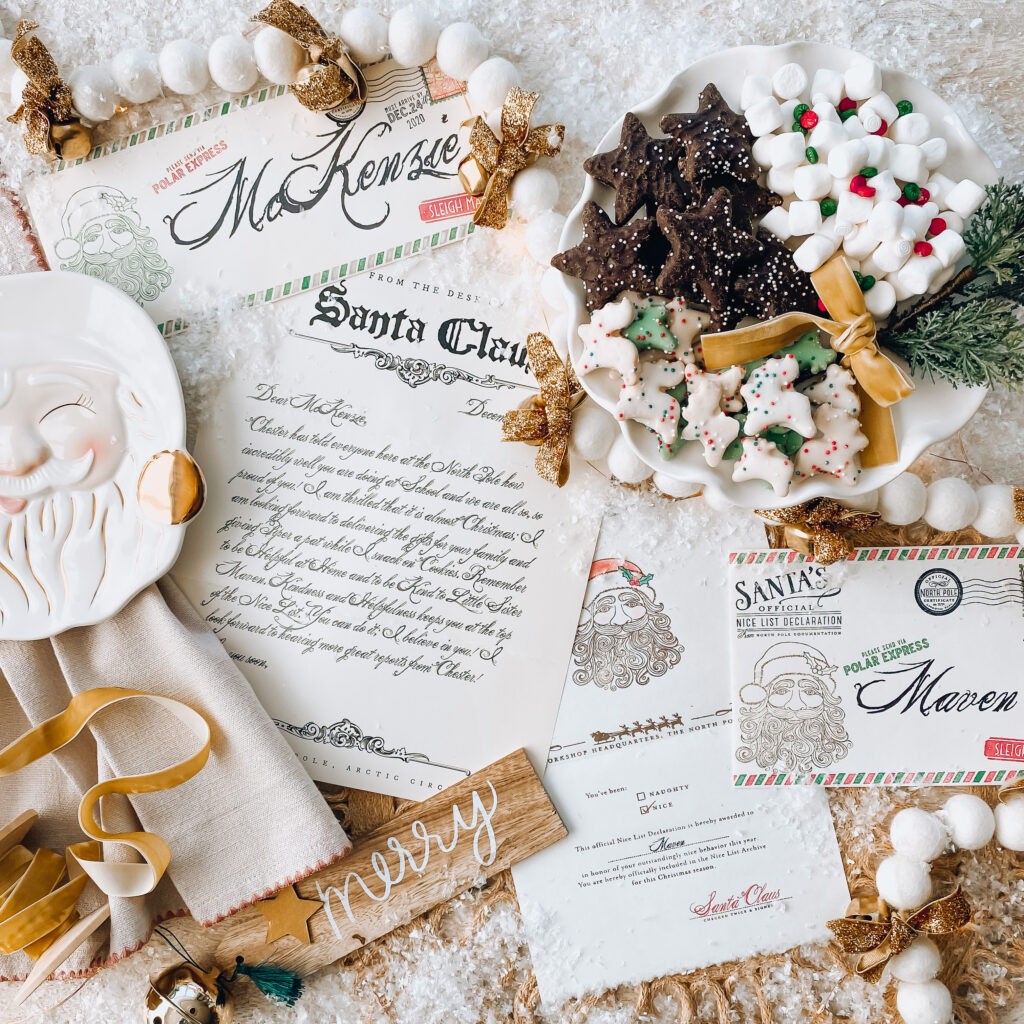 The Christmas magic was magnified x 100 in our home with these letters. My daughters loved them and I did too. Check out @santasmailman, she definitely brings the magic! Order early she sells out fast.
Holiday Book Wall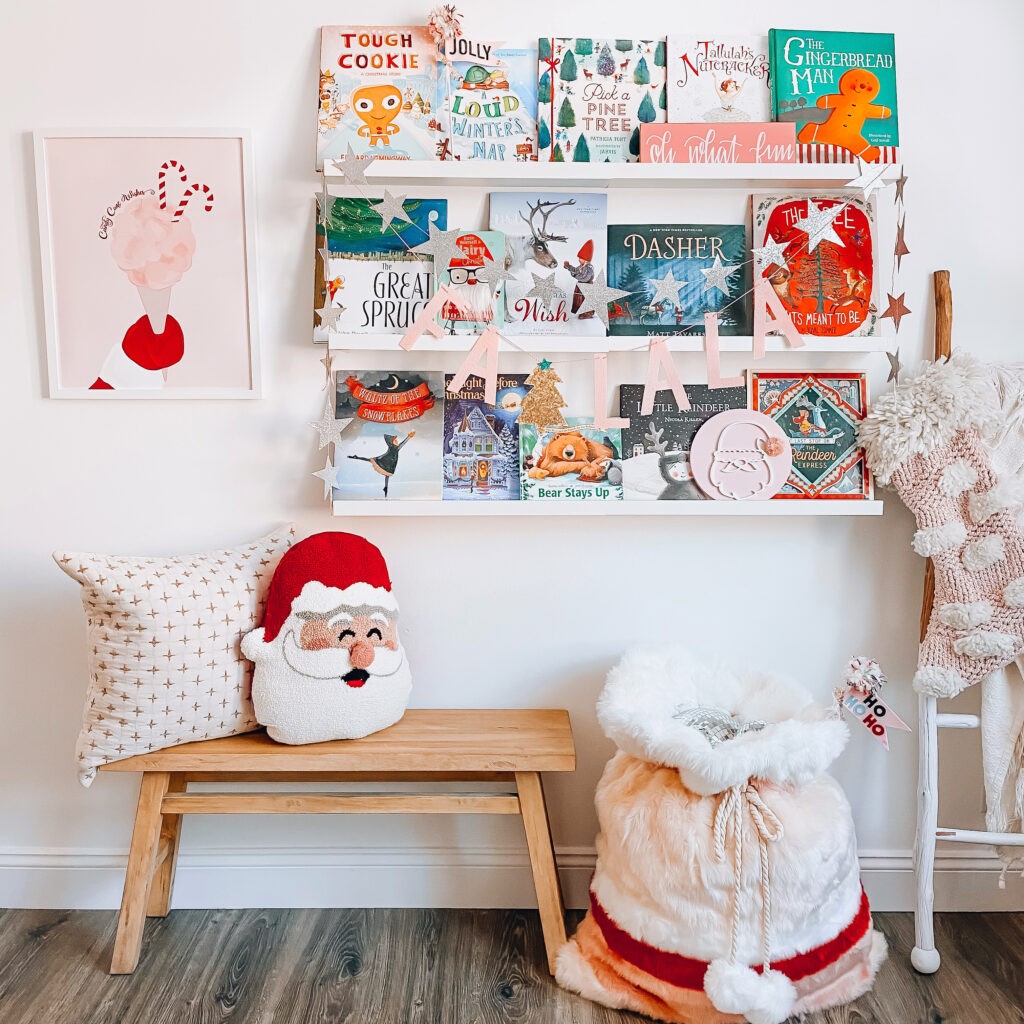 Our favorite Christmas Books Wall! I display the books on picture ledges from IKEA! We started with just a couple and had to add more, our collection keeps growing and I love it! Every night we choose a different book to read together as a family, memories I will always hold close to my heart. You can see our Favorite Holiday Books and links HERE!
Holiday Tablescape
How magical is this candle holder from @aglow_co!  This is such a beautiful statement piece to dress up a table or mantel. The candle light is dreamy.
DIY Peace Wreath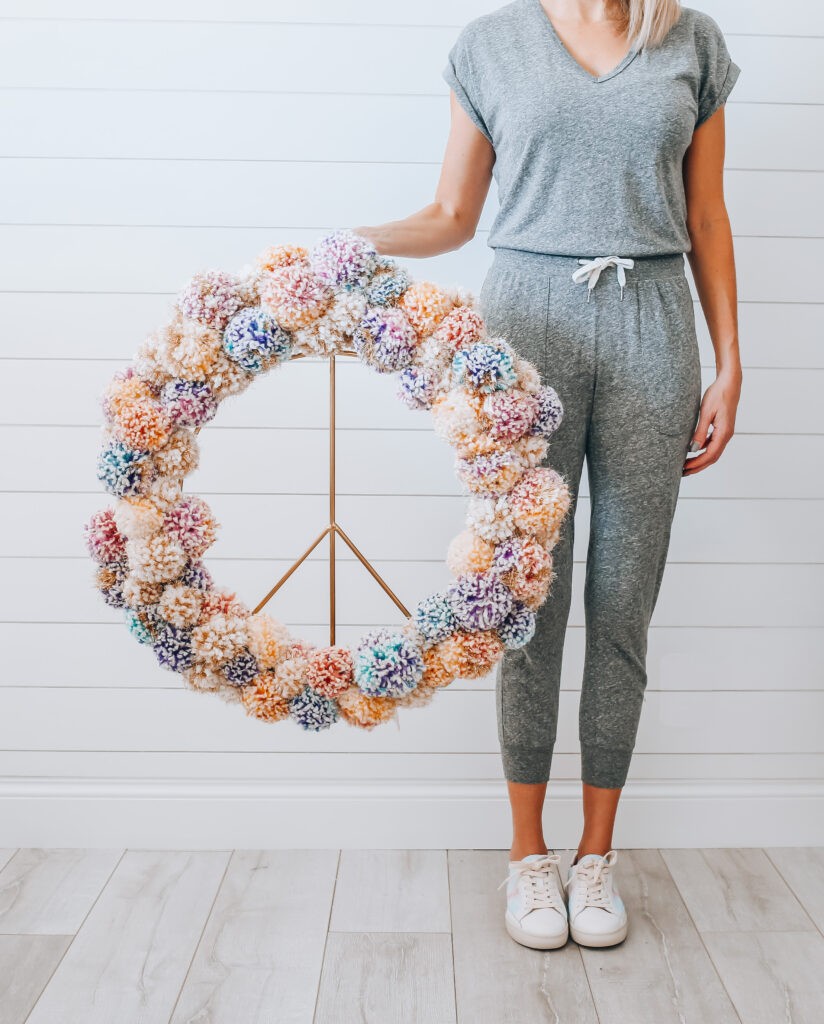 This cheerful DIY peace wreath was a labor of love…75 Pom Poms and a few late nights to make this wreath come together. I used the gold peace wreath from Crate and Barrel as a base and tied on the Pom Poms. Arabella and gold eyelash yarn from Hobby Lobby was the yarn I used for this cheerful wreath.
Photo With Santa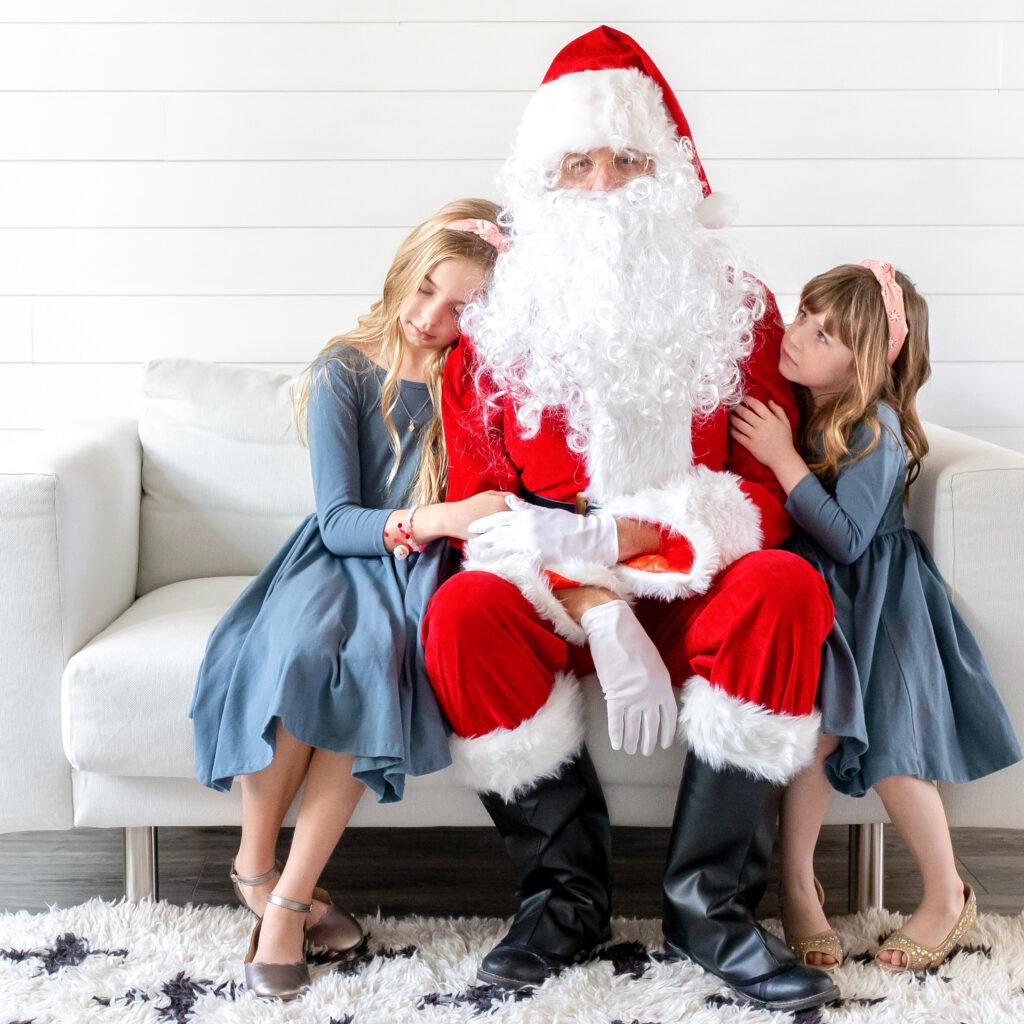 Our sneaky little elves, Chester and Chippy felt bad that the girls didn't get a photo with Santa this year so they sent a Santa suit tailored to fit their daddy. Wow, if anything good came out of the pandemic this was it. Definitely something we are going to keep as a yearly tradition. Maybe I need a Mrs. Claus outfit.
Pin this photo for Christmas Home Decor inspiration for later and follow me on Instagram to see everything I'll be sharing for the new season.