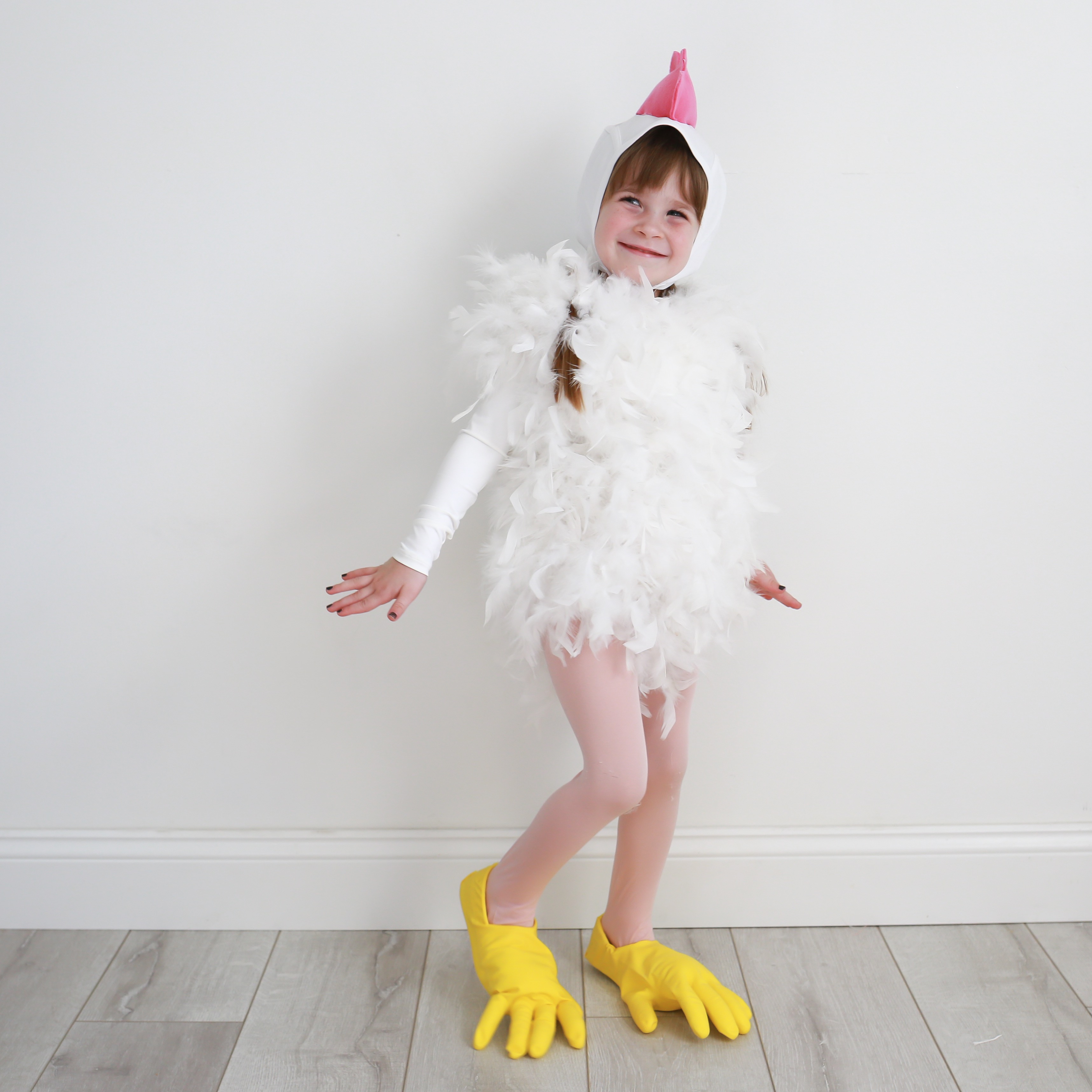 Things you'll Need
Amazon:
White leotard – Size up on this. You can buy two and layer them putting polyfil in between the leotards to make it cozier and so the feathers don't stick your child. I didn't do this because we live in Florida and its 90 degrees.
Pilot Hat – Size down on this.
Yellow Tights – I ordered these but they got lost in transit so I used pink tights she had which was cute too.
Pink Felt – I had some at home but just in case you need it this is a good option.
White Boa's – I bought three but I think you could get away with two.
Walgreens:
Yellow Rubber Gloves – I had these on hand. If you don't have these pick up a pair at Walgreens. They do not have the yellow rubber gloves at Target or on Amazon.
From Home:
Old Shoes
Hot Glue Gun
Scissors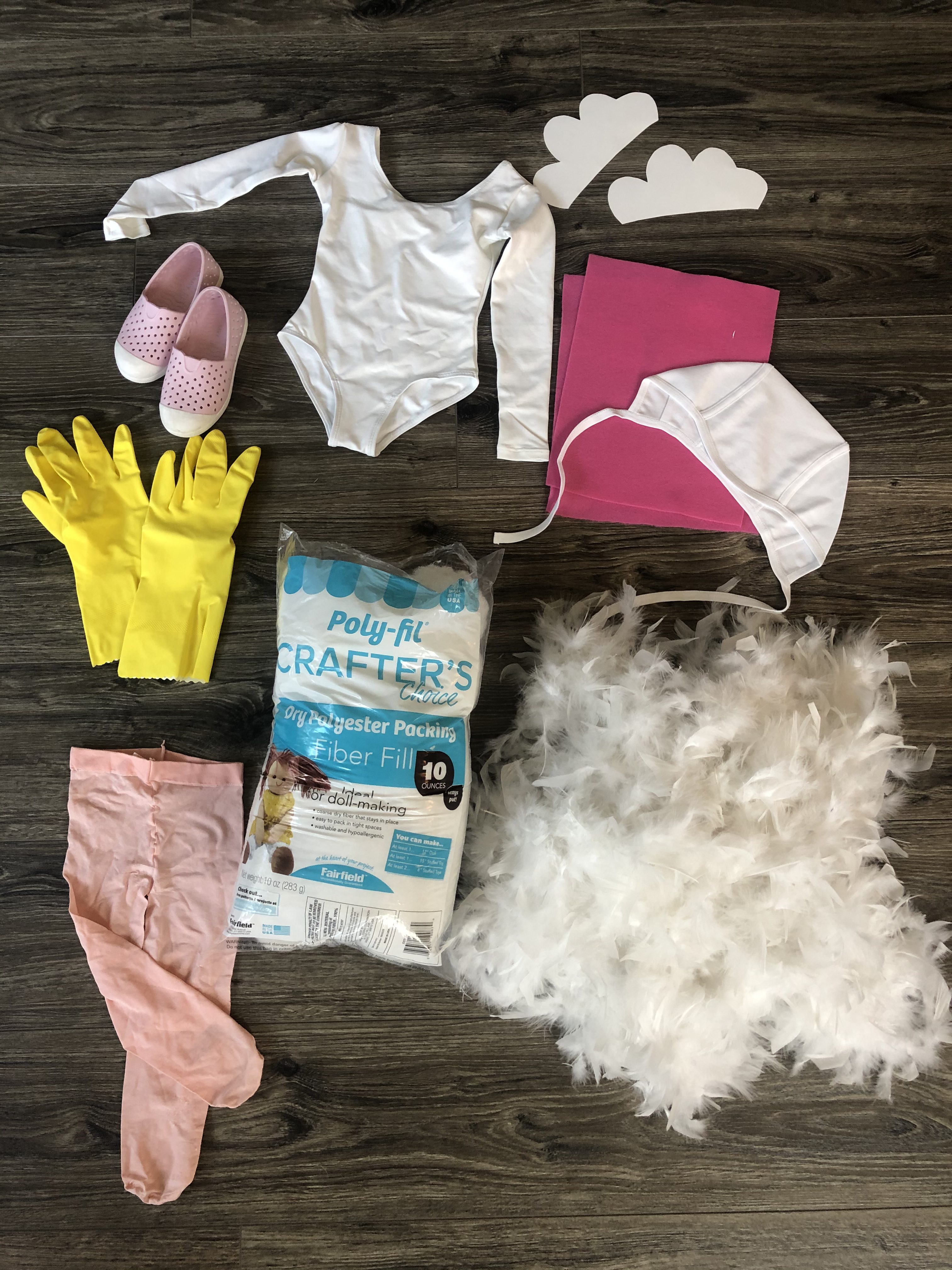 You can see videos all of my instructions on how I created Maven's Chicken Costume on my Instagram Highlights under Halloween.
First I started with cutting out the comb shape for the chickens comb. I cut two pieces of pink felt hot glued them together on the edges and then filled it with polyfil. I then hot glued the felt comb to the top of the pilots hat.
Then I took the yellow rubber gloves filled the fingers with polyfil and stuck the shoe inside. I cut a slit down the middle of the glove and hot glued the glove to the inside of the shoe. Repeat for other shoe.
For the feathered leotard I filled the leotard with polyfil just to give it shape. I started at the top shoulder seam and hot glued three boa's all the way around the leotard until I got to the bottom. I cut one piece of boa and glued it in between the legs to complete the feathered look. If you are worried about your child being cold or being bothered but the feathers you can double up the leotards and fill in between them with polyfil.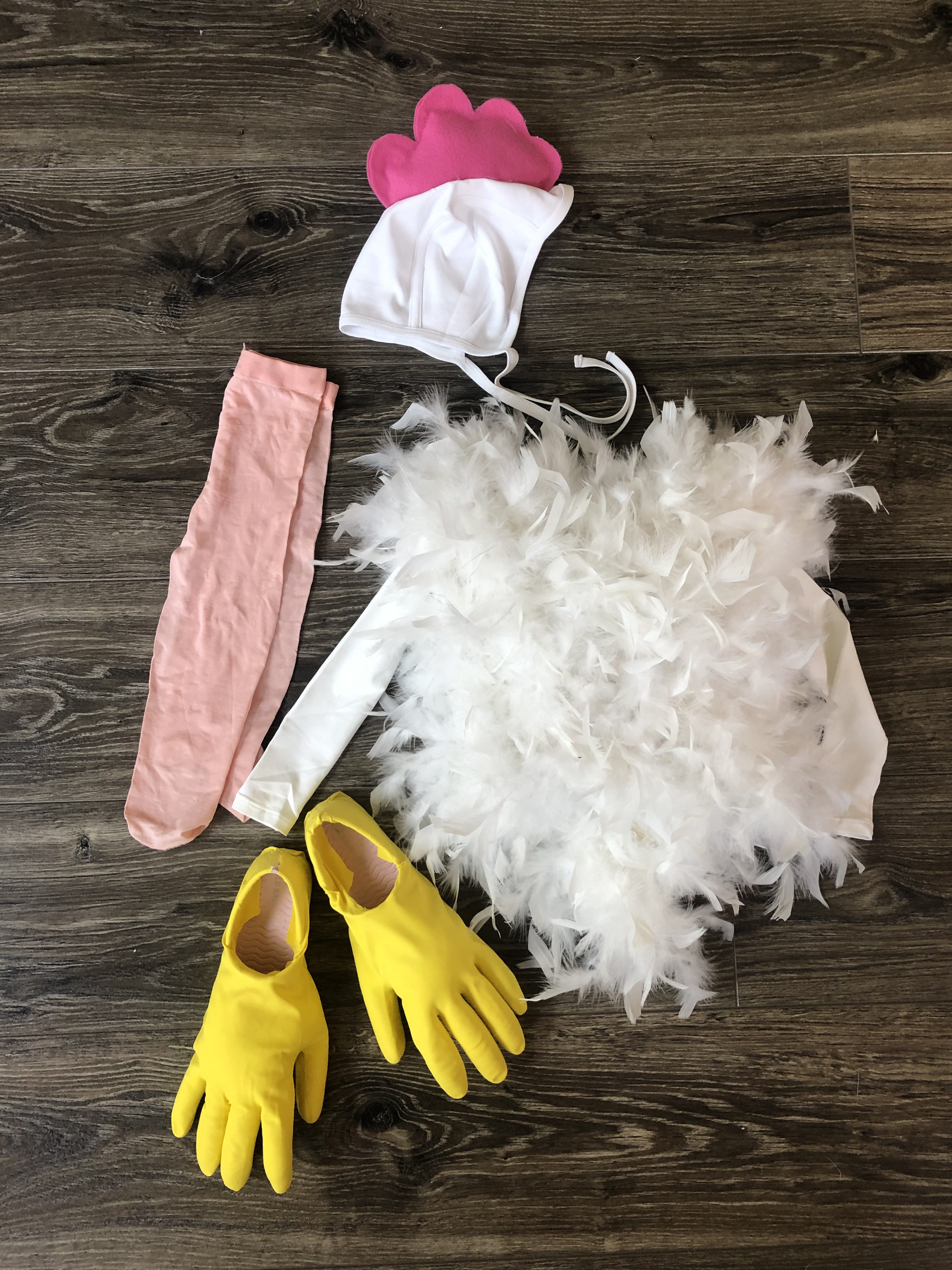 To make this costume it took about two hours start to finish. I love it so much and think Maven is the cutest little chicken around. For a family costume idea, the adults can dress up as farmers and siblings can be other farm animals too. I hope this helps and as always let me know if you have any questions! Happy Halloween!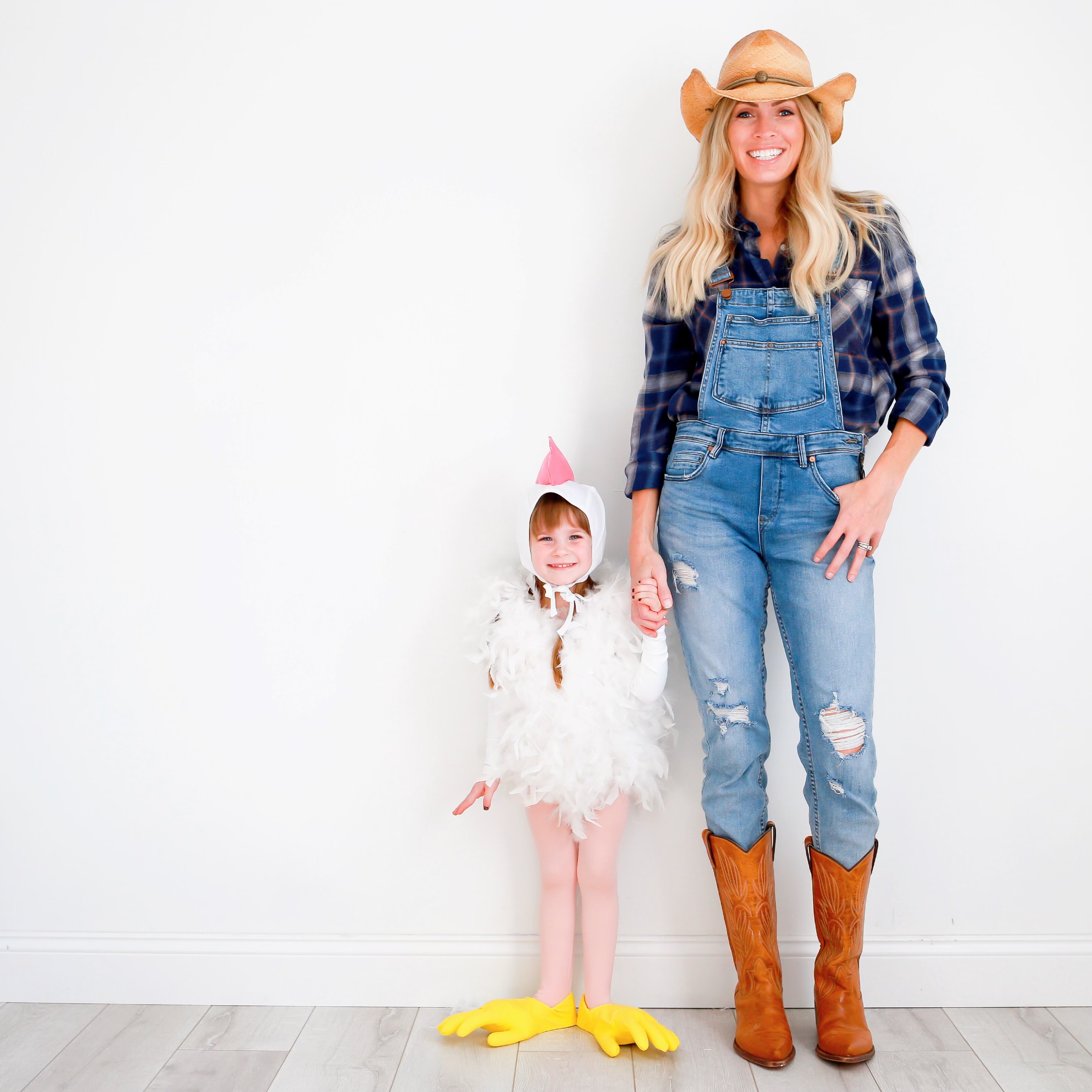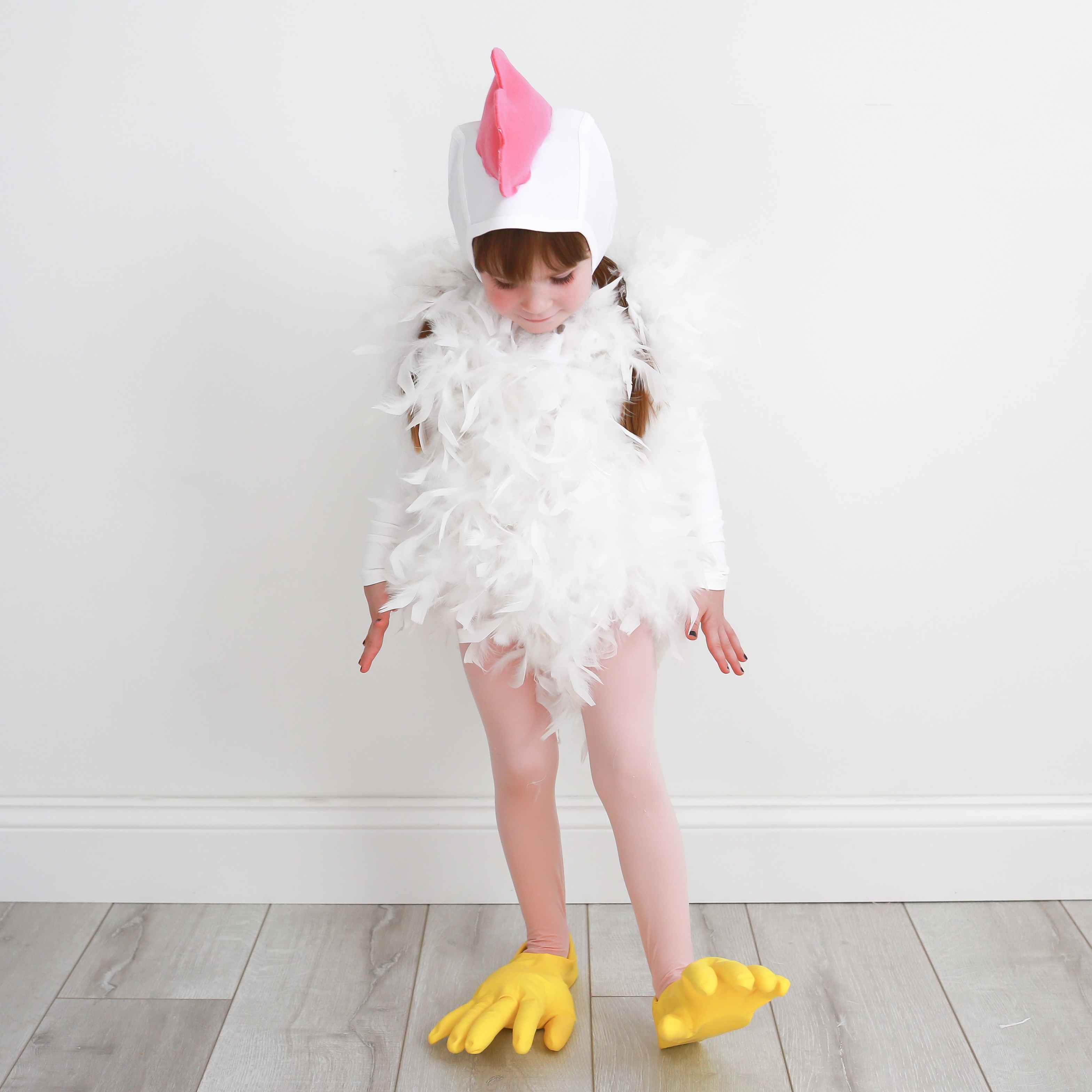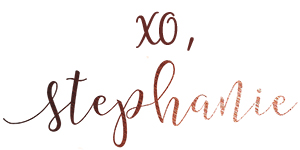 Halloween Chicken Costume Idea