DIY advent calendars are always so much fun. My kids look forward to it every year. I love seeing their excitement every morning to countdown to the big day when Santa comes to town. Over the last few years I have made our advent calendars and I love doing it. Making them just makes it a little more special. Give yourself ample time to get this diy done it can be time consuming, but worth it I promise.
*This post may contain affiliate links.
DIY Chalkboard Advent Calendar Reveal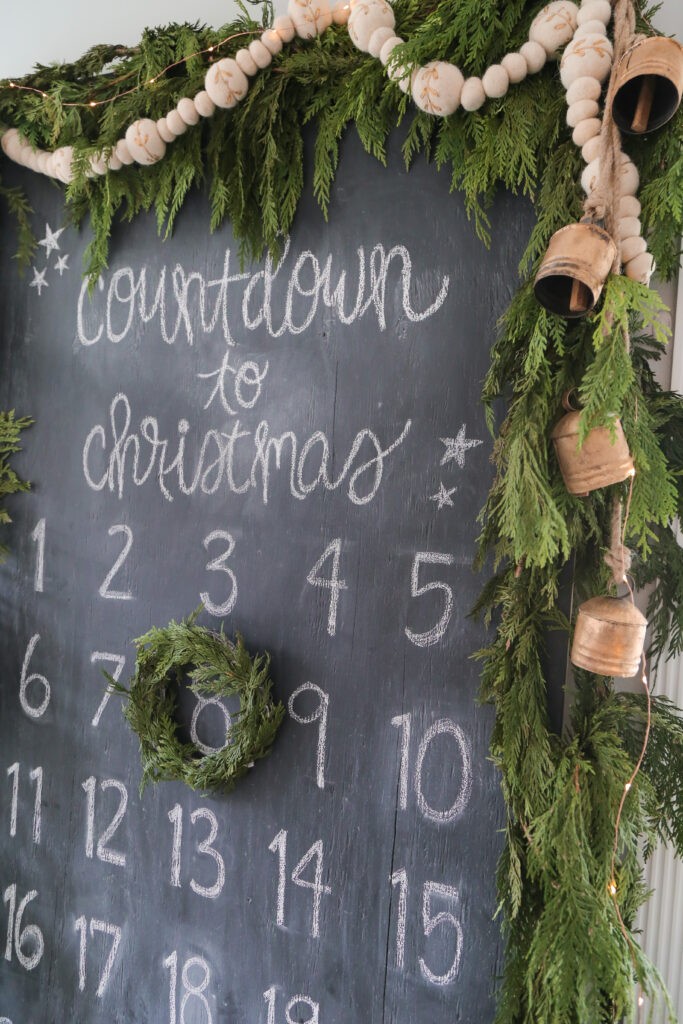 This advent calendar was inspired by @idreamofhomemaking Check out her Instagram for more lovely inspiration.
Step 1
I decided I wanted to do something completely different this year for my diy advent calendar. I used a large piece of plywood and cut it to fit the space I wanted to display it in. I sanded it to get rid of some of the rough spots with our power sander. The wood has lots of imperfections because its inexpensive plywood but I think that adds to the charm.
Plywood Dimensions: 84 inches tall x 40 inches wide
Step 2
After the wood was sanded I painted it with chalkboard paint. It took two coats of paint to get it covered. After I painted it with two coats I let it set for 2 days. After letting it set I primed it with the side of a piece of chalk. Taking the side of a piece of chalk and rubbing it on the chalkboard all over. Then I took an eraser and erased the chalk.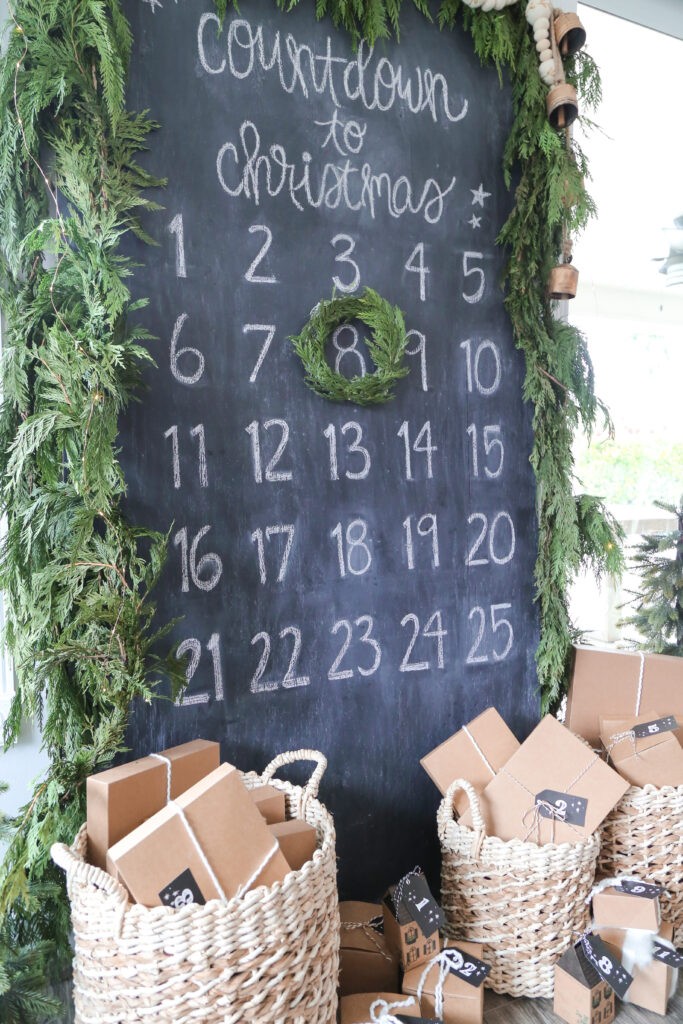 Step 3
The next step was definitely the hardest. I used a piece of chalk to lightly draw out the words and numbers. Once I got the layout written out I went back and drew over it to make it darker. To mark the day I used a small wreath with glue dots. I'll move it each day as we get closer to Christmas.
Step 4
In previous years I only wrapped clues in the boxes and bags but this year I decided to wrap the 25 gifts I bought in kraft boxes. The boxes are displayed in baskets underneath the chalkboard calendar. I love the look of it and it will make it a little bit easier on me without the scavenger hunt this year.
Step 5
With the elf on the shelf and the advent calendar each day I wanted to make it less labor intensive for me this year. The boxes are wrapped with string and labeled with chalkboard numbers. The chalkboard numbers are free for you to download and use yourself. My little gift from me to you.
Free Holiday Advent Number Countdown Printable
I added my advent number labels for you to download for free!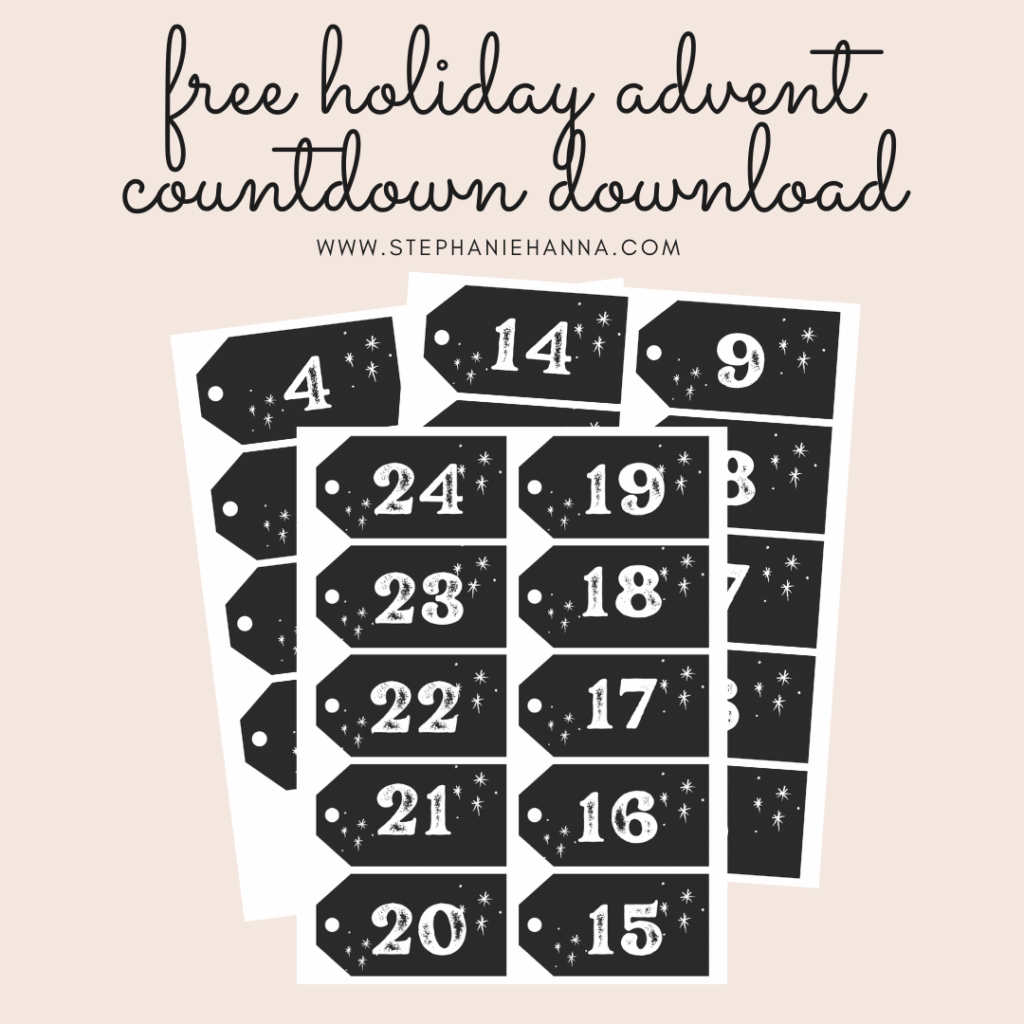 Advent Calendar Gift Ideas
Do you need some gift ideas for your children's advent calendar this year? I have you covered! Scroll down to see all my picks and click HERE for the direct links to make shopping easy for you.
2020 DIY Advent Calendar
This Advent Calendar was fun to make, you can click HERE for all the details on how I made this diy advent calendar.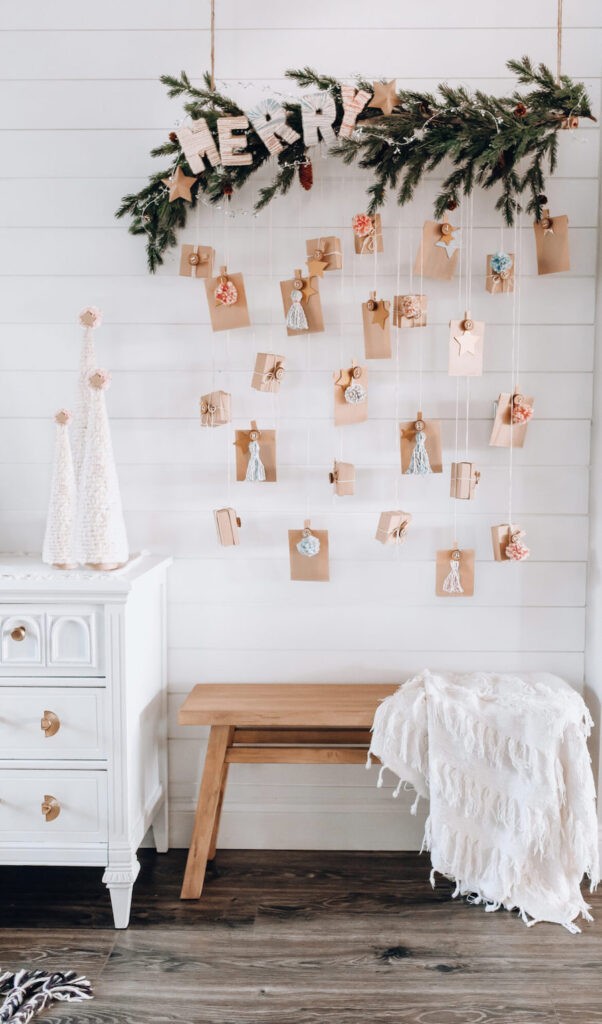 2019 Advent Calendar
This was my first diy advent calendar. I used a large embroidery hoop from Hobby Lobby and wrapped it with yarn. Little cardboard boxes and glass vials filled with glitter held the scavenger hunt clues.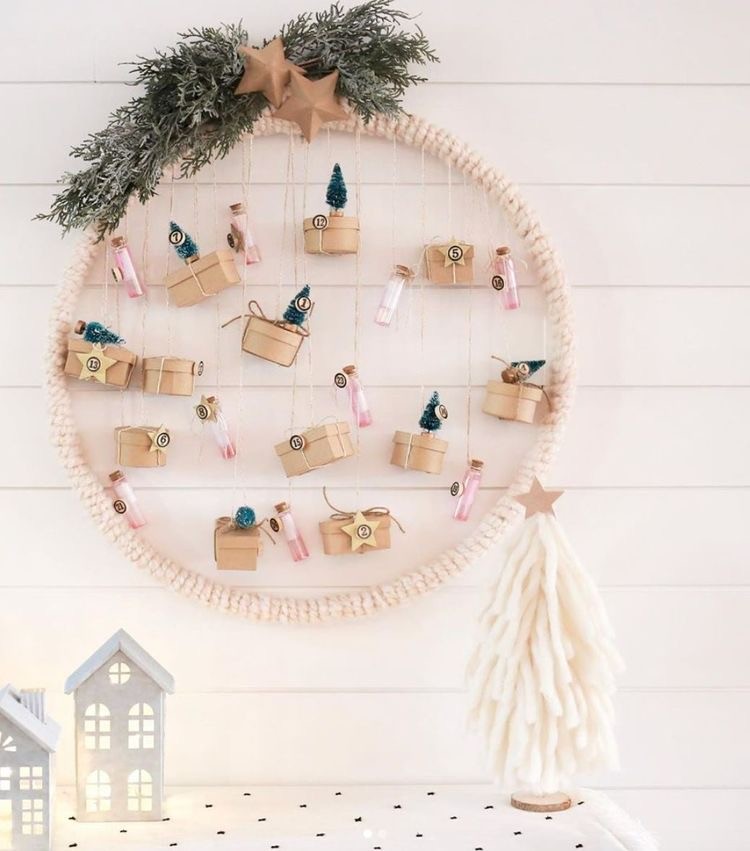 I hope you enjoyed this blog post on how to make your own diy advent calendar. If you make your own please be sure to tag me on Instagram so I can see. Follow me on Instagram for more Christmas decor inspiration and pin the image below on Pinterest to refer back to at a later time!