I teamed up with a few of my favorite Instagram creators to bring you some epic Halloween DIY wreath inspiration. Halloween is my favorite holiday of the year because the creativity is endless. This year I wanted to bring something different that could live up to last years Halloween Wreath. 
A little bit of spooky, a little bit of boho and a touch of glam brought this unique wreath together. I am proud of creating something completely different and fun! I get so many questions about my sequin pants soI rounded up my favorite choices for sequin pants here.
This post may contain affiliate links.
Spooky Glam Boho Wreath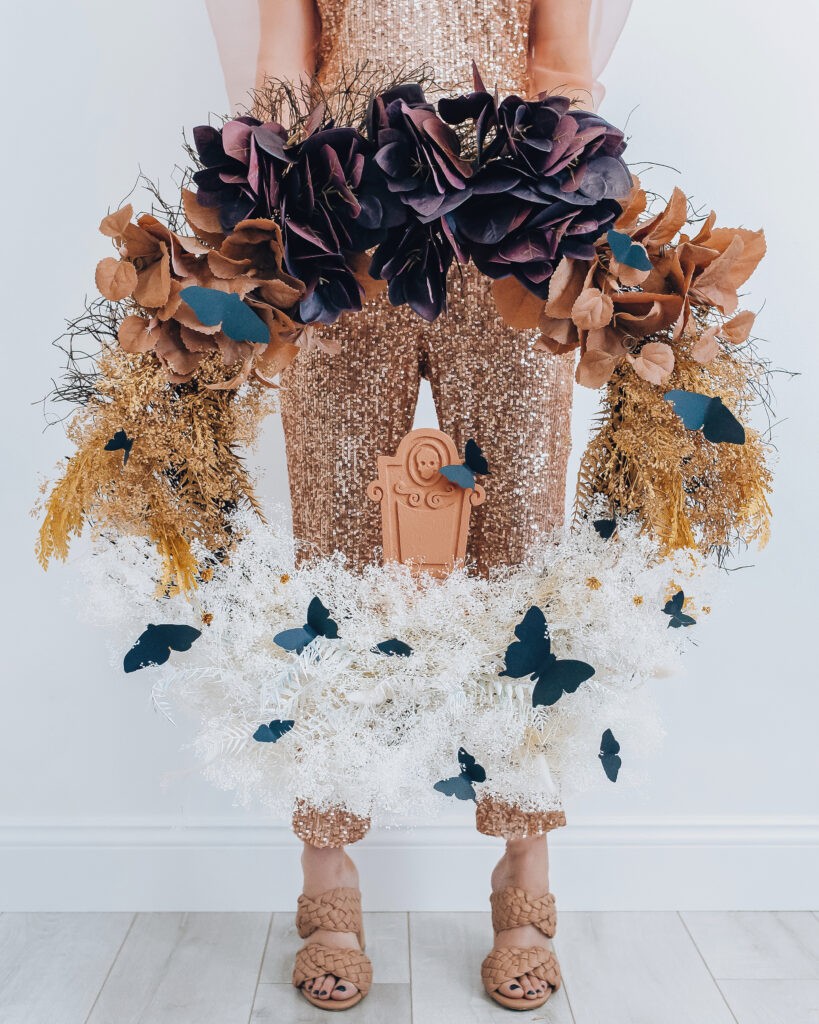 I started making this wreath by using the same 30 inch base that I used for last years wreath. I know some of you would be shocked to know that I took apart last years wreath. With what I do I always have to be creating something new. Preserved million star gypsophila flowers for Hobby Lobby is what I used on the bottom, they have a magical feel that I just love. I mixed in white bunny tails too. Preserved natural gypsophila also from Hobby Lobby came next with a few faux pampas stalks. After that the next color change was terracotta spiral leaves from Hobby Lobby. Lastly to round out the top I used purple leaves from Hobby Lobby as well.
The black butterflies and the tombstone were my unique touches to compliment my Halloween decor for this year. My Cricut came in handy to cut the butterflies and the tombstone I painted is from Michaels. Don't forget to check out my round up for my favorite sequin pants for this season here.
It's Just Batty Boho Halloween Wreath
My friend Arin Solange wins best in show for creativity! I love this so much. Check out her blog post here on how she made this beauty with palm leaves and follow her on Instagram for more fabulous content.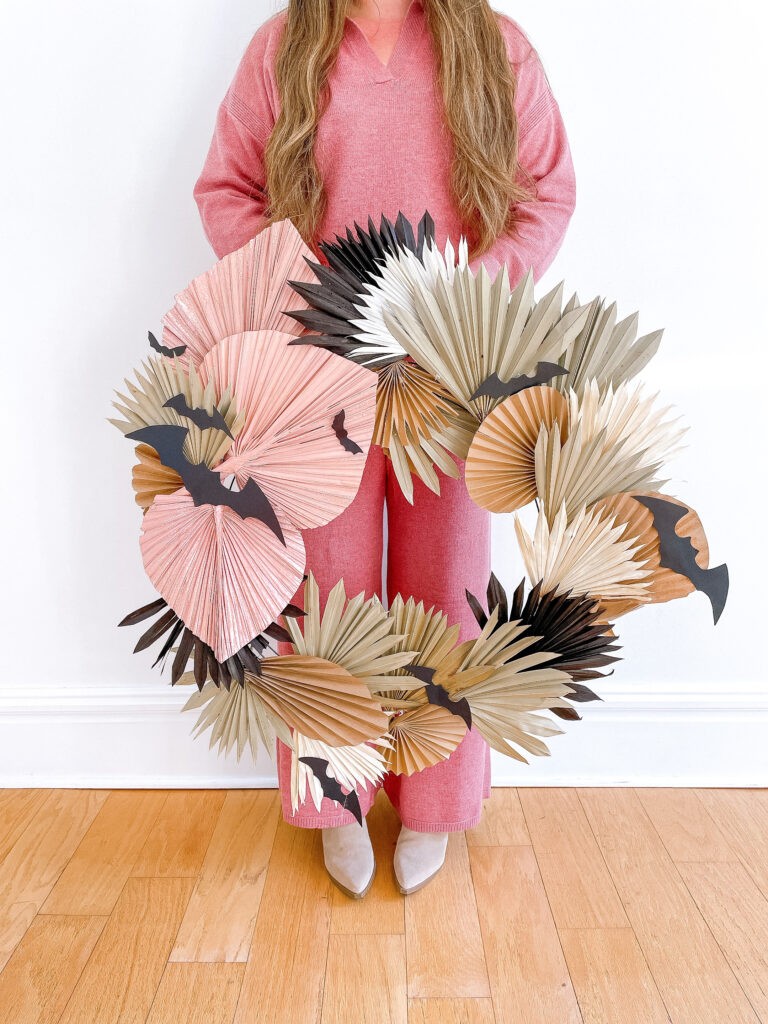 It's a Pampas Party Wreath
This wreath by Aurelie Erikson makes all my pampas dreams come true. Aurelie hit it out of the park with this one! Follow Aurelie on Instagram for more amazing inspo and see how she made this wreath here.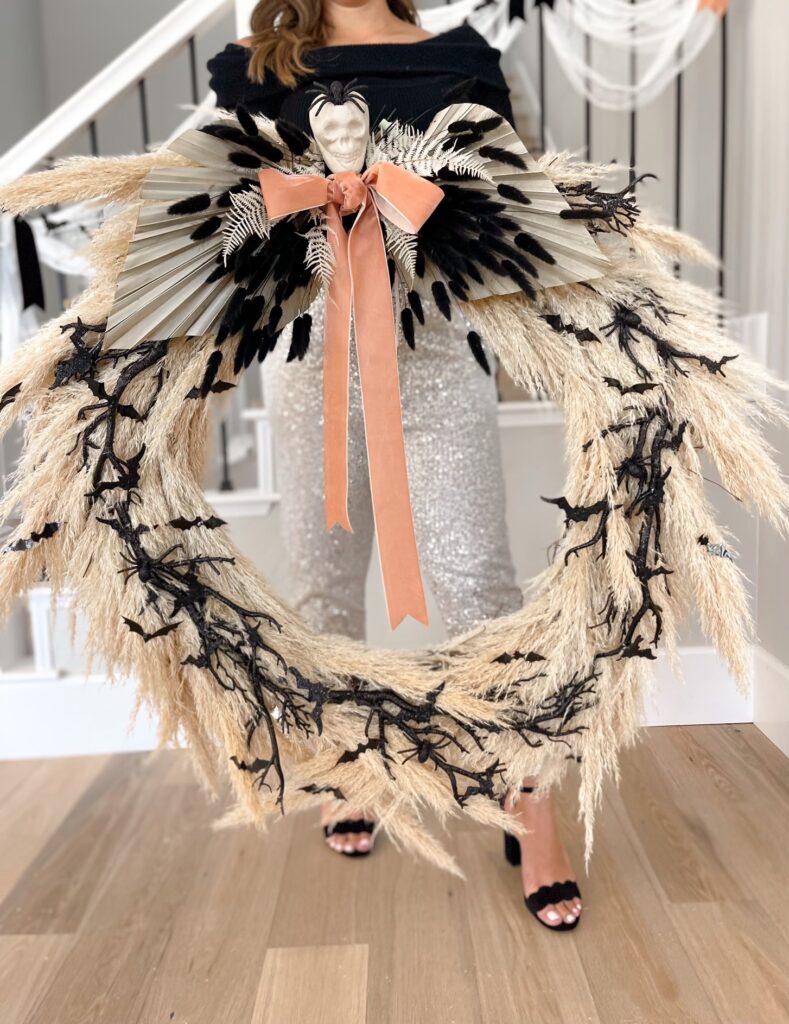 Spooky Meets Fall Wreath
I'm obsessed with this! Fall meets Halloween in this beautifully curated wreath. Deb nailed it. Check out Deb on Instagram for more amazing content and see her reel here on how she made this wreath.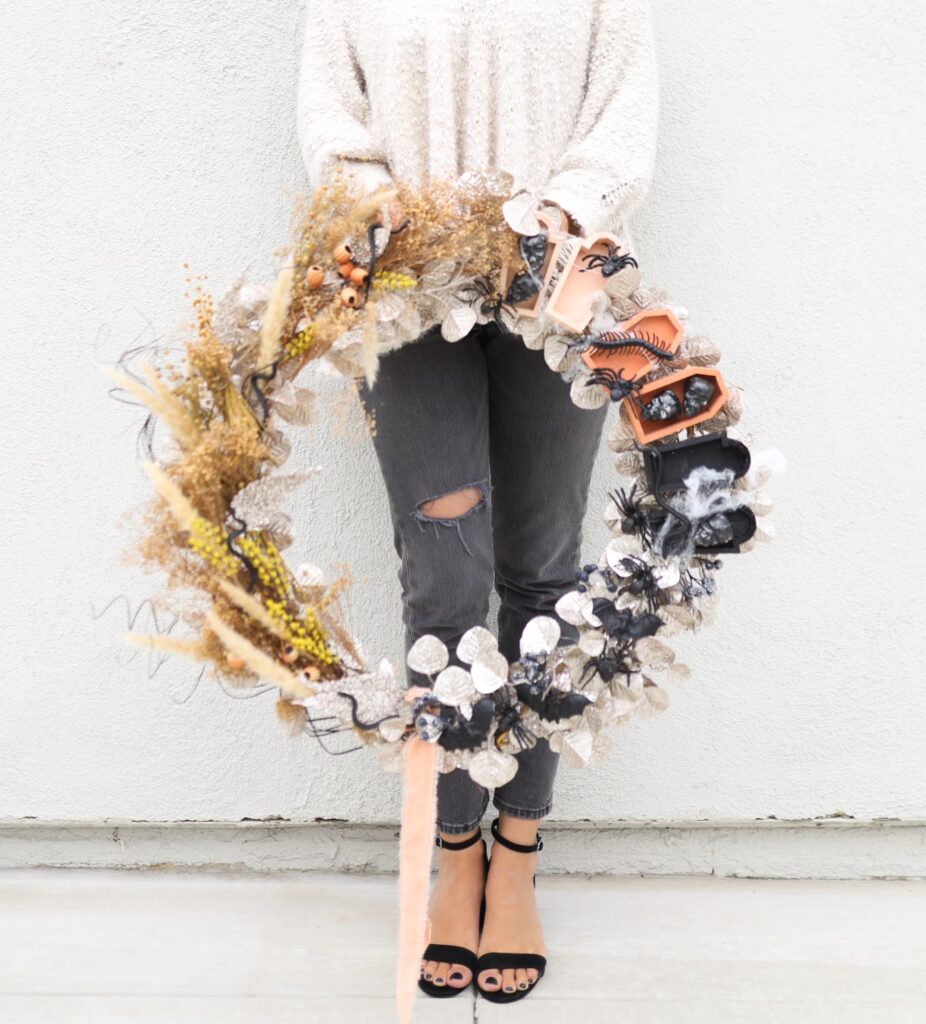 Crescent Moon Dreams Wreath
Who doesn't love a crescent moon and then add bold beautiful flowers and it's a match made in heaven. This wreath was designed by the talented Erika at Peony and Honey on Instagram. You can see how she made this wreath here.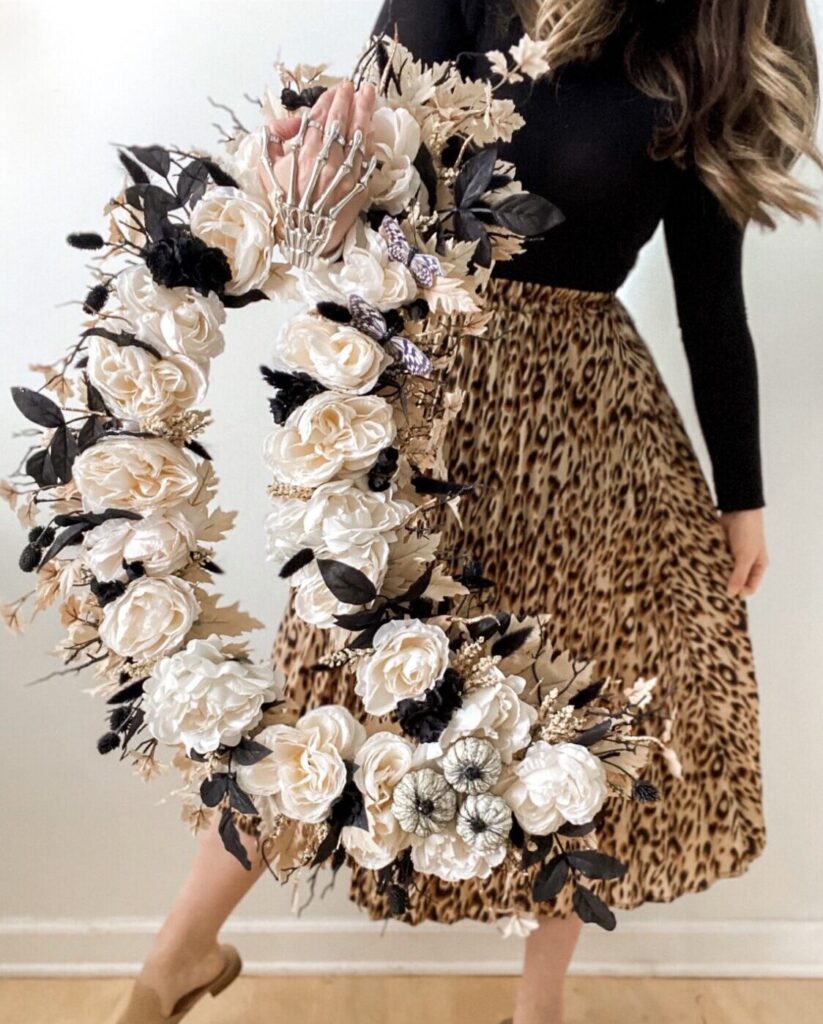 Positively Pink Halloween Wreath
I don't know what I love more about this wreath. Is it the colors, the white and gold bats or the candles? I love it all. Rebecca is known for her fun colorful designs. Follow her on Instagram for more inspiration.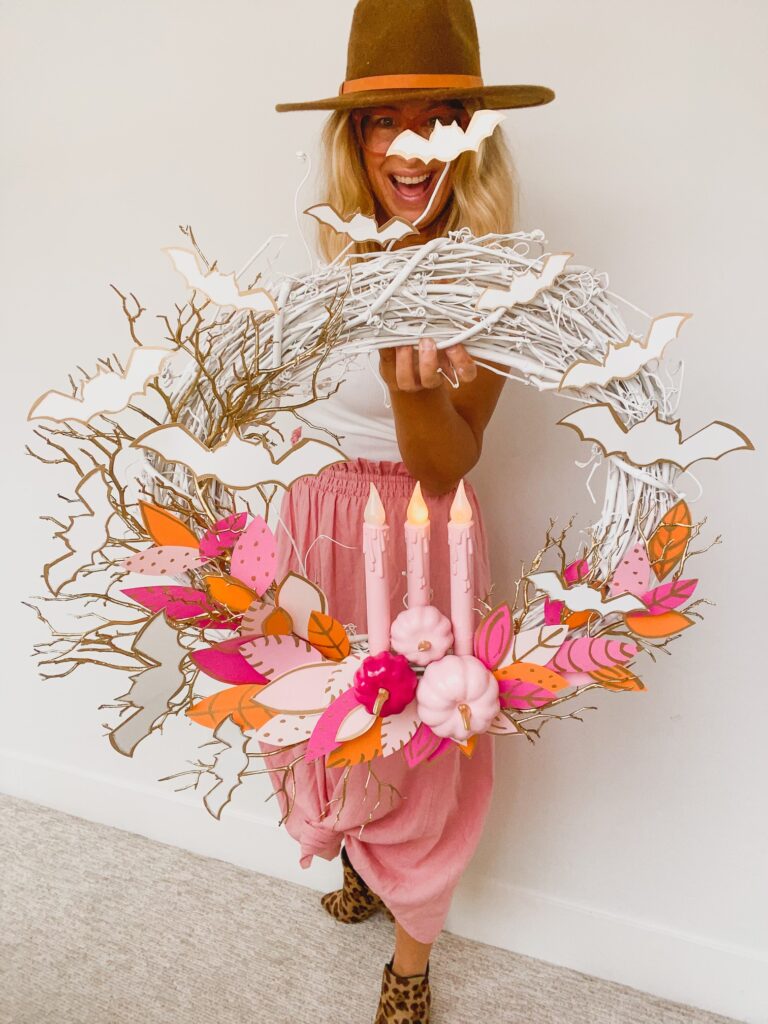 The Witch is In Wreath
This wreath was designed by Kristi at the Pickled Rose on Instagram. The witch feet and the house make this fun wreath come to life with whimsy and flair. Follow Kristi on Instagram for more farmhouse style inspiration infused with a lot of color!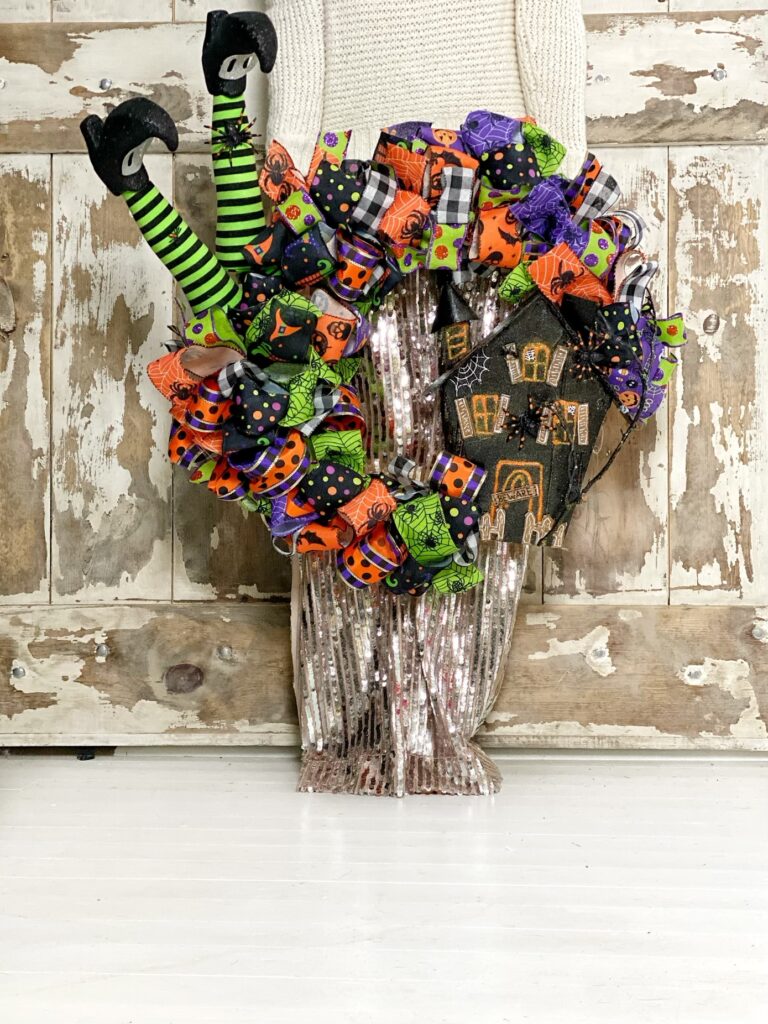 Majestic Moon Wreath
Tina from Tina Doodles on Instagram made this simplistic beauty of a wreath. I truly believe sometime less is more. The crescent shape and gold stars is perfect. Follow her on Instagram for more beautiful home inspiration.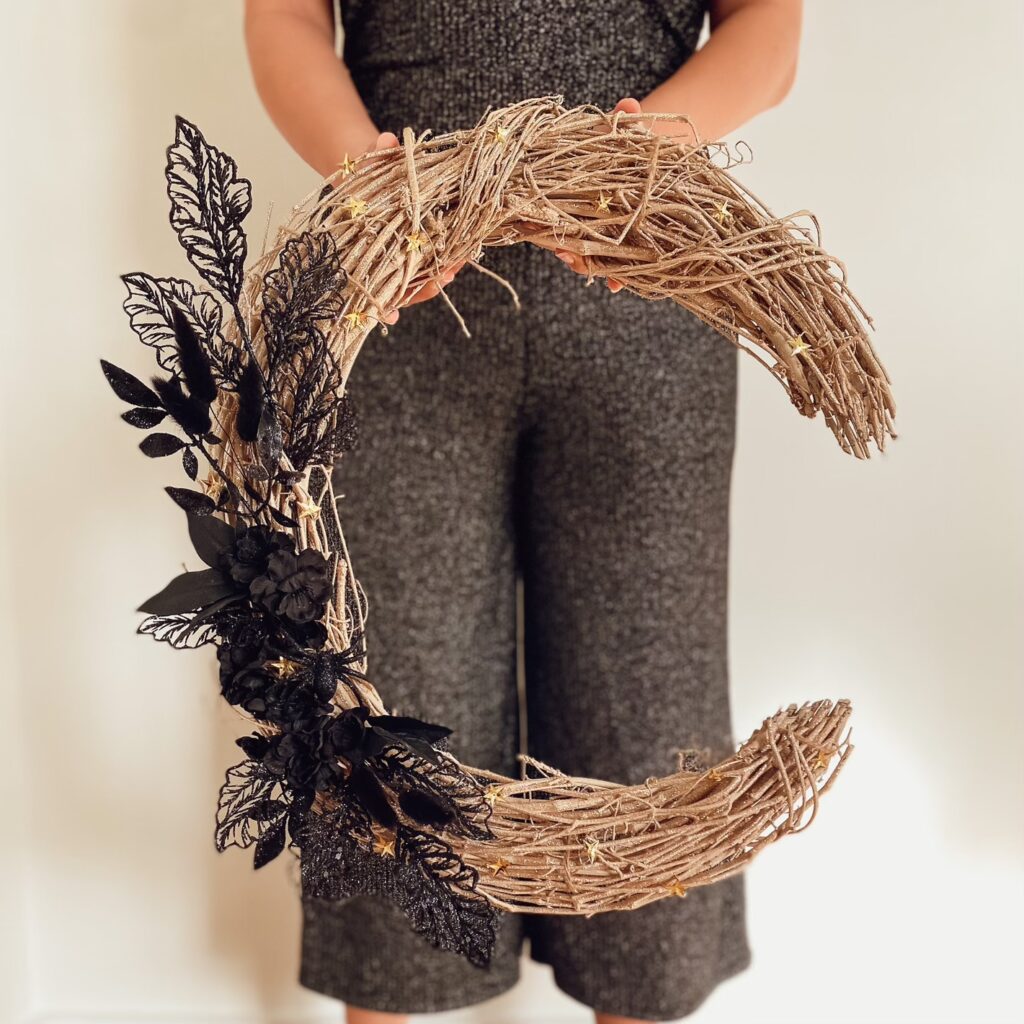 I hope you enjoyed this roundup of Halloween wreaths. If you make one of your own please be sure to tag us on Instagram so we can see. Follow me on Instagram for more Halloween decor inspiration and pin the image on Pinterest below to refer back to at a later time!