Here a few Family DIY Halloween Costume Ideas for a family of 4. We love dressing up as a family every year. We try to think up fun ways to be creative and different than just purchasing a store bought costume. We will do this with my girls as long as they still think its cool. I want to cry just thinking of the idea that one day they will not want to dress up with their parents.
For now they still love it so I'm relishing in that fact. We are so honored to be featured in Better Homes and Gardens 100 best Halloween Ideas for our costumes this year. What a pinch me moment!
Check out the spread in the 100 Best Halloween Ideas Better Homes and Gardens Magazine below.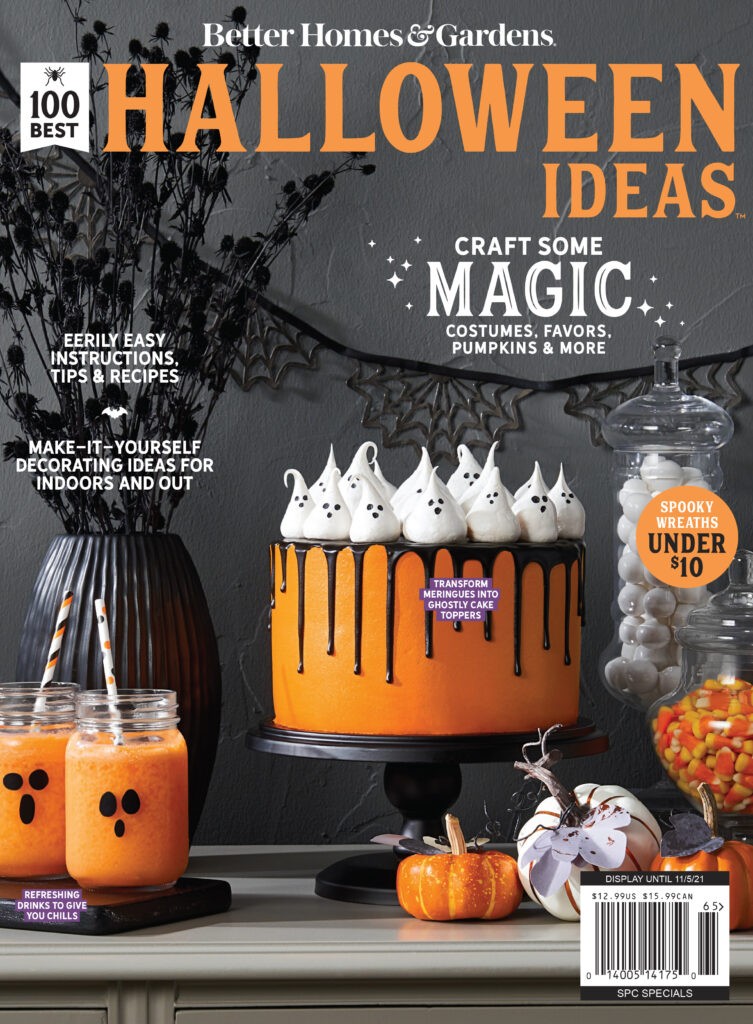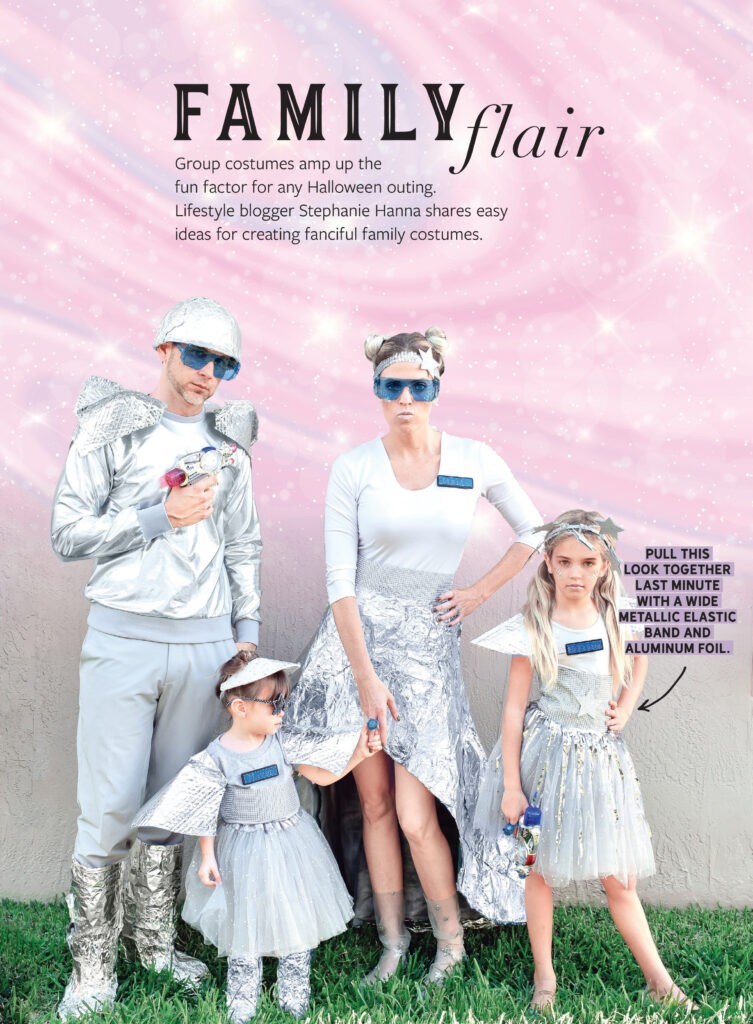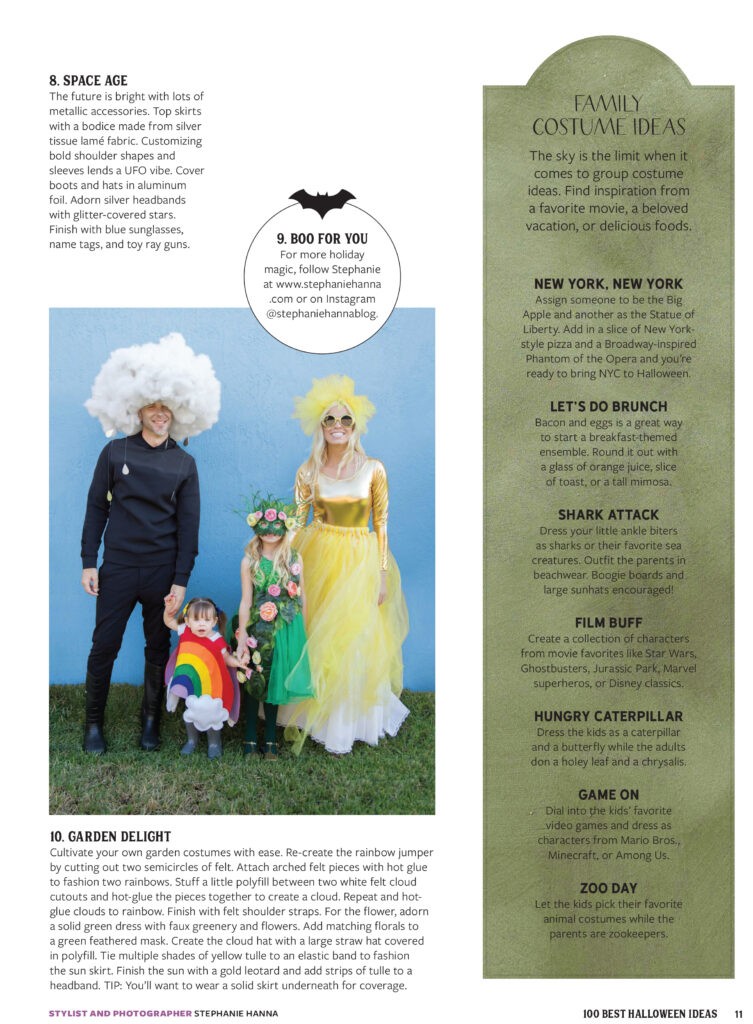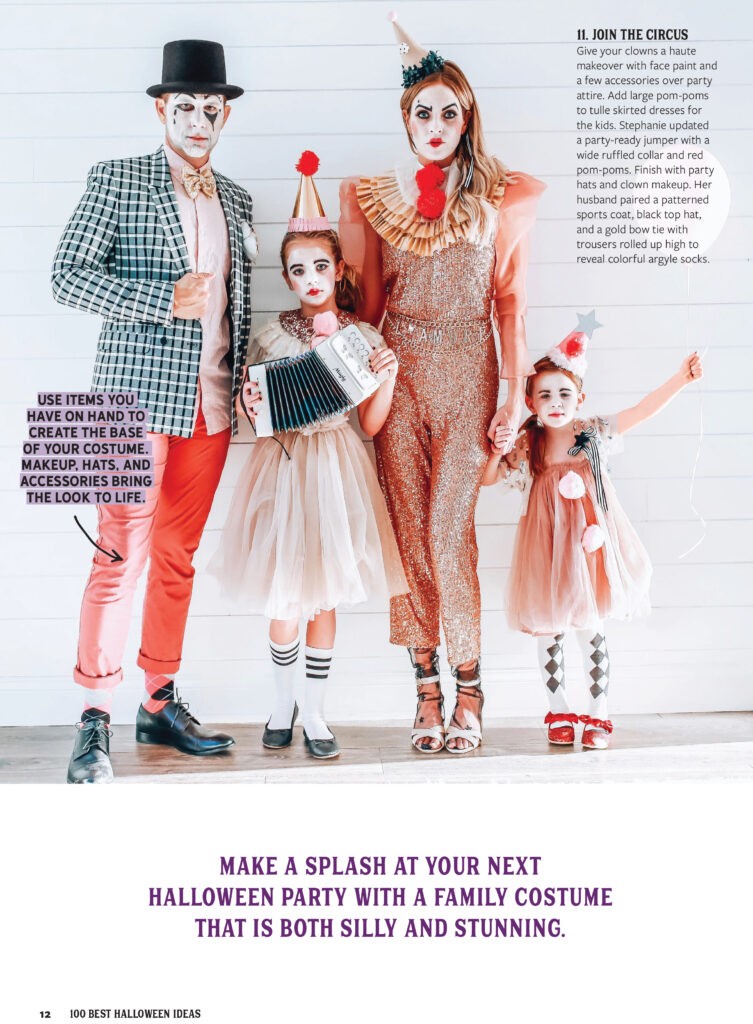 This post may contain affiliate links.
Sun, Rain, Flower & Rainbow Costumes
McKenzie has a vivid imagination. She helped me come up with this fun family costume. I always try to listen to her ideas and then do my twist on her thoughts. She is so happy with the way it all turned out and that couldn't make me happier. It did take time and a couple trips to Hobby Lobby but in the end when it all comes together all the work is so worth it.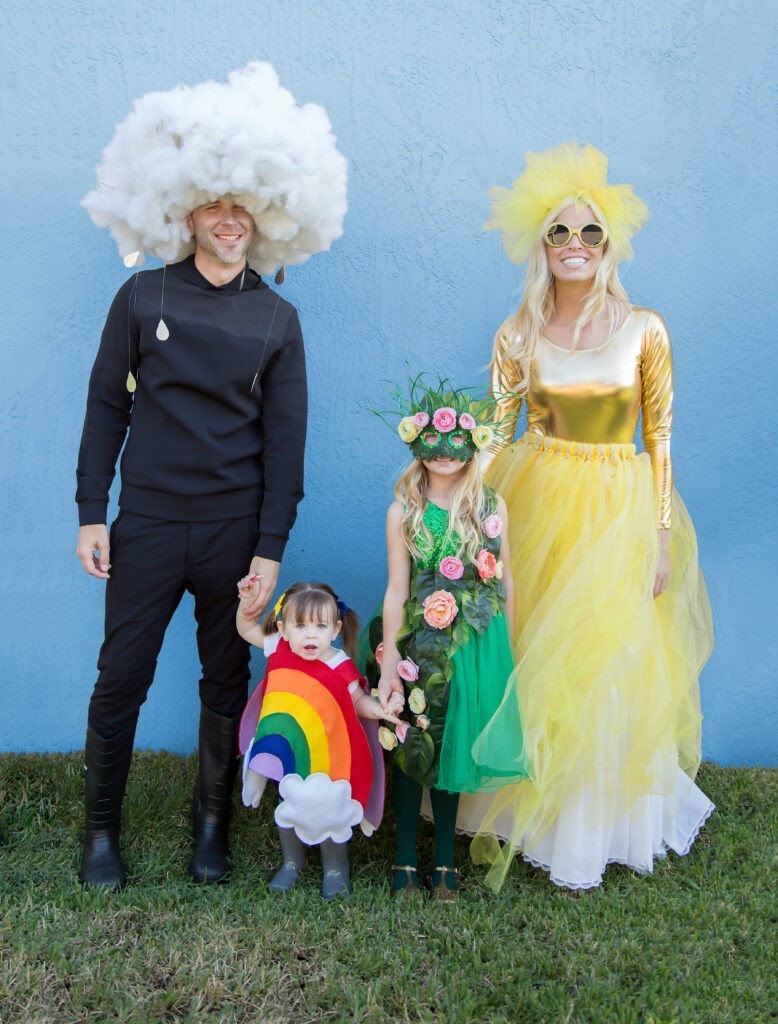 Rain cloud costume
Rusty's giant rain cloud hat steals the show. I used a large straw beach comber hat, 1 bag of polyfil and a string on mini led lights (battery operated). For the rain drops I cut out drops out of silver poster-board and strung them on the hat with fishing line. Add some rain boots and you have the perfect rain cloud. He secretly loves it don't let him fool you.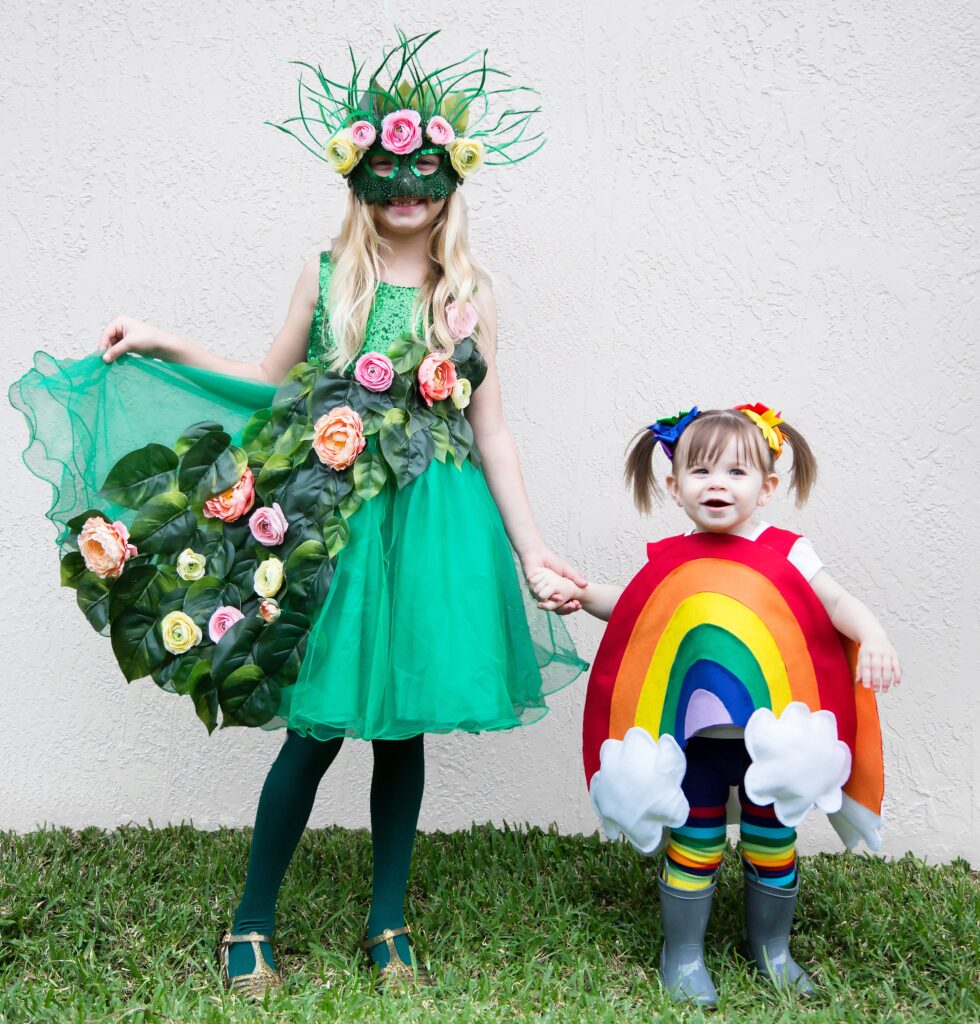 Rainbow Costume
Maven has to be the cutest little rainbow I've ever seen! I originally saw a cute rainbow on PotteryBarn Kids but it was discontinued so I decided to make one myself. I bought a half yard of each color felt at Hobby Lobby. I started by making a template. I measured 24 inches across on the felt and used a marker to draw the lines for the rainbow. 6 strips in total.
Then I used my template to cut out the different color strips. I arrange all of them on another piece of felt and hot glued them down. I did this twice once for the front and once for the back. I cut 3 inch strips of felt for the shoulders and glued them to each rainbow panel so I could slip it over her head.
For the clouds I drew a cloud shape and cut out 8 clouds. I stuffed each of the four clouds with a little polyfil to make them poofy and hot glued them on. Have I mentioned that I love hot glue?
It was important to me that her costume is comfortable for her. She is still little and I want it to be soft. If she were older I would of put a foam board backing on the rainbow to keep it straight. Finish off your rainbow with rainbow tights and rain boots!
Flower Costume
McKenzie is a gorgeous flower. I started with a kelly green dress I bought from Amazon. I cut the bow off the front of the dress. I bought leaves and flowers from Hobby Lobby and glued them on to the dress. I wanted to give the illusion that the flowers were growing up her in an organic pattern. I got lucky to find a beautiful green feathered mask at Hobby Lobby in the party section.
I glued leaves and flowers on it to match her dress. I also bought a pair of green tights on Amazon to finish off her stem. This turned out gorgeous and she is over the moon about her costume!
Sun Costume
My sun costume was probably the easiest to execute. I bought a shiny gold leotard from Amazon. When you put this on it kind of feels like you are wrapping yourself in Saran Wrap. Anything for my kids. I bought three different shades of yellow tulle for the skirt and sunburst headband.
For the skirt I bought a thick gold strip of elastic for the waist and tied on the tulle alternating the different shades of yellow to give a sunburst effect. I put my crinoline from my wedding dress underneath the tulle to give it a fuller look and to cover me up.
For the sunburst headband, I bought a thin metal headband and tied the tulle on alternating the yellows, cut them at an angle for a sun ray effect. Put on some cute gold or yellow oversized sunglasses and you have a cute and easy sun costume!
Space Invaders
The future is bright with a lot of metallic accessories. I saw this idea on Pinterest and thought it was so cute and unique. We had so much fun trick or treating and using our light saber guns when it got dark.  The digital name tags light up too, purchased on Amazon. The toy ray guns, blue glasses and light up rings were a unexpected addition.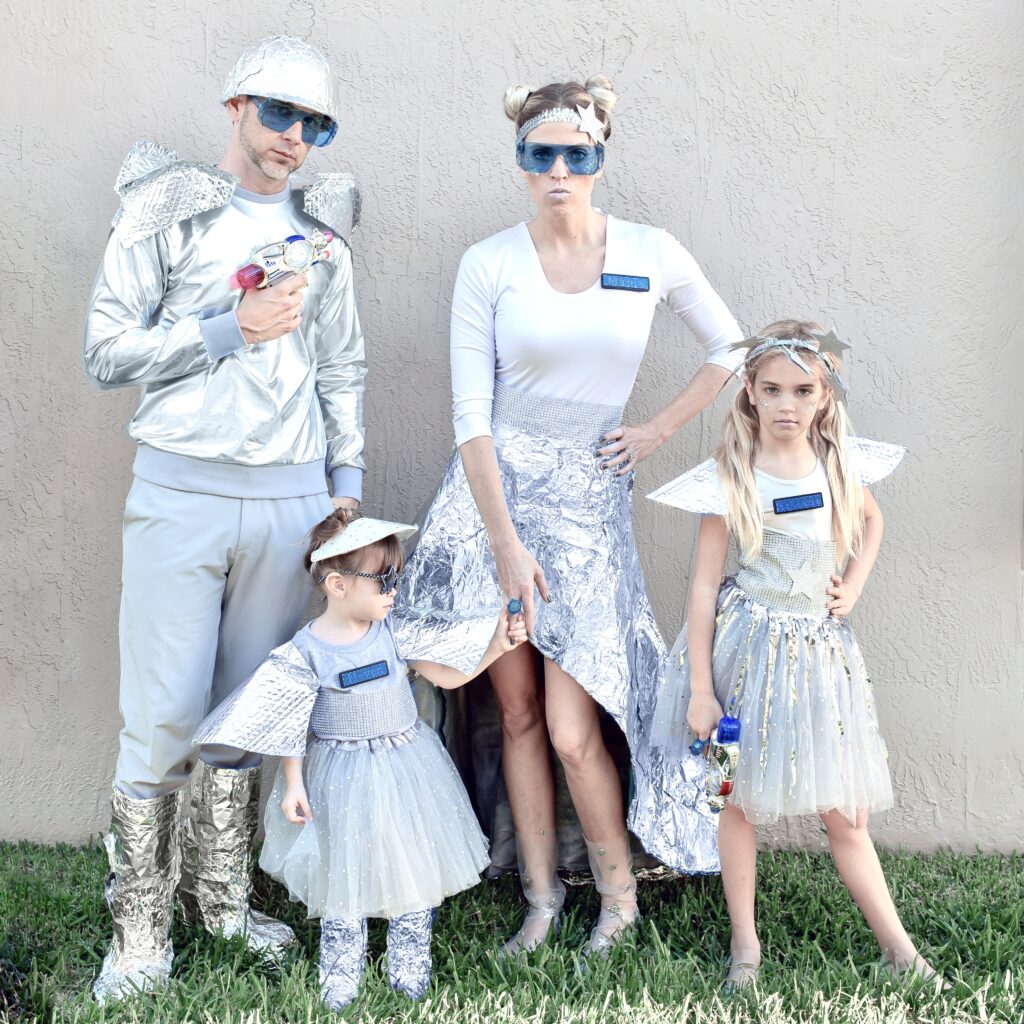 My daughters Space Invaders Costumes
For my girls I bought silver tutu's from amazon. Top tutu skirts with silver streamers and make a bodice of rhinestone trim I bought at Michaels. Their tees are plain grey t-shirts that I hot glued silver insulation cut outs to the shoulders for a futuristic look. For McKenzie I used a plain silver headband wrapped with silver pipe cleaners and attached silver glitter stars to them with hot glue.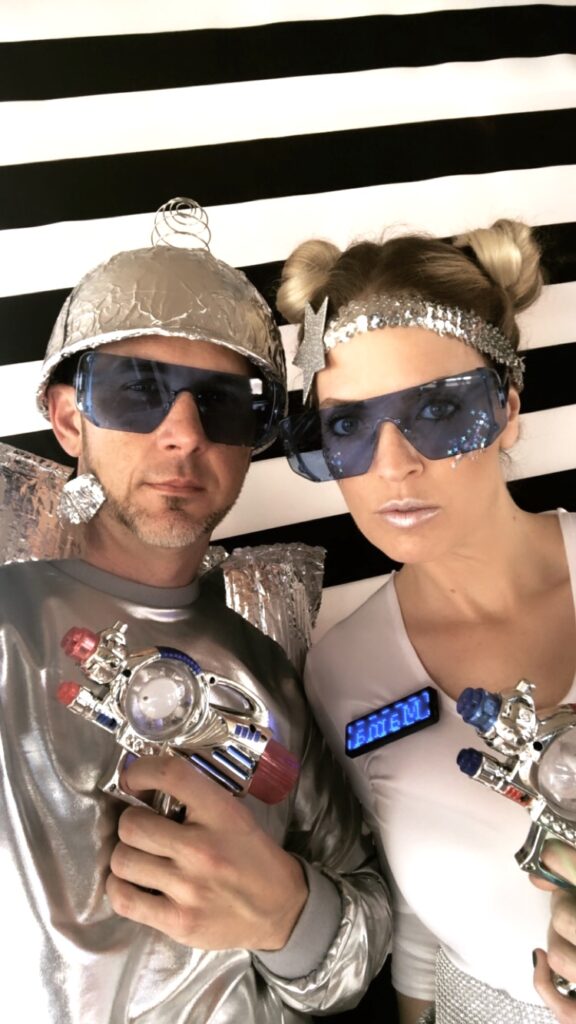 My Space Invader Costume
My skirt was made from an inexpensive high low skirt I found on Amazon and I attached aluminum foil to it with hot glue. My silver bodysuit is also from Amazon. If you look closely you can see we all have digital name tags on. These were my favorite find for this years costumes, also from Amazon. I used silver elastic and a silver star to make my headband. The space buns were a fun touch too.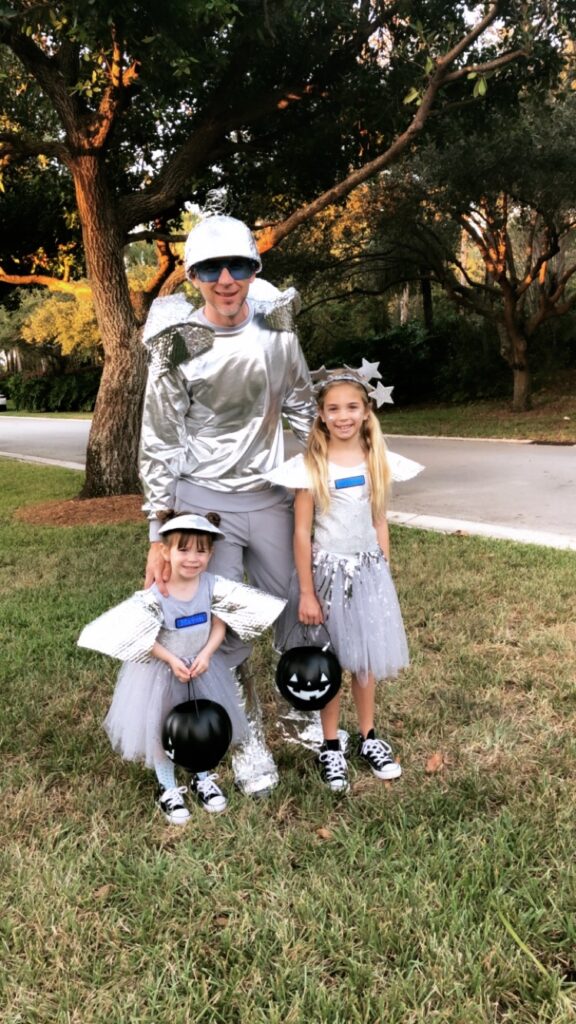 My Husband's Space Invader Costume
Tin foil was the star of the show for sure. Inexpensive and such a high impact for this look. I wrapped his rainboots in tin foil and a military hard hat for a space vibe. His helmet had a spring hot glued to the top for his antenna. The blue glasses and his shirt are from Amazon. His insulation wings were my favorite!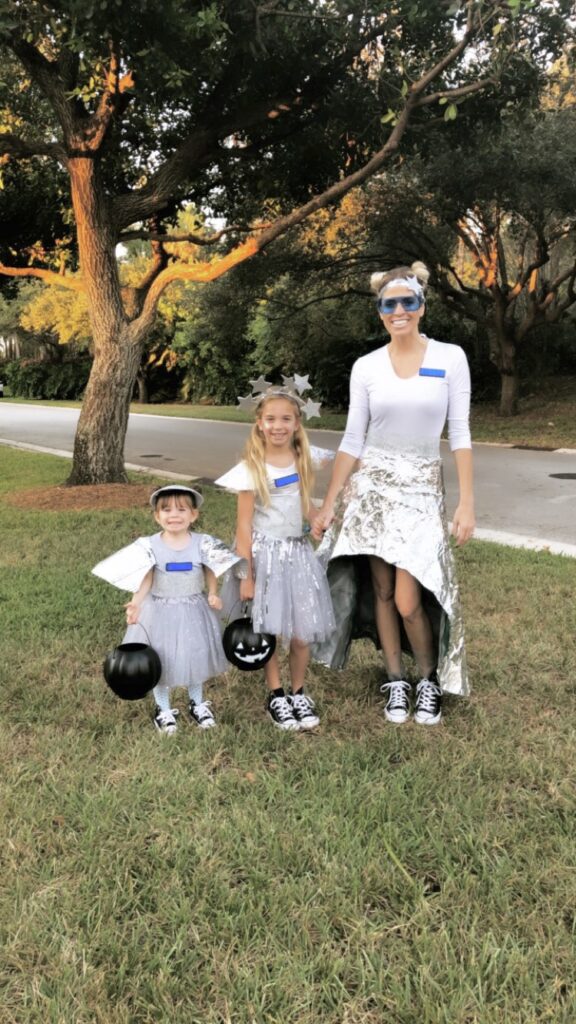 French Clowns
I think this has to be my favorite ever! The color palette and playfulness of these French Clown costumes are just too good. I usually start with one piece to build the looks from for my costumes. For this Halloween costume idea I started with my outfit.
My outfit
A rose gold sequin jumpsuit with puffy tulle sleeves from Zara. I added the gold L'amore belt for that perfect touch. Tulle socks that I had with shiny heels. I took my daughters gold cape and made a collar out of it and added two pom poms. Our hats are made from carstock and then I glued them on to a headband so they would stay put.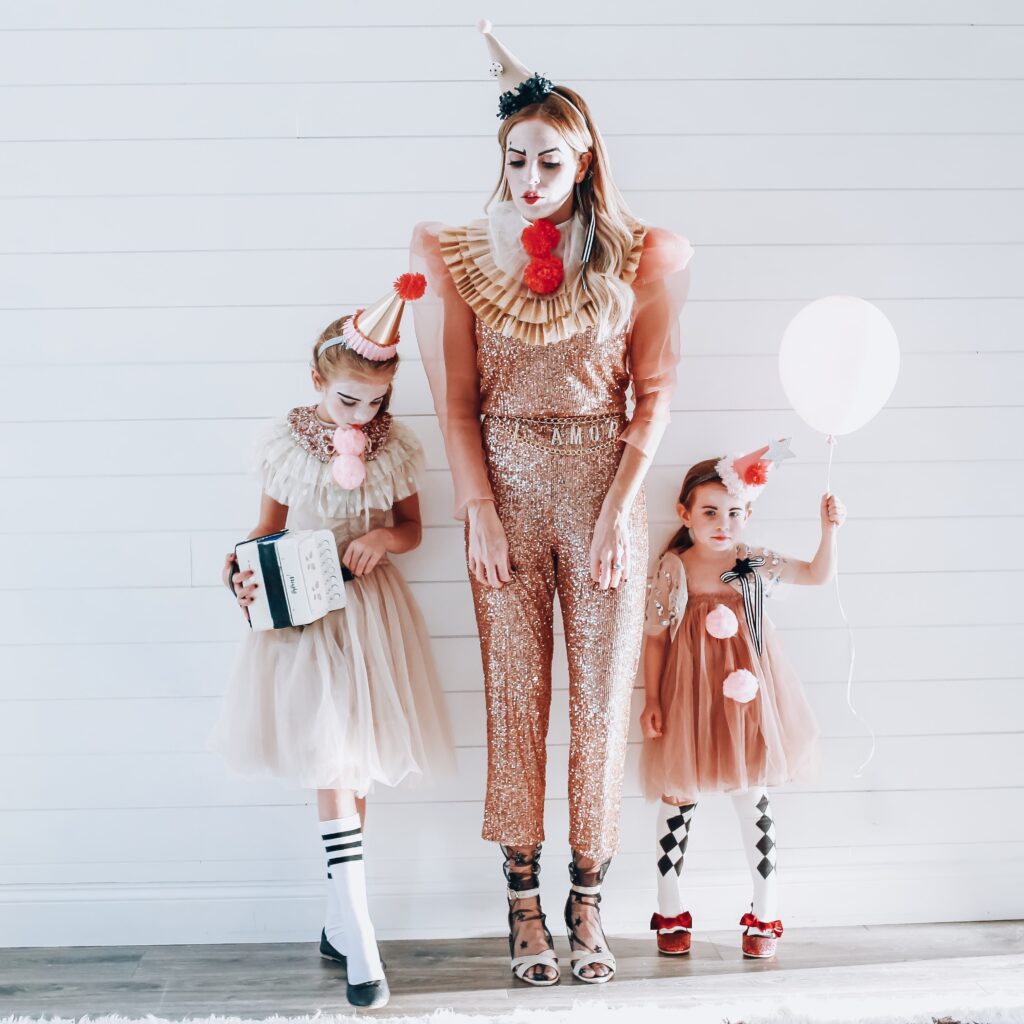 My daughters outfits
Don't be afraid to use what's already in their closets. I used a Tutu Du Monde dress as the base for McKenzie's outfit. Then I added a shoulder cape and a sequin collar I had. Finished it off with sewing on poms poms. The button accordion was my favorite touch for her outfit. White face paint, exaggerated eye brows, pink cheeks and red heart lips pull the whole look of the French clowns together.
My husbands outfit
His outfit is a pink dress shirt he wears for work paired with a black checkered sports jacket I scored on ASOS. I used one of my daughters gold sequin bows as a bow tie for him. His pants were also in his closet from Jcrew paired with bright colored argyle socks from Amazon and his loafers he wears for work. The black top hat was also an Amazon find.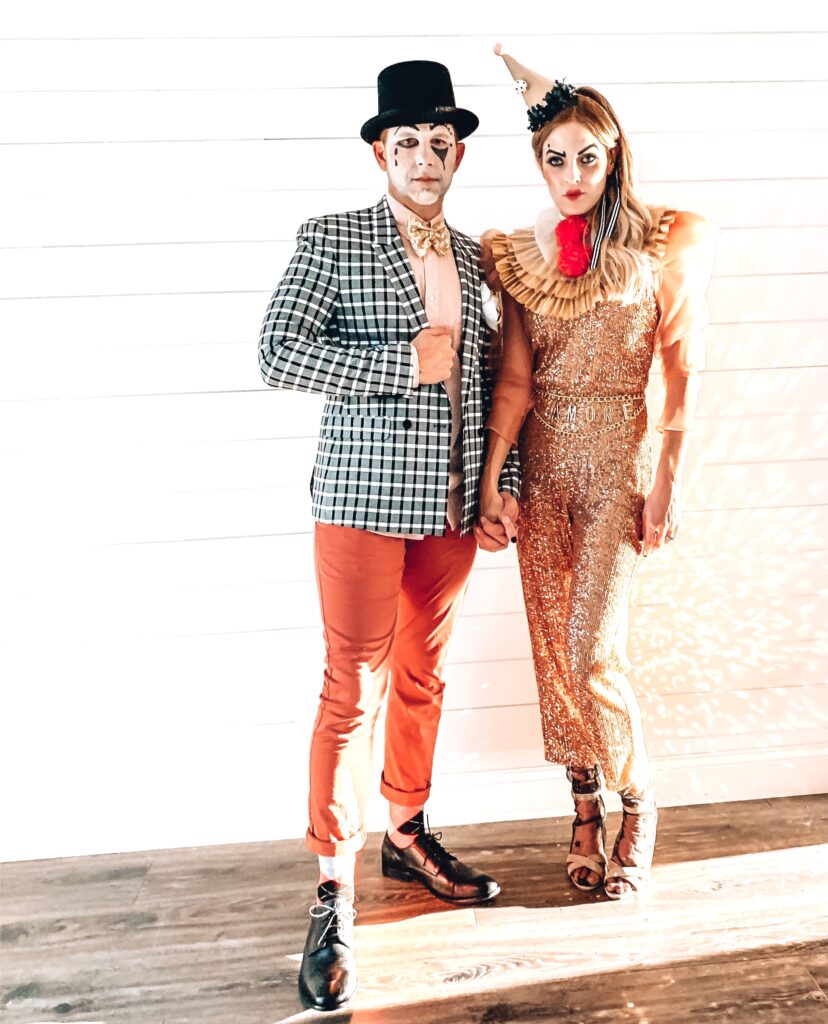 Bergens and Trolls Costumes
Maven was set on us being Trolls and Bergens for Halloween, she was not budging so I had to make it happen. I always try to be creative and think outside the box when putting together our Halloween costumes. This year I had to cave and buy our costumes. They were just too good and too funny not to. Rusty was Prince Gristle and I was Lady Glitter Sparkles. Maven was of course Poppy and McKenzie was Barb. They were oh so cute and Maven was so proud.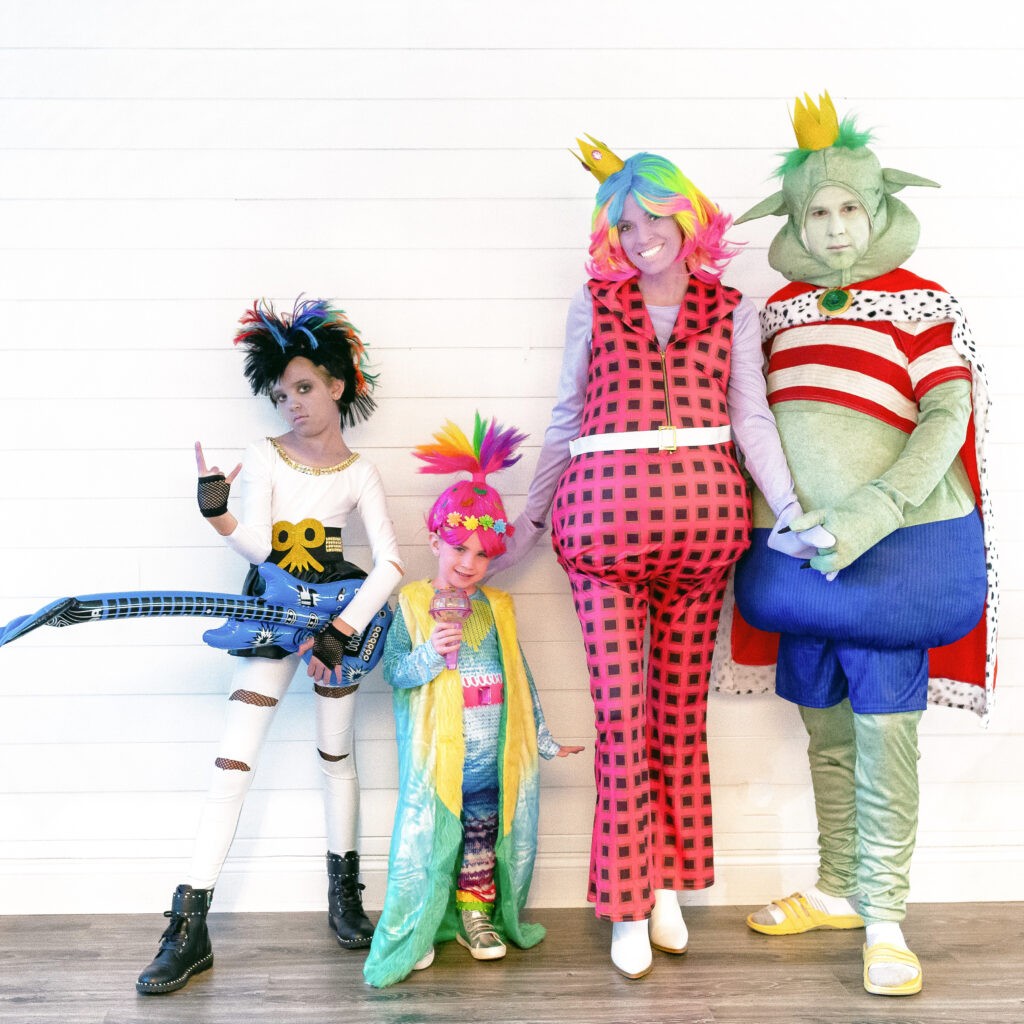 McKenzie's Barb outfit was pieced together with a white leotard that I cut holes in and glued studs to the collar, leather skirt, fishnet tights, and gloves. Her belt is gold foam that I cut into the shape that Barb has on in the finale. I used a black piece of elastic as the base with studs hot glued on. Her wig I used two different wigs to make the rainbow mohawk Barb has in the end of the movie. The face paint gave her the purplish grey tone that Barb rocks.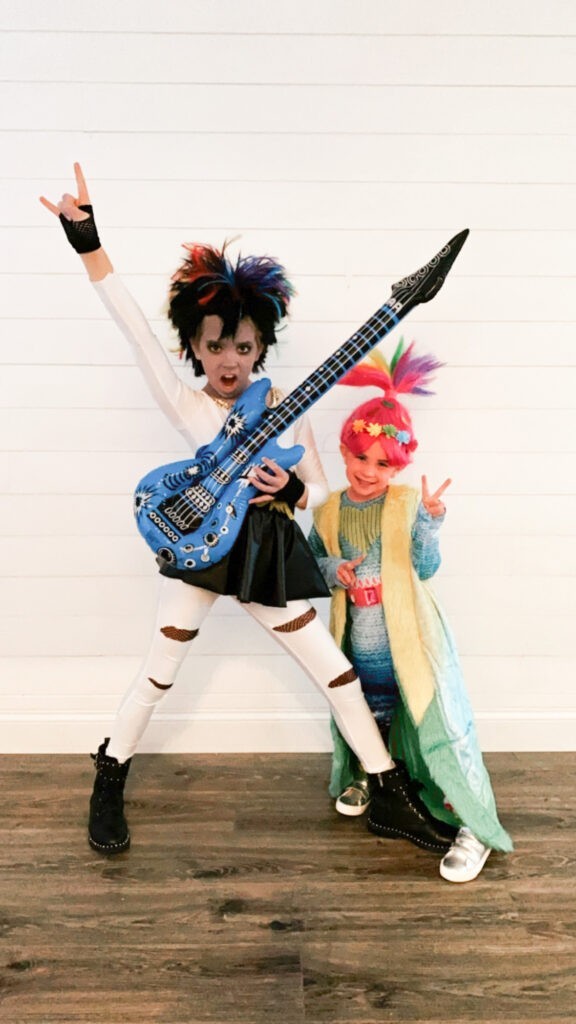 Maven's Poppy costume was from Party City. I love the unique details of the finale costume. She was so excited to be Poppy and loved her Pink Face paint.
I hoped you enjoyed this! If you do try any of these costume ideas please tag me on Instagram or send me an email I would love to see it. As always if you have any questions please email me. Pin the image below on Pinterest to save this roundup of Family of Four Halloween Costume Ideas!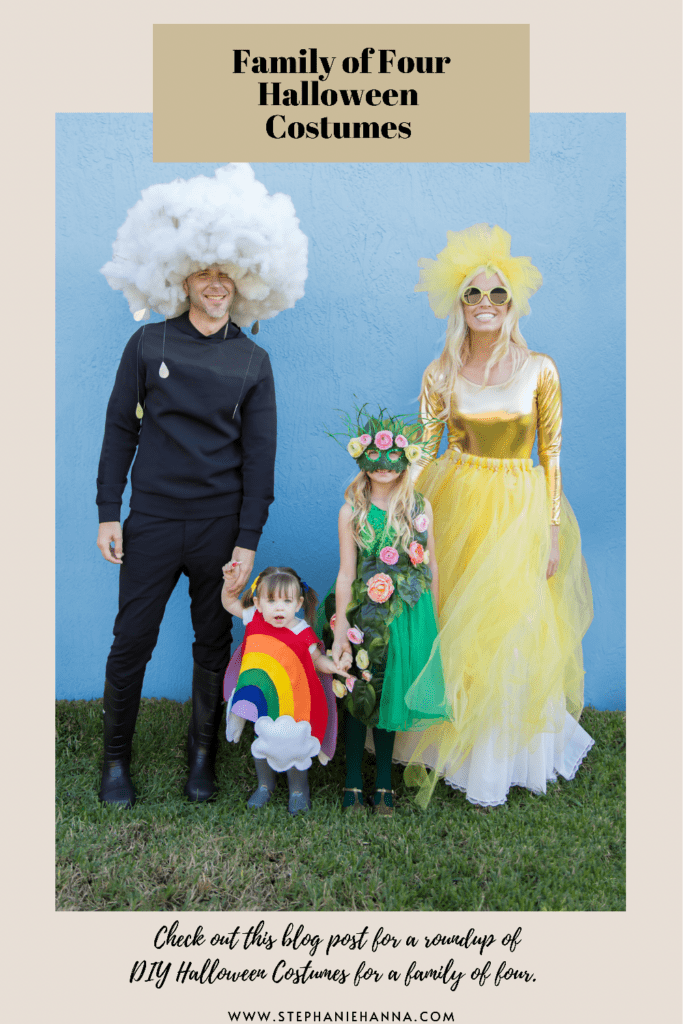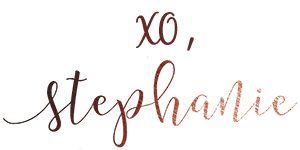 Family DIY Halloween Costume Ideas