Hey Boo! Are you looking for a little Halloween inspiration this year? Look no further I have you covered. Halloween is my favorite holiday so I tend to go a little overboard. I love Halloween for so many reasons. To me it's all about expressing your creativity, it doesn't have to be scary. We can make it pretty, a tad spooky and a lot of fun! Don't be afraid to use pinks, purples or lighter shades of orange when decorating, neutrals and black look beautiful together too. Above all just do what makes you happy!
There is no pressure to buy gifts or entertain everyone with Halloween. It's an anything goes holiday that can be as simple or as over the top as you envision it. Here are a few Halloween projects that were a hit last year. I'm excited to share so much more spooky but cute inspiration with you for this year! Follow me on Instagram to see what is new for this Fall.
Hanging Black Witch Hats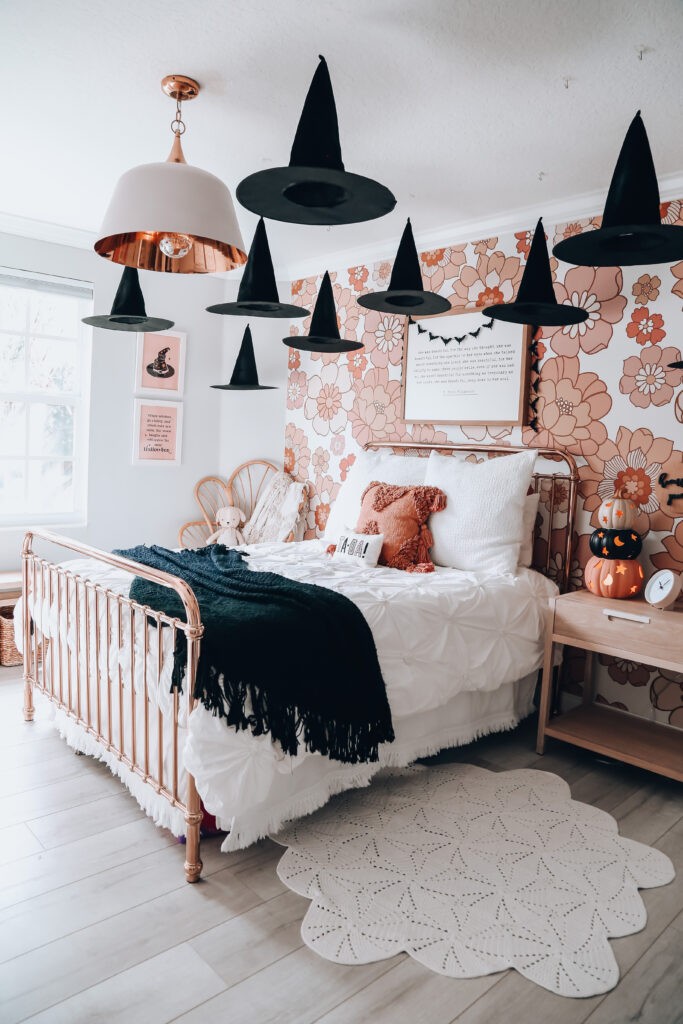 This is such a great inexpensive decor idea for Halloween. Get witch hats from the dollar store and hang them from the ceiling. It gives a playful eery touch with little effort. Hang with command hooks, gaffer tape or push pins.
DIY Halloween Doormat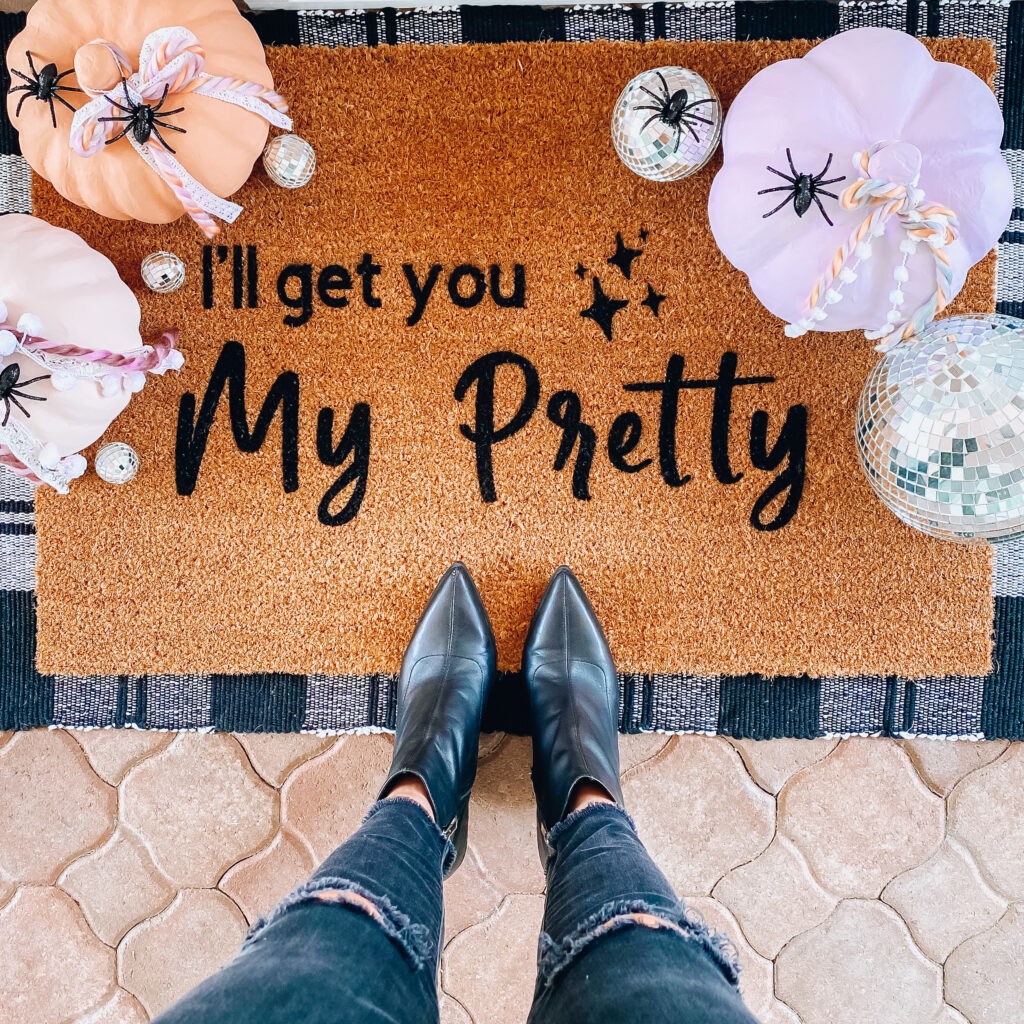 I love to kick off the Halloween season on September 1st! This DIY witch inspired doormat with my Cricut and a blank doormat. Painted pumpkins and of course disco balls were added for a little flair. Starting off the season this way is so fun and gets me in the spirit of the holiday!
Styled Coffee Station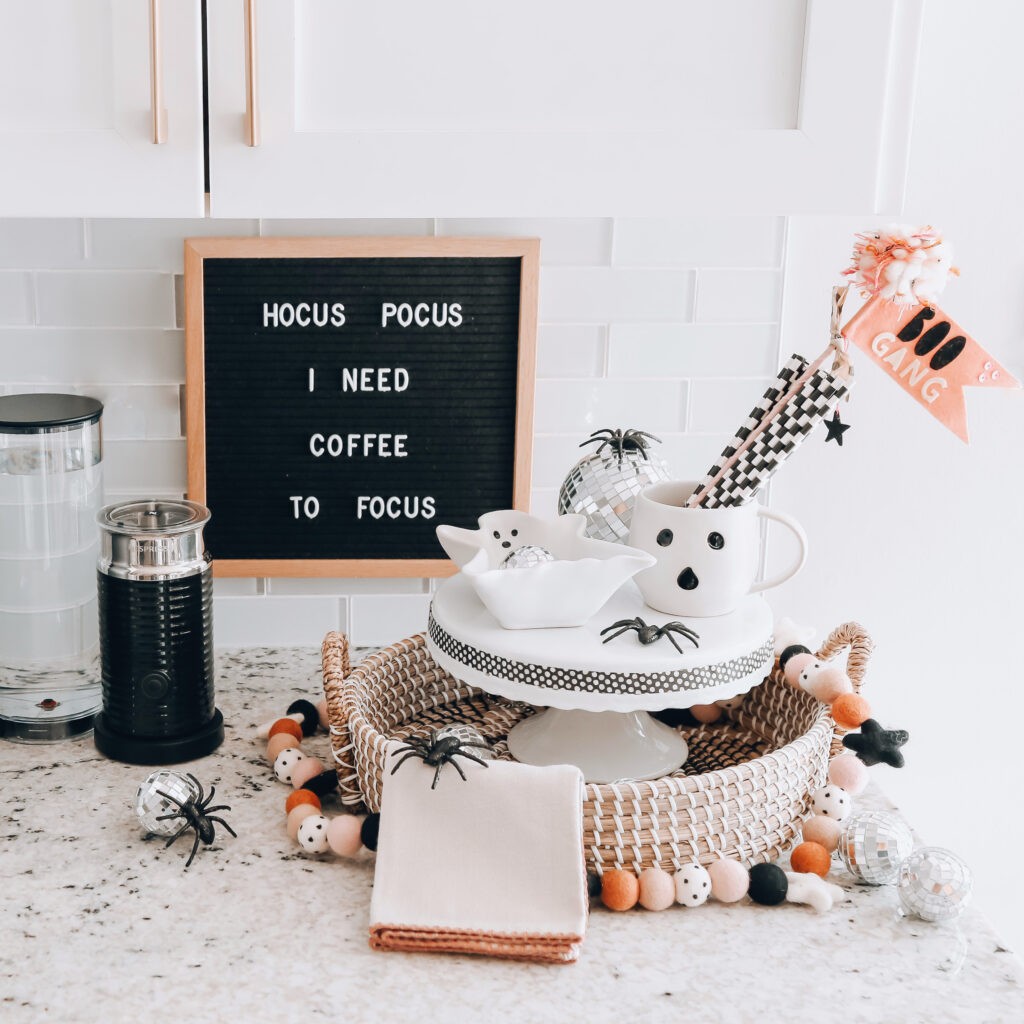 Hocus Pocus I need to coffee to focus. My morning coffee is serious business. I love changing up my coffee station for every season/holiday. Cake stands are great for height and my favorite ghost mugs linked here are the perfect spooky touch.
DIY Dollar Store Skully Squad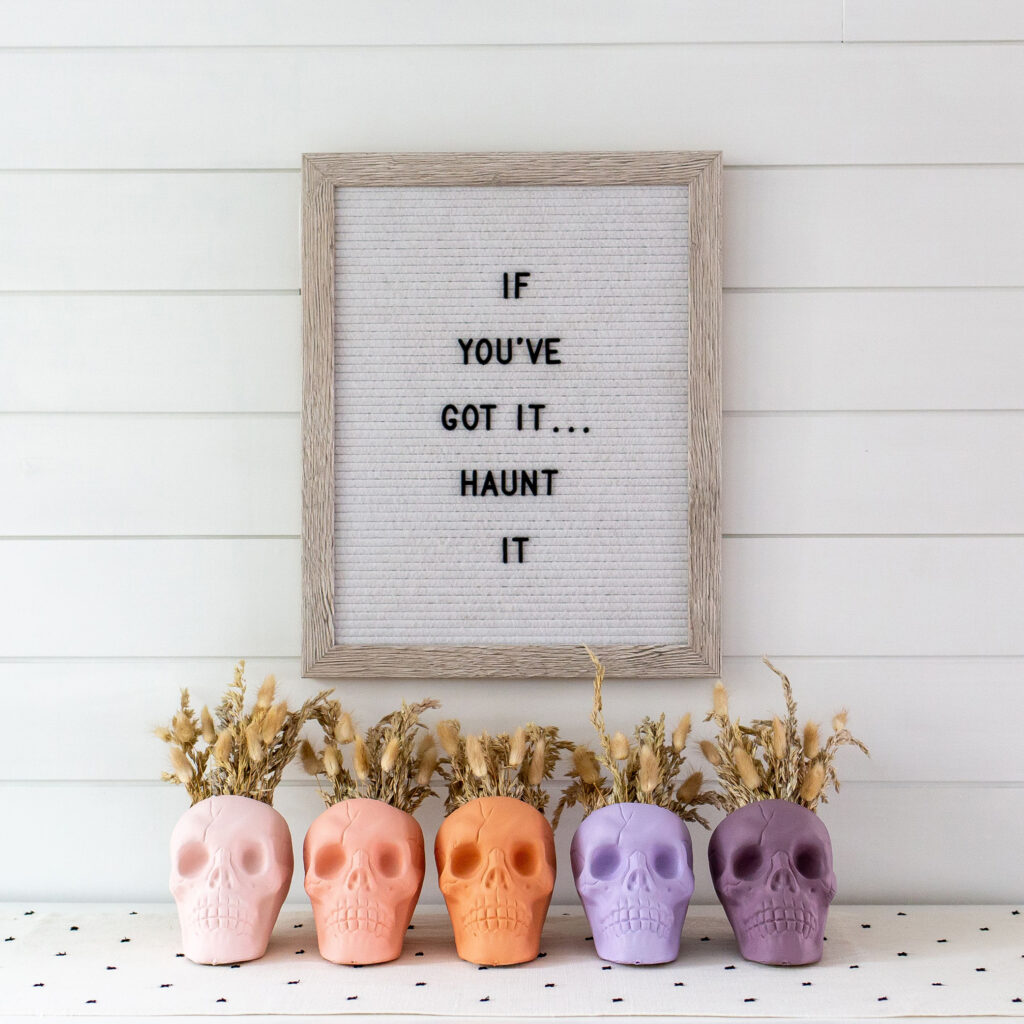 Skully's Unite! This fun Dollar Store DIY was a fan favorite last Halloween season. Who knew a dollar store skull could be so pretty! My color palette of purple, lavender, melon, peach and pink was inspired by one of my favorite small shops Unigirl. She always has the best color inspiration. The skully squad was easy to execute. I cut the top of each head off. That sounds so weird lol, so I could place the dried bunny tails inside the head. After that, I painted each one with acrylic craft paint. It took about three coats. Line them up and boom there you have the prettiest little skully squad, a little bit of spooky and a whole lot of DIY magic.
Halloween Mantel Inspiration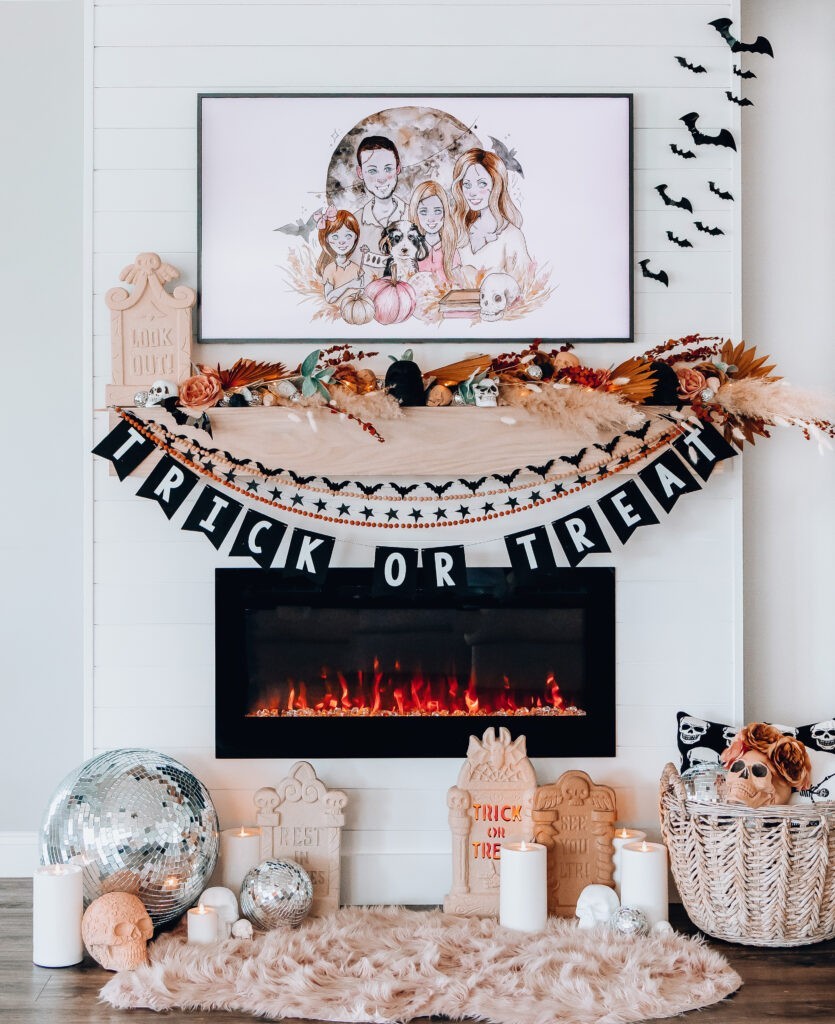 My first Halloween with a mantel! Omgee what an exciting time. I've dreamed of having a mantle for so long. Thanks to my handy hubby I finally have one. If you are new here I have to tell you I am a disco ball lover. I think they are the best decor for any holiday to add a little glitz and glamour. Skulls, disco balls, painted tombstones, candles and a fabulous hand drawn zombie sketch of our family from Wave Says to display on our Samsung Frame TV came together for a setup that's going to be hard to top! All of the garlands are from my favorite handmade garland small shop Pearl and Jane.
Halloween Countdown Calendar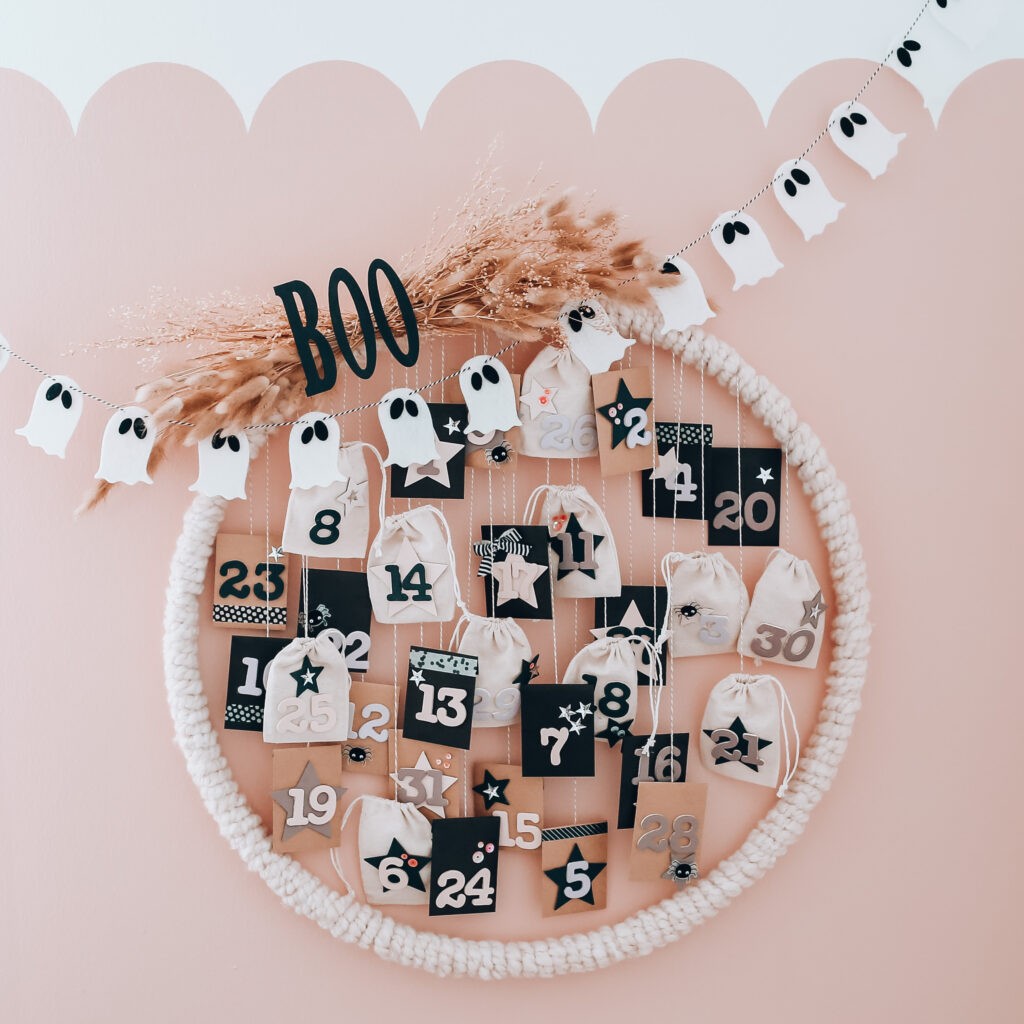 Who doesn't love a good countdown. The fun and anticipation leading up to the big day is just as fun as the grande finale. It's all about the journey arm I right? That's what everyone tells me and I think they've got it right. For more details on this and for a free copy of the countdown click here
Playhouse Makeover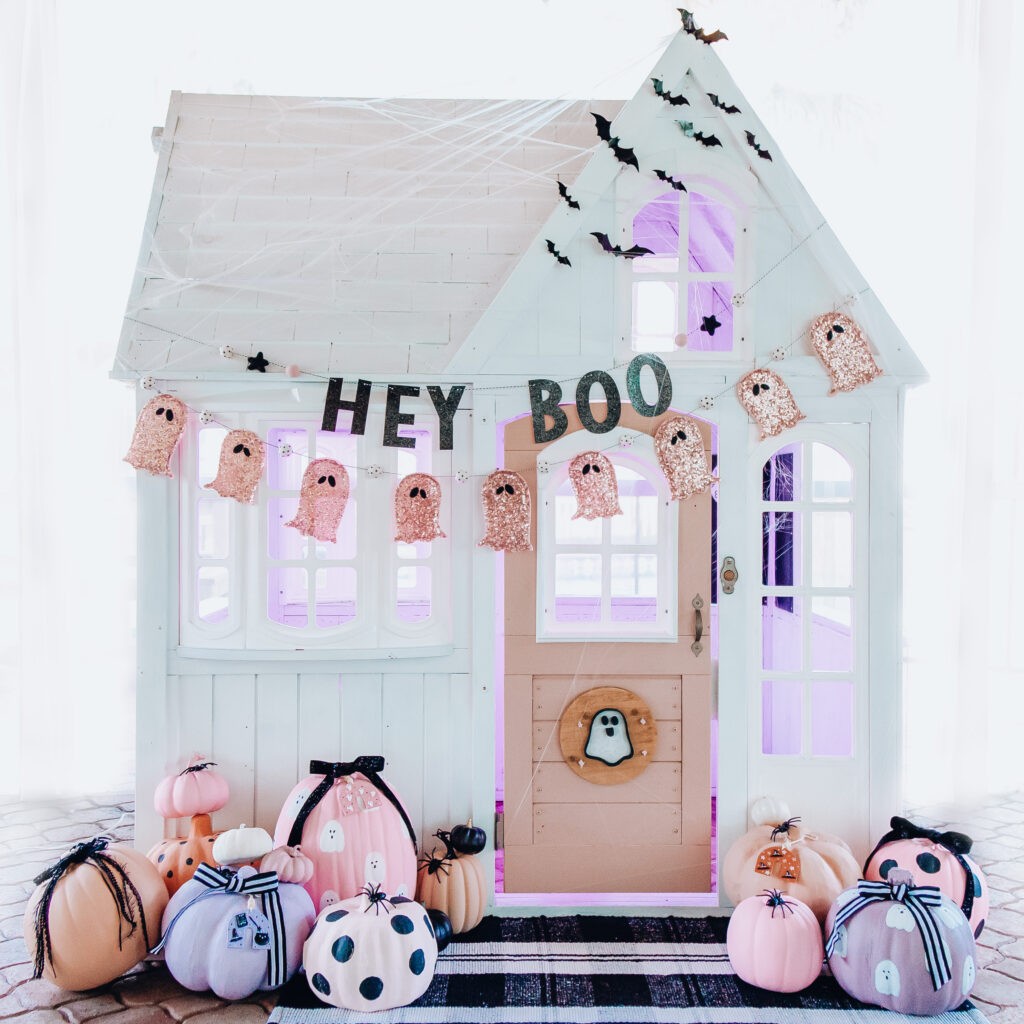 My daughters playhouse is one of my favorite things to decorate for the holidays and gives me all of the Halloween inspiration. Painted pumpkins, a black light and lots of cob webs gives this sweet house a spooky makeover. The wooden ghost sign is from Knox and Navy and the handmade garlands are from Pearl and Jane. This was my last year decorating this house (cue the tears) my girls ages 5 and 10 have grown out of it. It was a fun couple of years that I will alway look back on with great memories.
DIY Boho Halloween Wreath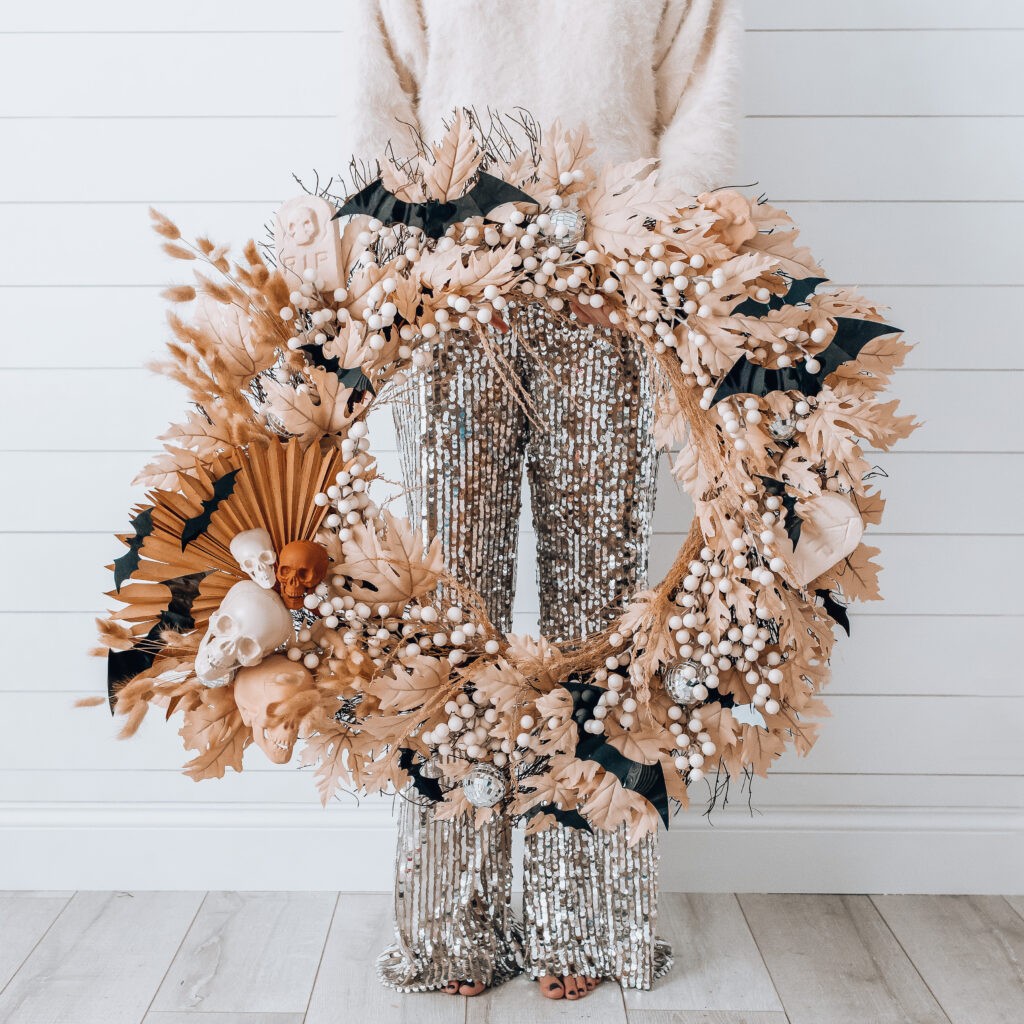 Is it the sparkly pants or the wreath that steals the show? Maybe a little bit of both. Huge wreaths are so much fun to make but my best advice would be to find a wreath base that's large and that has some filler as a base. For instance, I found this wreath at Home Goods. It was a twiggy base with the little white berries already attached. The light colored leaves, dried grass, bunny tails,  skulls and tombstones were found at Michaels. I painted the tombstones and skulls to blend with my wreath using acrylic paint from Michaels. After that I added the small disco balls and bats which are from Amazon and the dried palm leaves are from AFloral. Grab your glue gun and a few hundred glue sticks (I'm kidding, kind of) and go to town!
Spooky Sleepover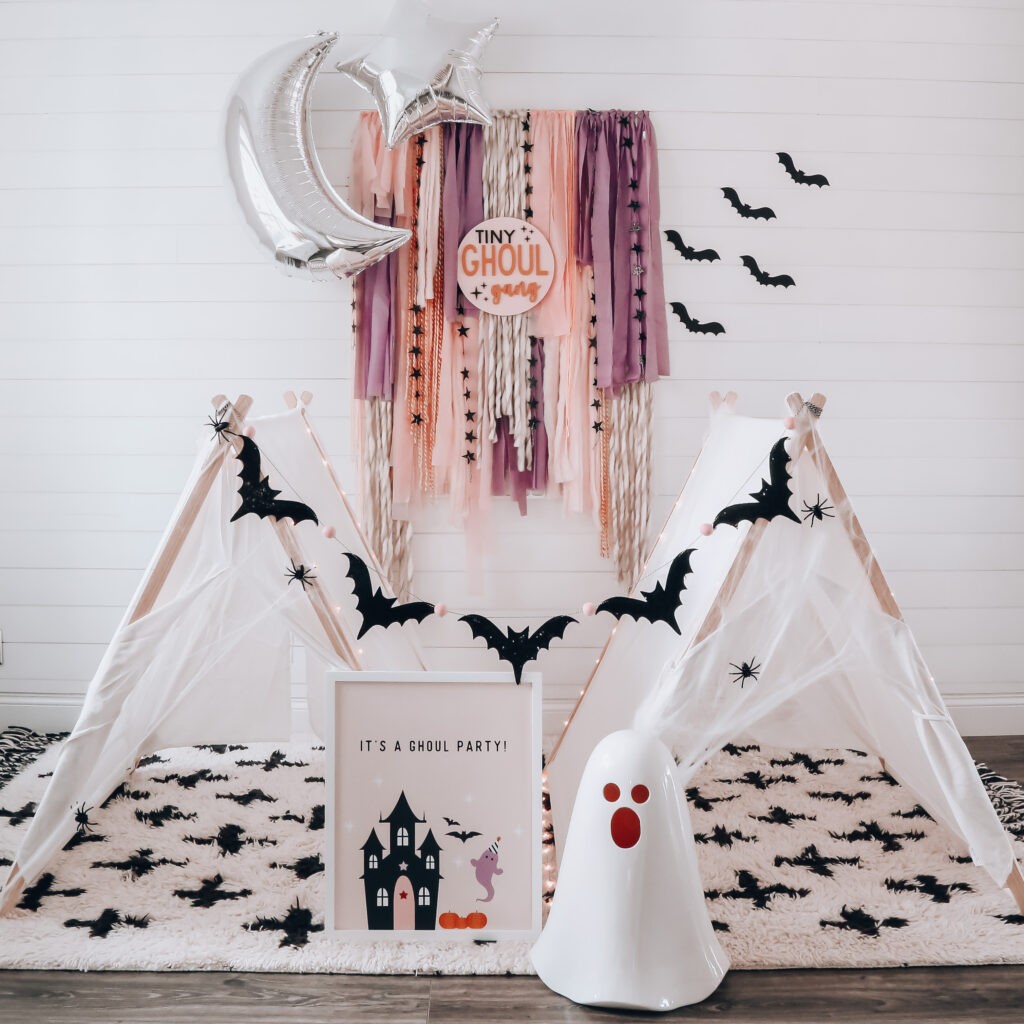 Did someone say sleepover? Ohhhh and a spooky sleepover at that!? It's a Ghoul Party, count me in. I had so much fun with this Halloween sleepover for my girls. The sleepover tents have been one of the best investments I've made. McKenzie and Maven love sleeping in them for special occasions, however I should add be ready to sleep on the couch they won't sleep downstairs without me. The backdrop was another DIY made out of yarn, plastic table cloths and black star garlands.  Moon  and star balloons give it a magical touch. That cute light up ghost was a Home Goods score, the It's a Ghoul Party is from Sprinkle of Whimsy and the sequin bat garland is from the one and only Pearl and Jane.
Boo Baskets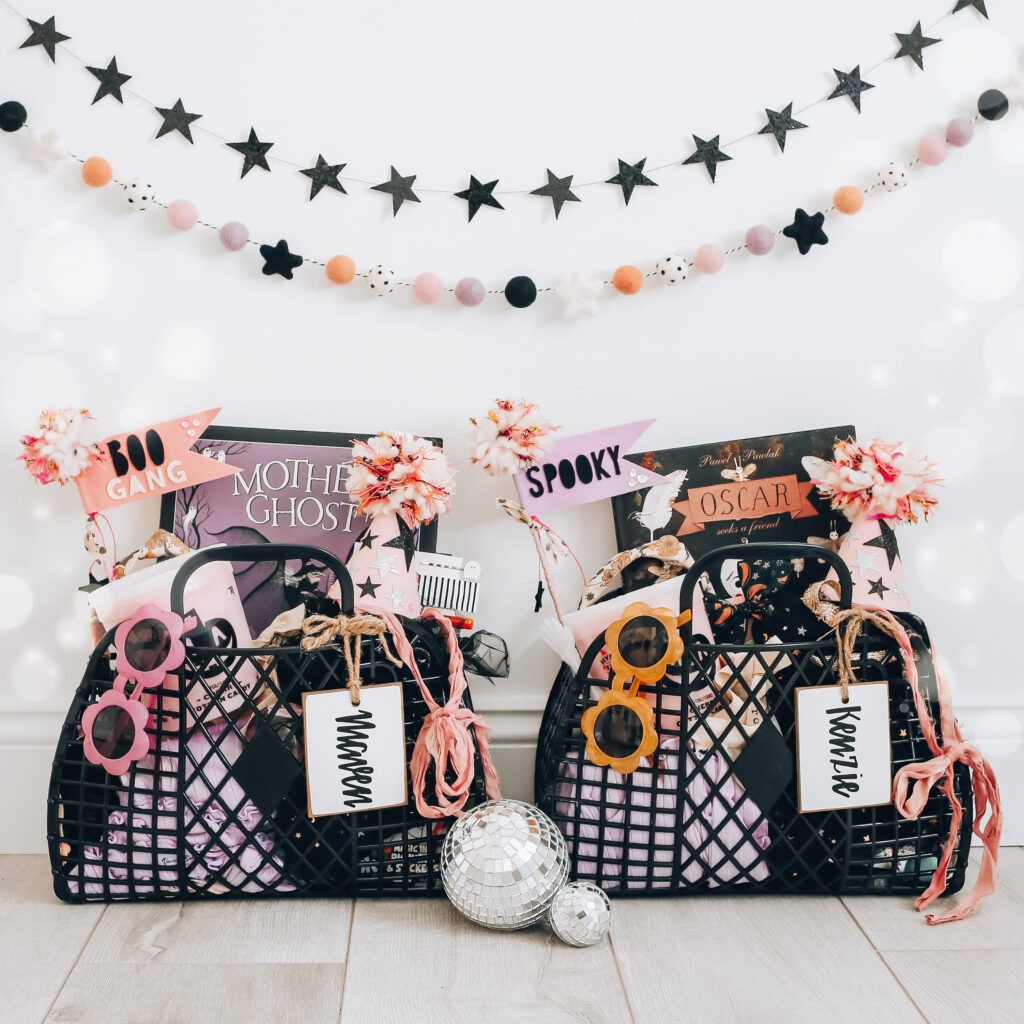 Boo Baskets. You may be thinking what's that?  In other words, gifts for your kiddos to kick off the month of October. Get them in the spirit with goodies like a Halloween book, pjs, sweet treats, capes, witch hats anything that you think your kiddos would enjoy. So much small shop love is filled in these jelly purses. I like to give them the baskets on October 1st to kick off the month before Halloween.
Sweet Treat Board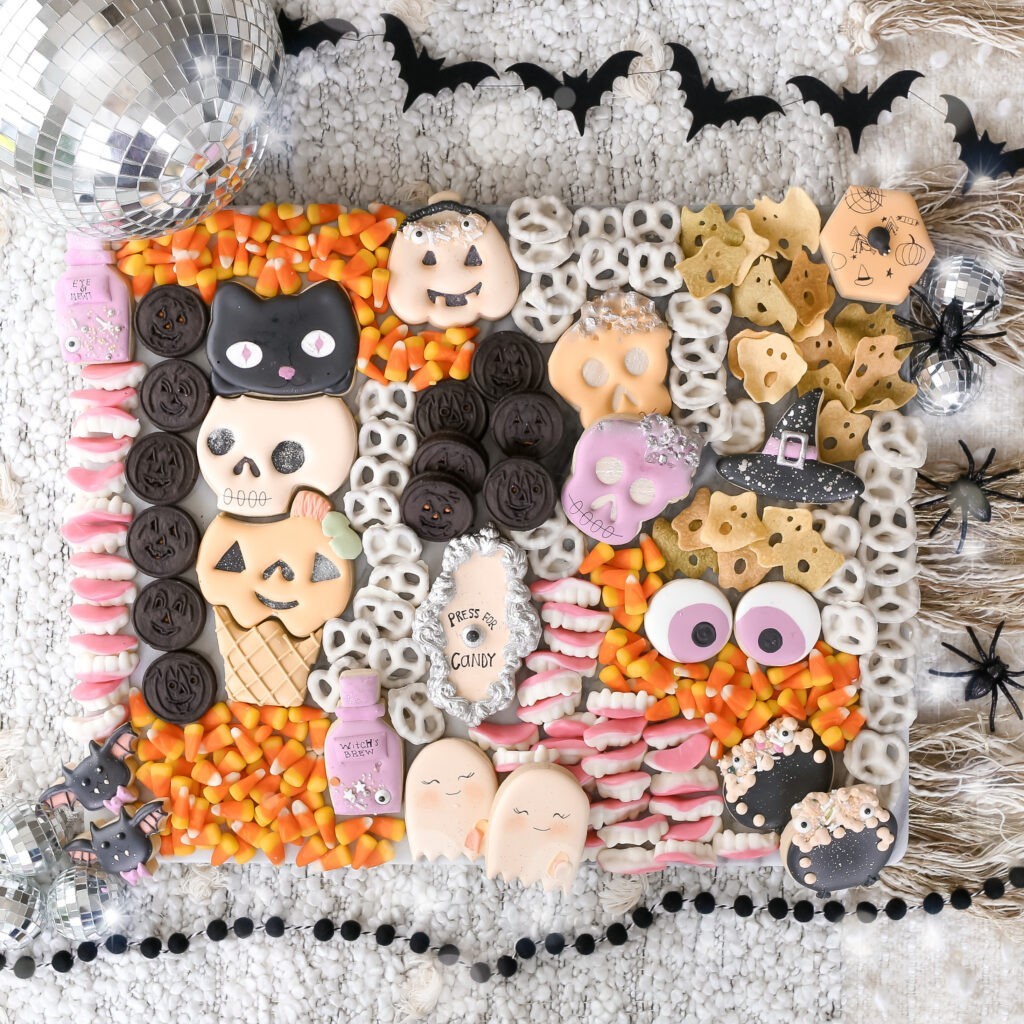 When Royally Iced sent me theses amazing sugar cookies I knew what I had to do! They really made the cutest treat board. I filled the board with white chocolate pretzels, gummy teeth, candy corn, veggie ghosts and pumpkin cookies from Trader Joes. McKenzie and Maven's mouth dropped open when they saw this. I live for those fun little reactions from my kids because after all they are only little once.
Painted Pumpkins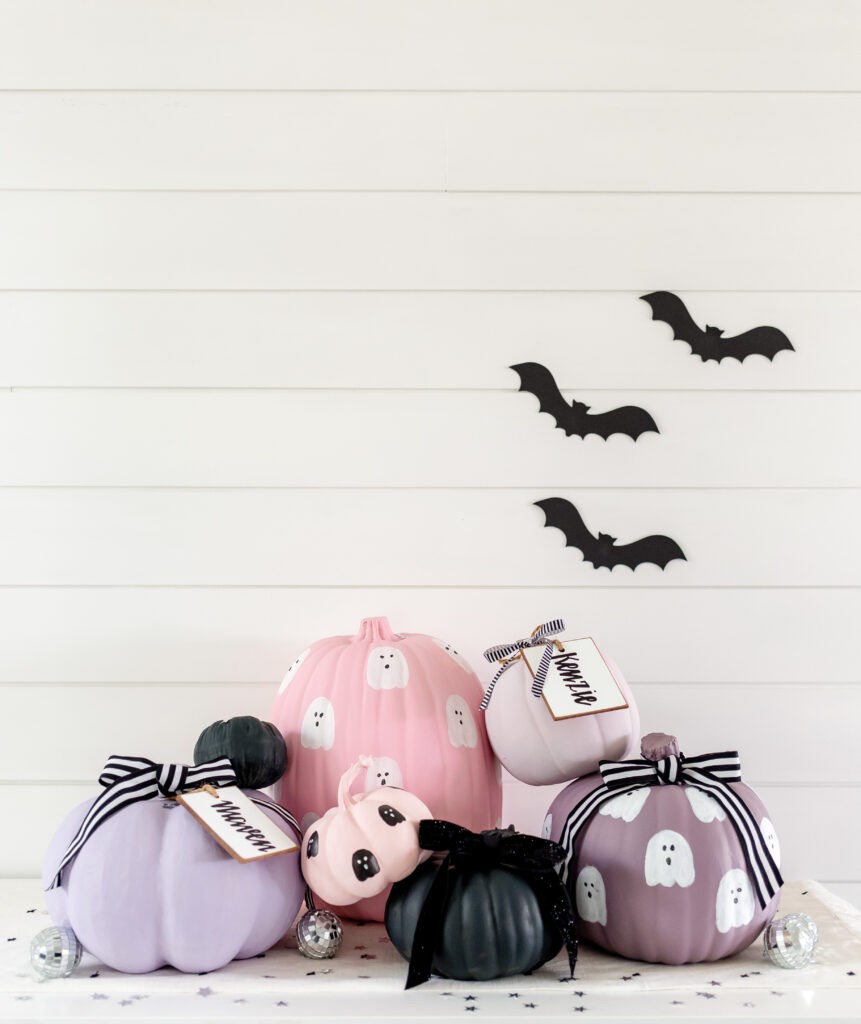 Painting pumpkins is easy and fun to do with your kids. I love the paper mache pumpkins from Hobby Lobby and the plastic pumpkins from Target or Michaels. Get creative and paint them in the colors you love with fun embellishments. I decided to paint ghosts on them last year and I love how it turned out! Tie ribbons around the top, add a few disco balls (of course) and some fun name tags from Chalk Designs by Me. Decorate your mantel, your front door or the shelves in your home with these fun pops of color.
Hanging Witch Brooms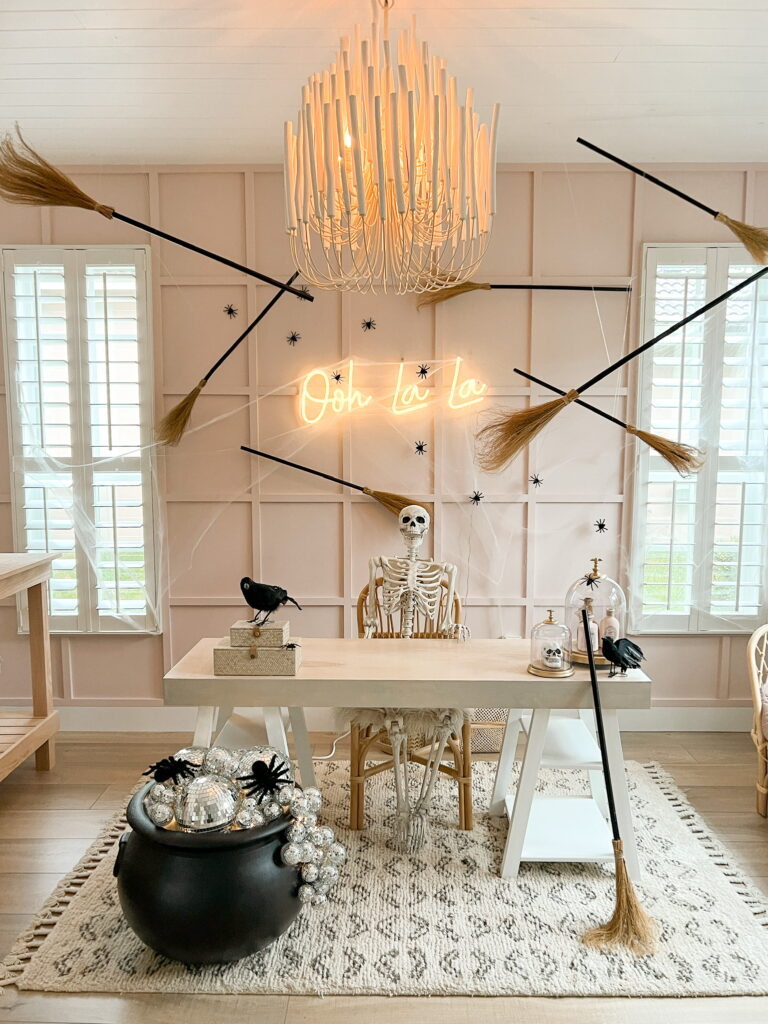 This is such a great inexpensive decor idea for Halloween. Purchase witch brooms linked here (they come in a pack of 4) I bought 2 packs. Hang them from the ceiling with fishing line and small clear command hooks. See my Instagram Reel here for a step by step on how we put them up. It gives a playful spooky touch with little effort. You can find all of my craft essentials here.
Pin this photo for Halloween Decor inspiration later and follow me on Instagram to see everything I'll be sharing for the new season.