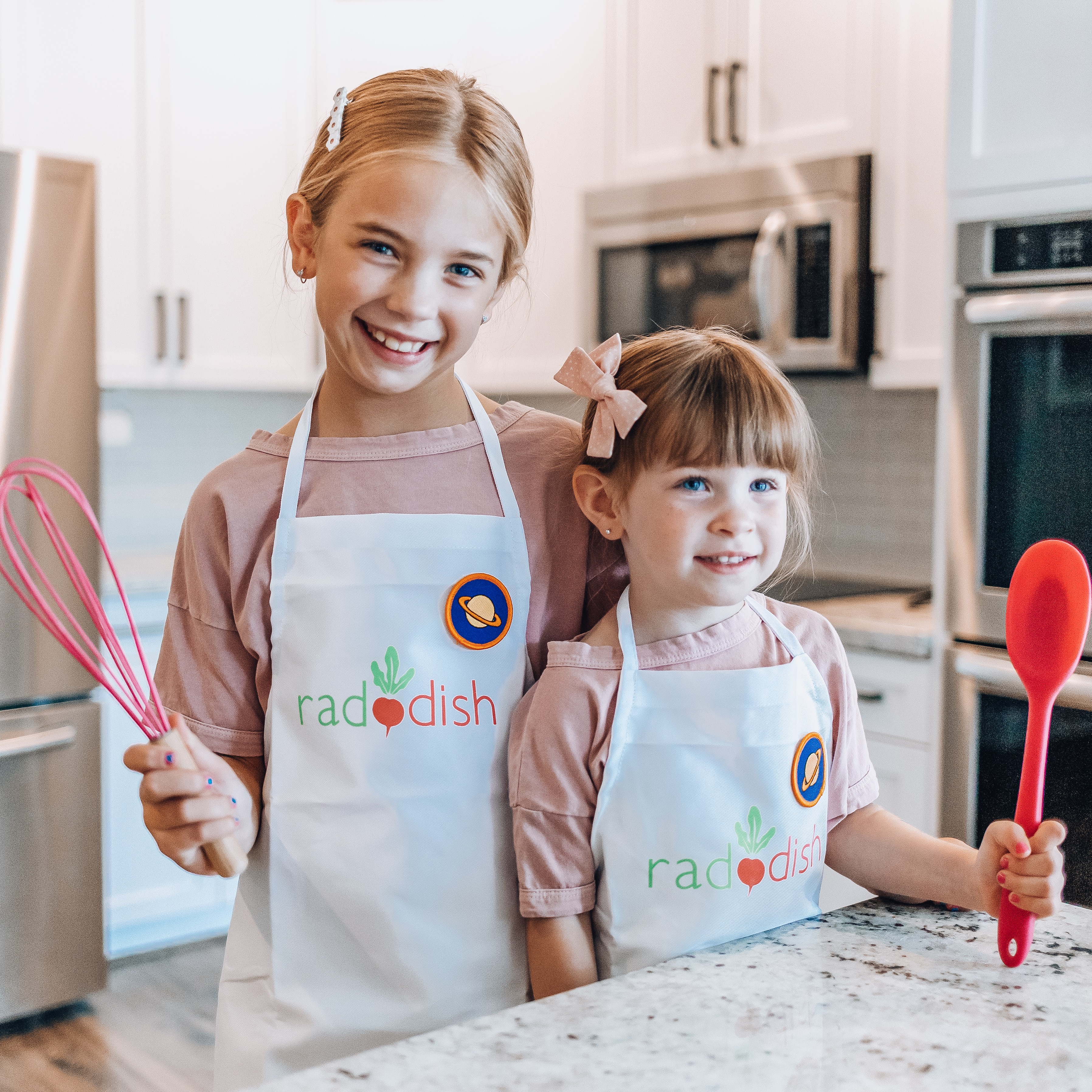 It's no secret that I don't cook much and definitely need a little help in that department. My kids actually love to cook so when I found Raddish Kids I knew it was a perfect fit for us. Raddish is a cooking club, culinary lesson, and mealtime solution that gets delivered to your door monthly. How cool is that? We were all so excited when the box came we tore into it and found the cutest silicone molds to make star and moon pancakes! The girls were jumping up and down! I think they would eat pancakes for breakfast lunch and dinner if I would let them. Keep scrolling on how cooking with Raddish Kids has made a difference in our family!
This review is sponsored by Raddish but all thoughts and opinions are my own.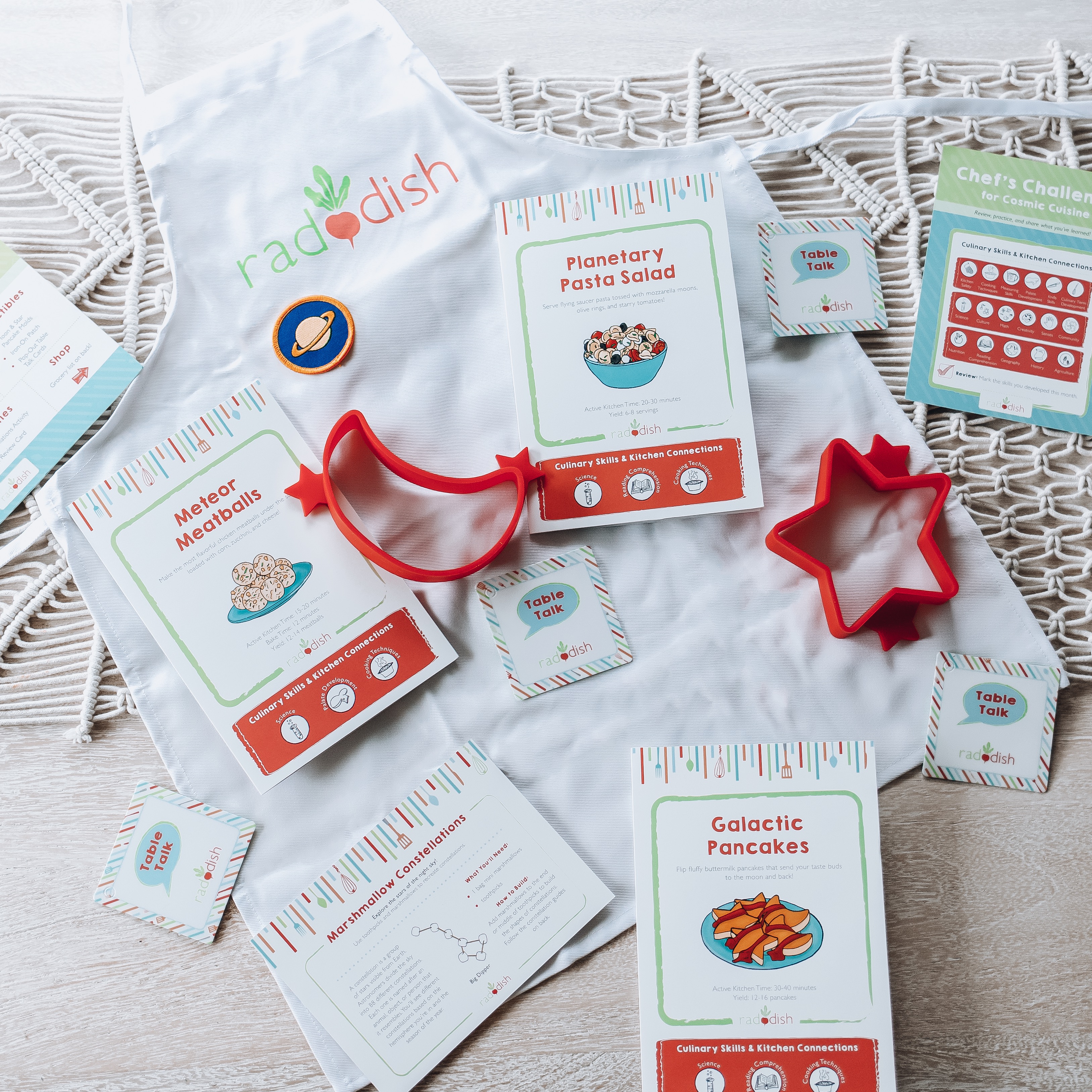 Everything is so easy to follow with detailed shopping lists, recipes, and lots of fun activity cards. The girls love their aprons and patch they get for completely the recipes! We made galactic pancakes from scratch and the girls gobbled them up. The pancakes were delicious and they were so proud to make them themselves. McKenzie and Maven had so much fun making the star constellations with toothpicks and marshmallows too! An activity that kept them busy for quite a while.
When we sat down at the table we used the table talk cards that you get with the kit. It asked what we would take if we flew to the moon. Such a fun question. McKenzie said her favorite stuffed animal, art supplies and a jumprope. Maven said her pancakes, her blanket and her purse. These are the days that I wish I could bottle them up. The cutest answers. We cant wait to see what next month's Raddish Kids kit holds!
Use promo code: SHBLOG for $15 off a 6-month membership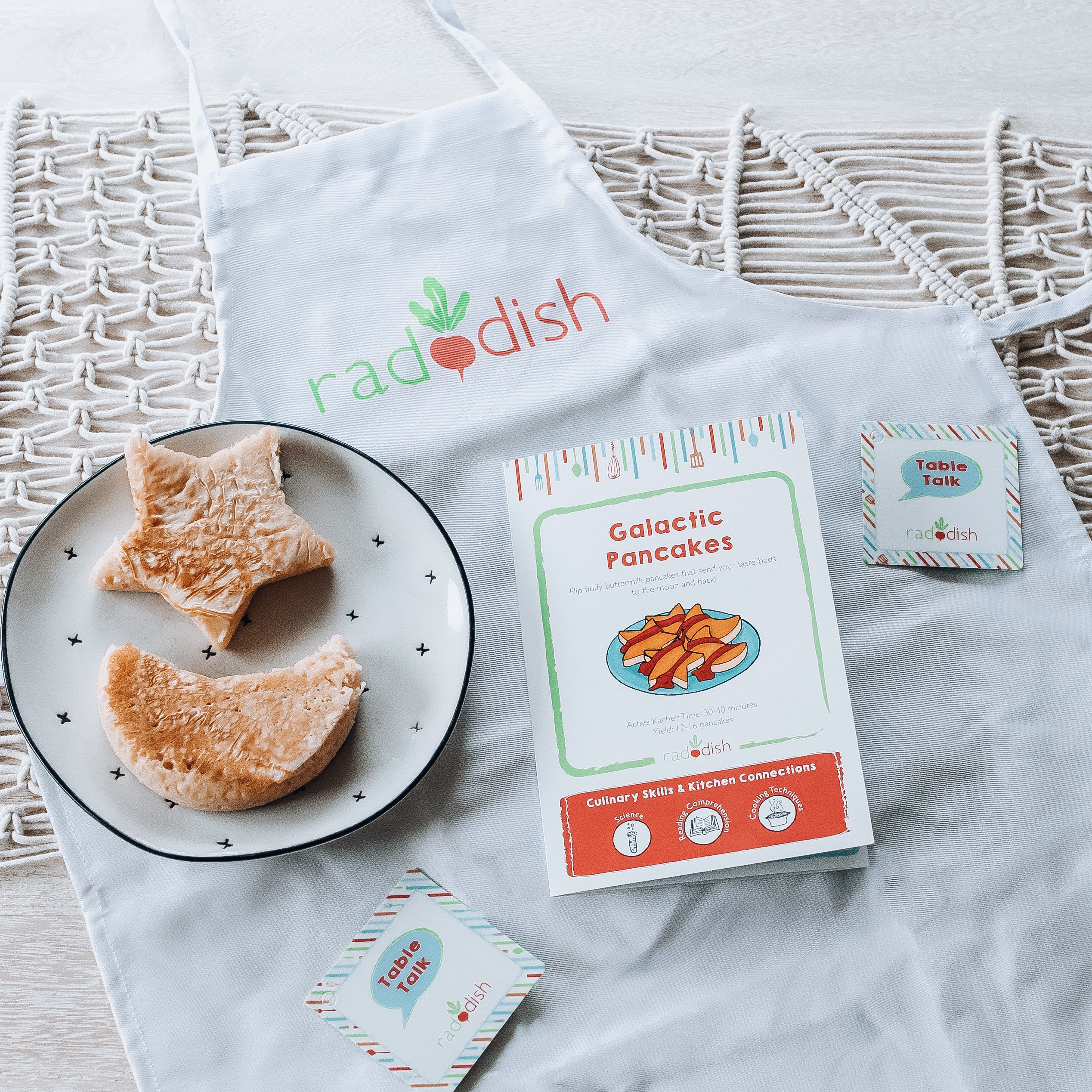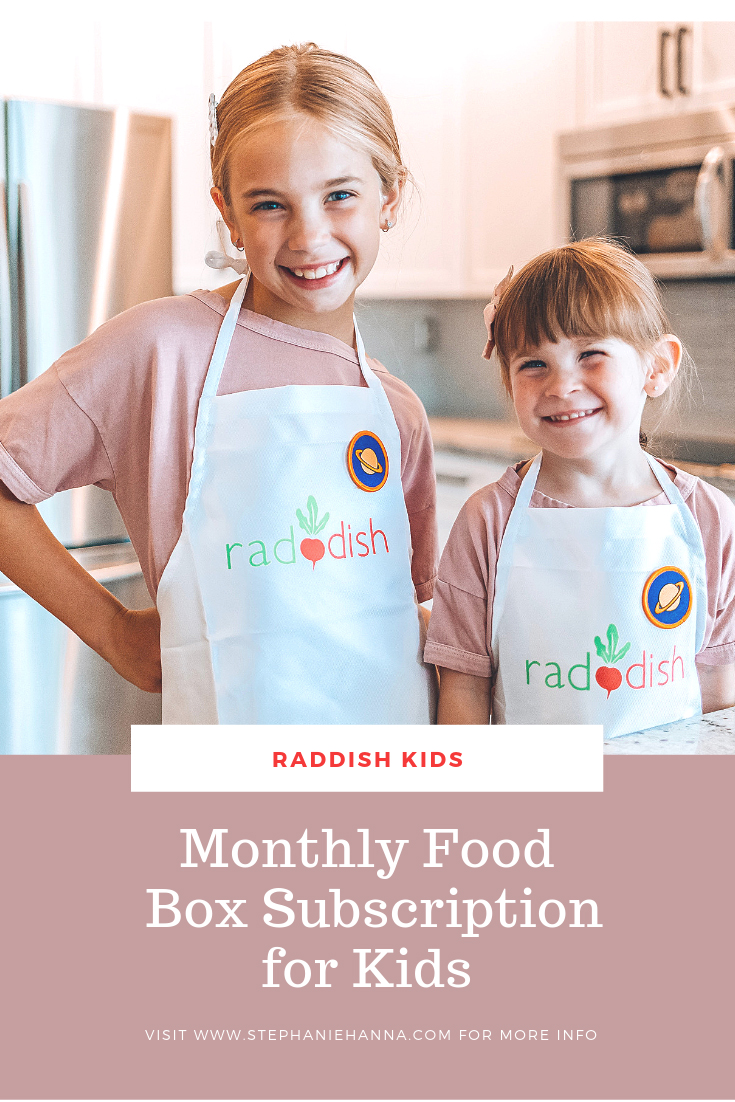 AUGUST RADDISH REVIEW
Our August Raddish Kids cooking subscription box came and the girls tore into it! After trying out the July box they were so excited to see what was next! This month is all about Argentinian cuisine. Chimichurri steak sandwiches, Patagonian potato salad, and dulce de leche cookies. Of course the girls begged to make the cookies first. I admit I'm just not that great at cooking and I definitely don't make the effort I should with teaching my girls how to cook, that's why I love these kits so much. Everything is so easy for me and I feel like I'm being a good mommy. I really do learn something every time we do a new Raddish kids recipe!McKenzie and Maven love their aprons and this months new patch is a sun! They feel so proud to get their patches each month. The cookie scoopers are genius! Where have these been all of my life? They loved scooping out the dough and plopping it onto the cookie sheet. I kept catching Maven sneaking a sampling of the dough, who can blame her.
When the cookies were done we sat down to try out our creations. The girls loved them. With each box you receive 4 table talk cards for conversation starters with your kiddos at the table. I asked them what their favorite kitchen tool was. McKenzie said a whisk and Maven said she was a whisk too. We cracked up. Maybe that would be a good question for next month if you could be a kitchen tool which would you be?!
Do your kids love to cook? Use promo code SHBLOG for $15 off a Raddish 6-month membership! Every month is themed something new, so there are always fun and delicious recipes to try!