I am honored to be featured in Michaels craft stores this Fall as a Michaels maker! Dreams really do come true. I was floored when I received an email from the Michaels team!  They wanted to fly me out to Dallas, TX to collaborate on a few Fall and Halloween DIY craft projects with the creative team at Michaels. I couldn't say yes fast enough. I love Michaels and have shopped there for years. An opportunity like this was definitely a little surreal for me. I was so pumped!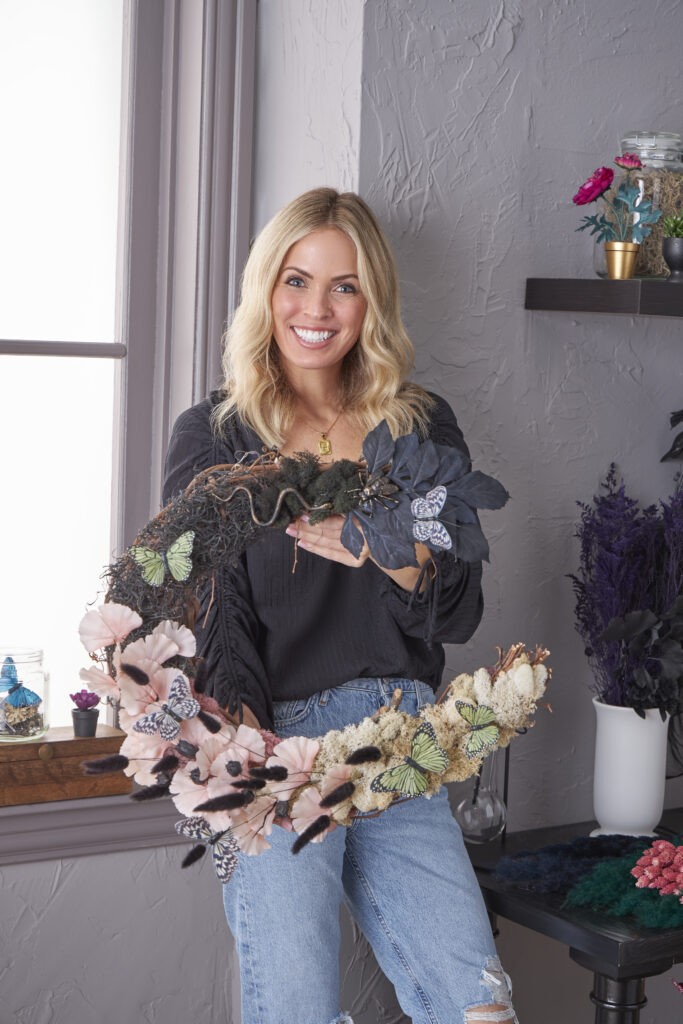 Halloween Wreath
I flew out to Dallas on a Sunday night and unfortunately my flight was delayed. Exhaustion was setting in but I knew I needed to pull it together for my call time the next morning. When I arrived at the studio the Michaels team greeted me and went over the projects that were scheduled for the next three days.
The first project was a Halloween wreath! Right up my alley. I would be lying if I said I wasn't nervous. I was able to have some time to look through the supplies and lay out what I thought would be pretty. The crescent moon grapevine wreath is so unique and cool, definitely a must have for this season.
I love the different colors of moss Michaels has to offer this season too. So much fun. I added black bunny tails, butterflies, bugs and a snake. I love mixing a little bit of spooky with all the beautiful things! When it was time to create the wreath on camera I took mental photo in my mind of what I had mapped out and went for it. The team was so nice and helpful along the way. I did it and I felt so good about it! Now that I had one under my belt I could breathe a little easier.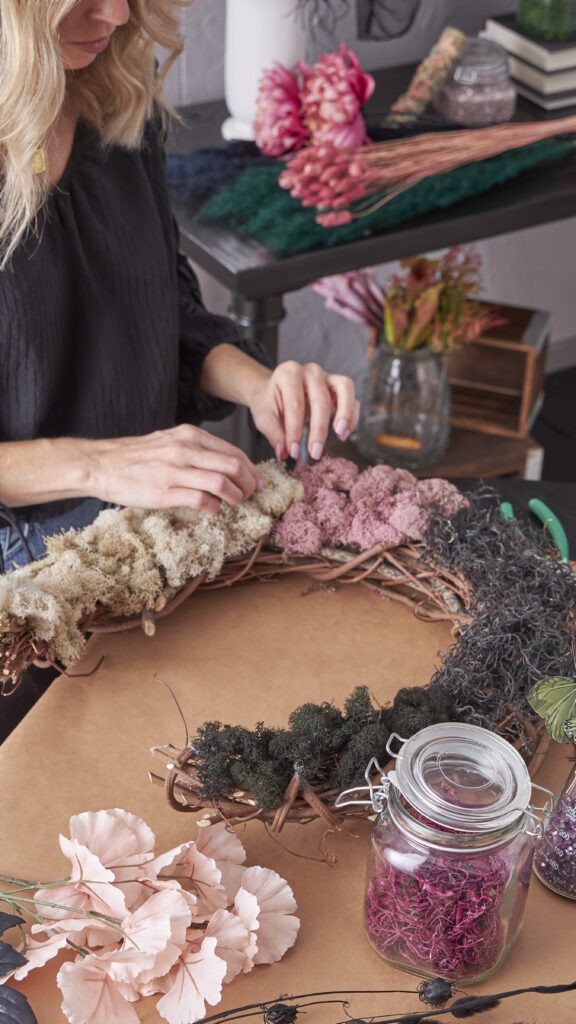 Me being recognized by a company like Michaels as a Michaels Maker is a huge accomplishment for me. No one is driving me to get up everyday and create except myself. I love creating for my home and I love seeing you take the ideas and try them in your own home. Sharing my passion with you is one of my life's greatest gifts.
Halloween Terrarium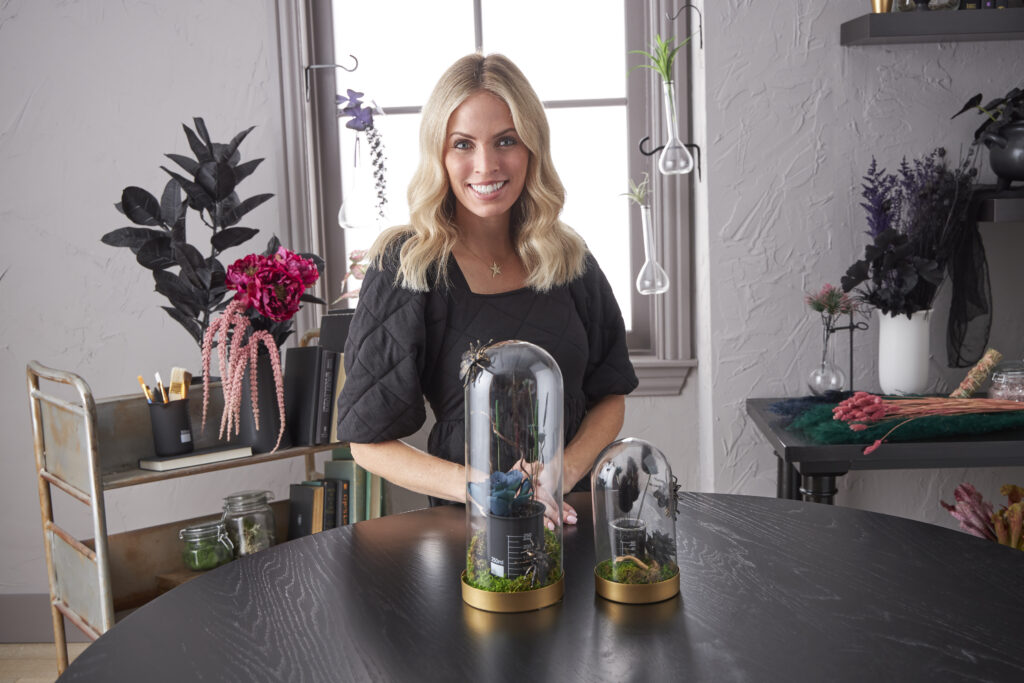 My next project was a Halloween terrarium. Michaels has so many fun terrariums this year. The possibilities are endless. I used the matte black beakers, black rocks, moss, faux succulents and black bunny tails to fill these magical glass terrariums. I hot glued the beetles to the top and side of the terrariums for a realistic spooky appearance. Day one in the studio was a wrap! I left the set feeling so happy and so thankful for such a cool experience.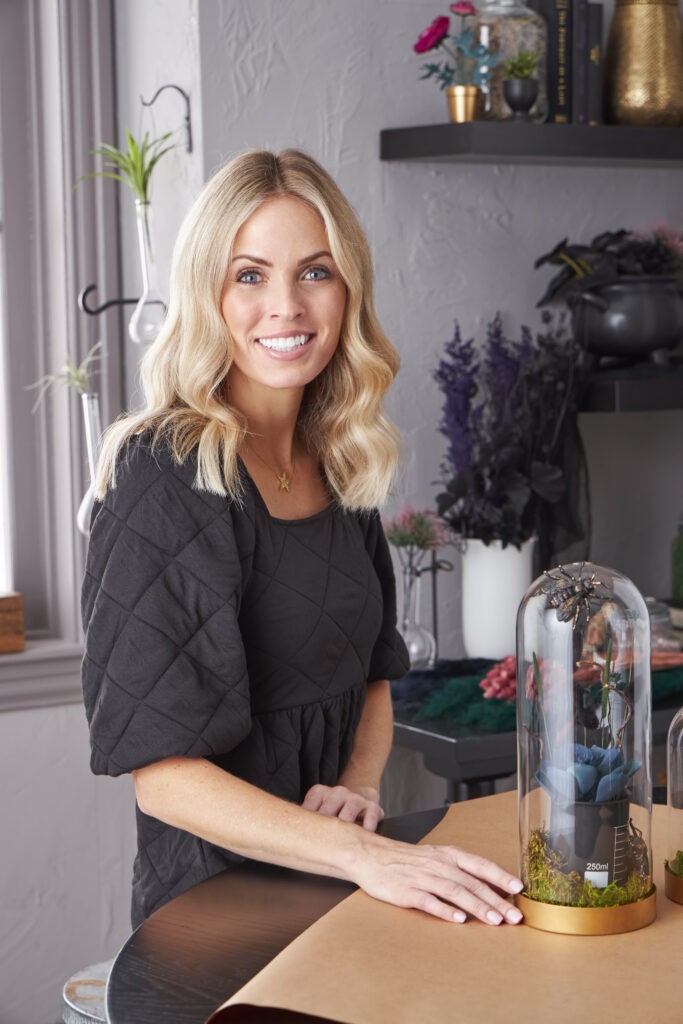 This project was so fun. I can't wait to use the cloches this year in my Halloween decor. Be on the lookout for them in your store. I saw they are selling a really cool glass coffin terrarium too. I can't wait to snag one!
Fall Wreath
After a good nights rest I was ready for day number 2 working with Michaels on set in Dallas, Texas. The agenda was to design and complete a fall wreath as well as design a Thanksgiving tablescape. I love using a grapevine base and dried florals for wreaths. The grapevine wreath provides an easy base to hot glue or tie your florals into.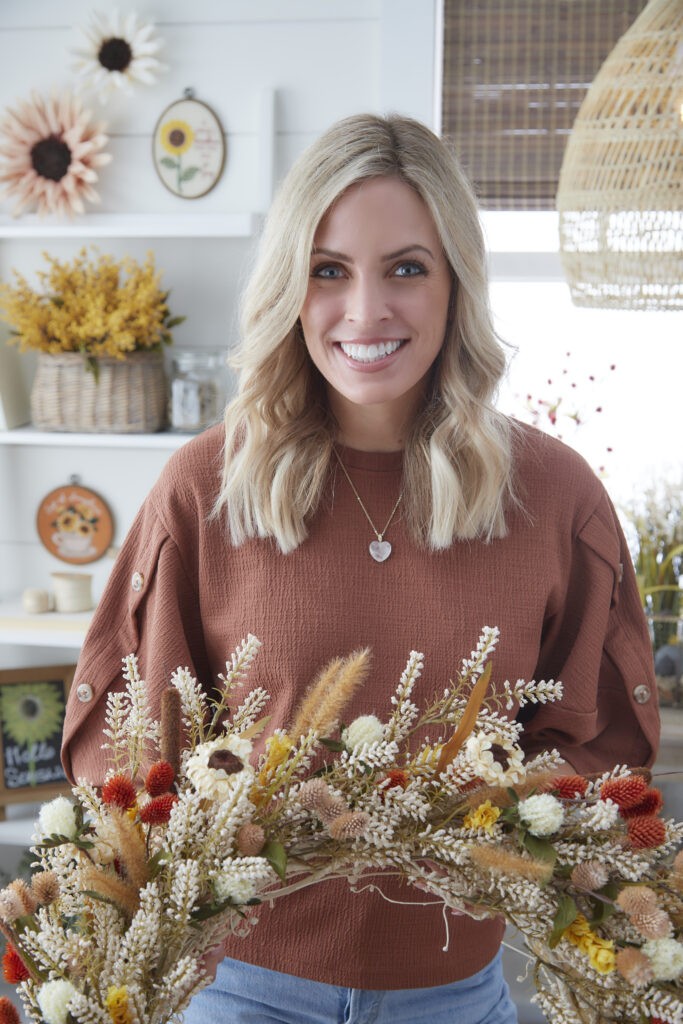 Michaels carries an ivory grapevine base this season that is so beautiful. A welcomed choice after years of only seeing the traditional brown grapevine base. I was able to shoot a video on set detailing how I made this wreath. Take a look at it here.
I chose mostly earth tones with a few pops of color. It's a beautiful boho fall wreath that would be perfect for your front door this Fall season. You can see all of the supplies I used for this wreath by watching the Youtube video.
Thanksgiving Tablescape
The last project that I was able to design and create for Michaels was the Thanksgiving tablescape. I love all of the beautiful greens that are trending for this season. I chose to make a pumpkin centerpiece with dried florals with green pumpkins and candles.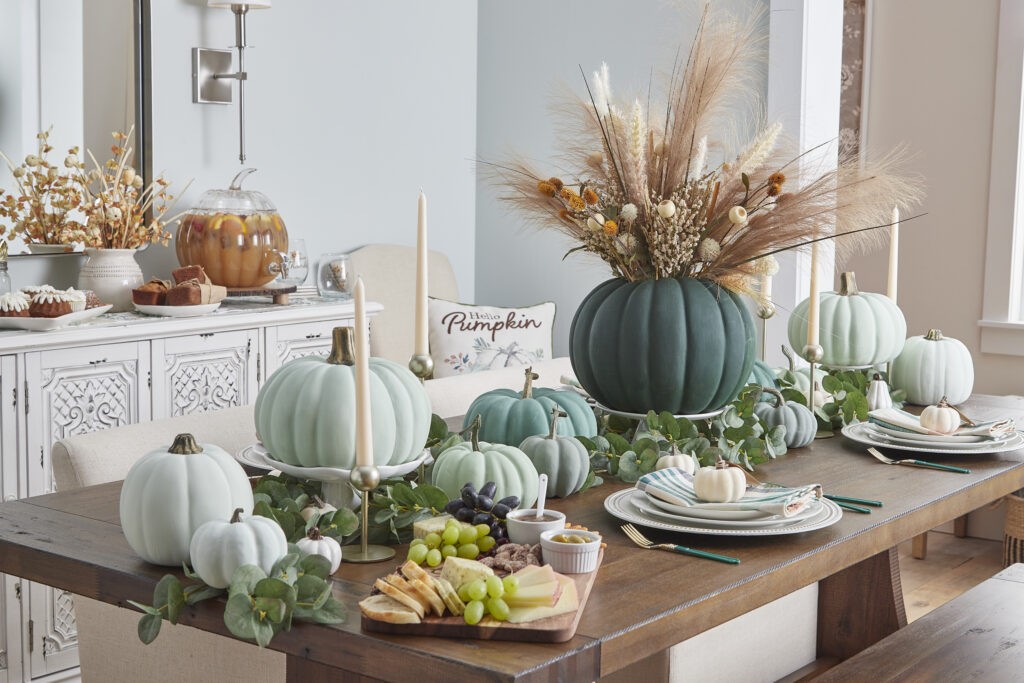 It is a honor to teach a Live class on www.michaels.com. September 16th at 6pm EST. I will be teaching how to make this painted pumpkin dried floral centerpiece. Click here for the details! It was a pleasure to be featured in Michaels craft stores this season. I hope you enjoyed seeing the projects I made for Michaels this season and hope that it inspires you to tap into your inner creative!