I'm sharing my top 6 tips for decorating a Christmas tree for the holidays. I love to decorate for the Holidays but it can be a little overwhelming. Over the years I've learned a few money saving tips and tricks while keeping with my style. I hope this helps you this year as you are decking the halls!
*This post may contain affiliate links
 1. PICK A REALISTIC TREE.
For years we had real trees in our home for Christmas. I loved the experience of going to the tree lot and choosing our tree as a family. I loved the smell and the nostalgia that goes along with strapping a tree to the roof of your car and driving home with it. The only problem is I'm severly allergic to them. I know, I know why would I suffer through that. Last year I decided I couldn't do it anymore so I gave in to the faux tree life. I wanted a tree that was whimsical and endearing and I found just that at Home Depot. He is 9ft tall and perfect. Shop my tree here. They also sell a 7.5 ft tall version as well. Shop the 7.5 ft tree here.
We have several trees in our house but I would say Mr. Twiggy is definitely the king. I look for realistic branches, a shape that fits the space appropriately and beautiful lights when shopping for a tree.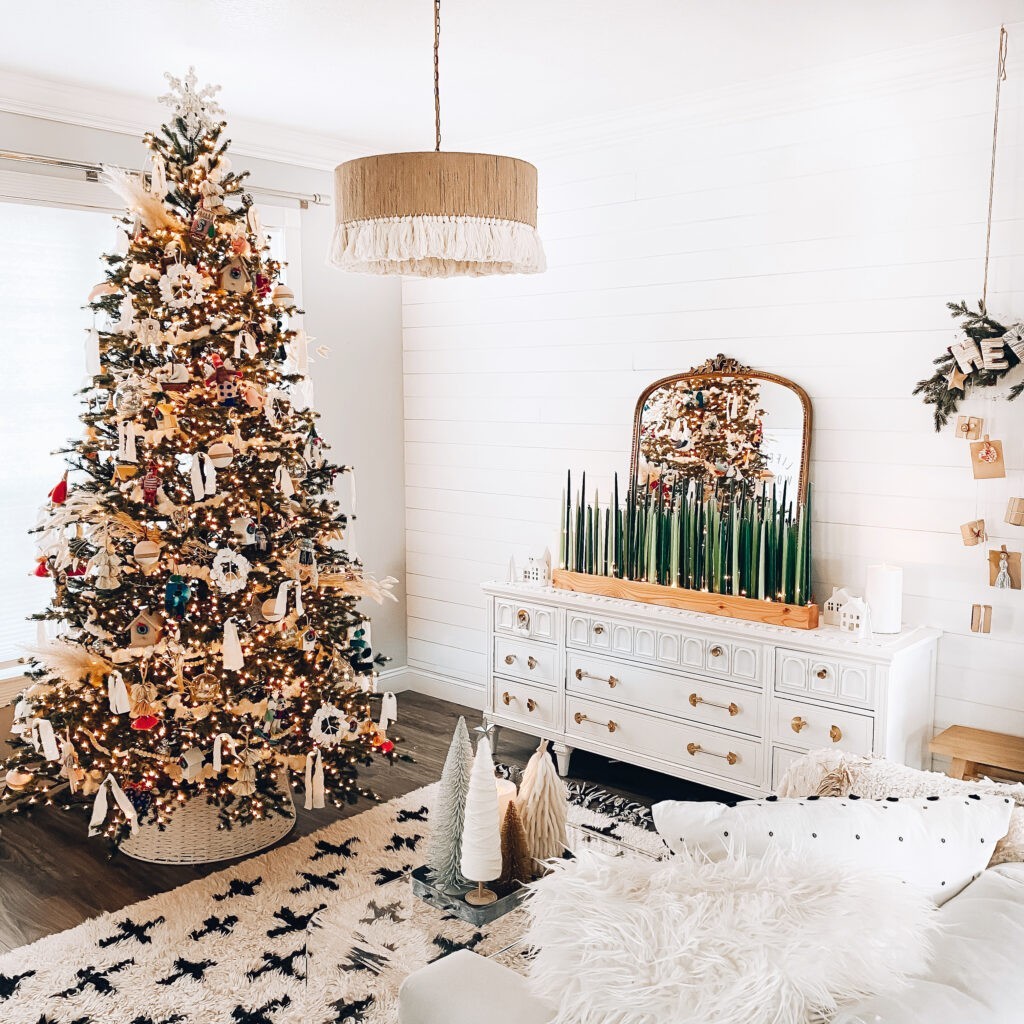 I have a few blog posts of my favorite Christmas trees in a few different categories linked below.
Shop Here for Skinny Trees – Shop Here for Whimsy Trees – Shop Here for Flocked Trees – Shop Here for Pink Trees
2. CHOOSE A TREE COLLAR OR TREE SKIRT
Tree collars started hitting the market a few years ago and I was all in. I absolutely love the clean look of a tree collar over a tree skirt. I know tree skirts can be pretty too especially for the traditional look its definitely a must. Adding a tree collar to the base of the tree really adds something special to it. I linked some of my favorite Tree Collars and Skirts HERE.
Please note that if you do choose to use a tree collar make sure that the base of your tree fits inside. Mr. Twiggy did not fit inside our tree collar so we changed out the base it came with and used a real tree base instead. Shop that here.
*Tip Make sure you put the tree into the collar first before decorating.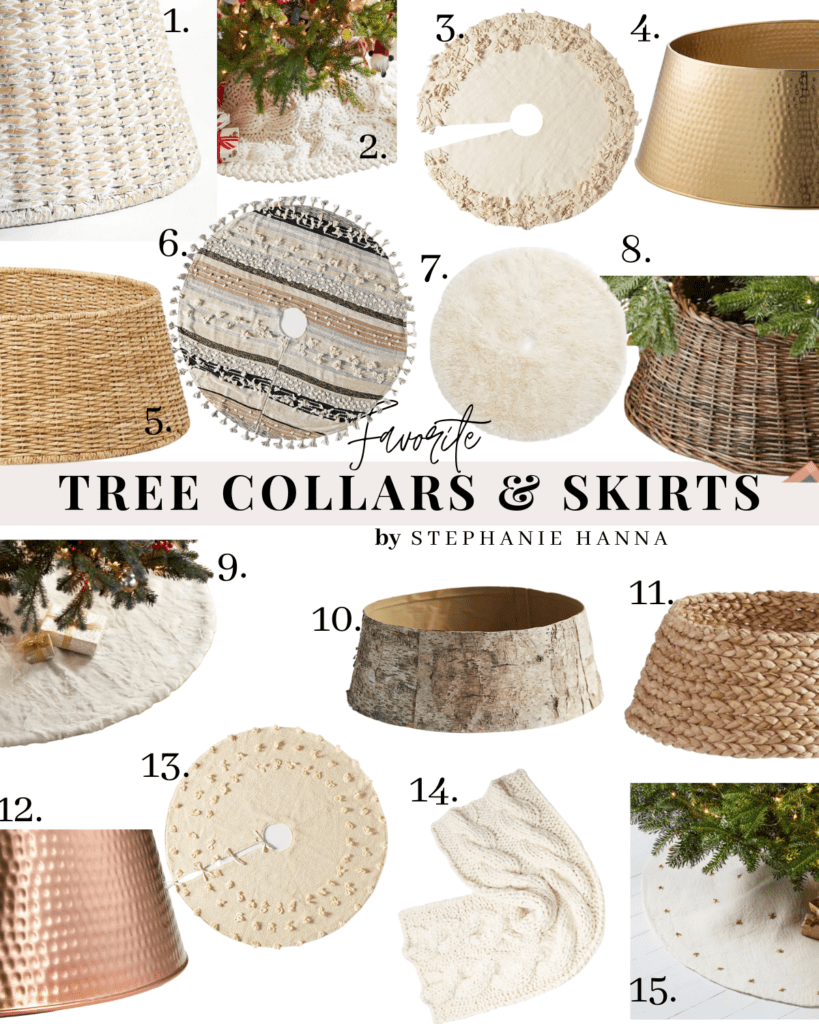 3. MICRO DOT LIGHTS ARE A MUST
I love the look of micro dot lights on my trees. The lights give the tree a magical feel. These are my favorite lights with 8 different settings that do plug in. Shop the micro dot lights here.
4. ADD FUN GARLANDS
For me the garlands go on first after the lights of course. My trees are all prelit so it saves me a lot of time and frustration. Putting on the lights is not my favorite part of decorating the tree. After the lights are on add texture by layering different kinds of garlands like Fur a Loop Yarn that you can get from Hobby Lobby. I use the ivory color, Gold or Silver Tinsel or even Wooden Beads that are really popular now! You can make your own garland out of fabric or paper by cutting it into triangles and glueing it onto a jute cord as well. Think outside the box and don't feel like you have to buy something expensive to make your tree beautiful.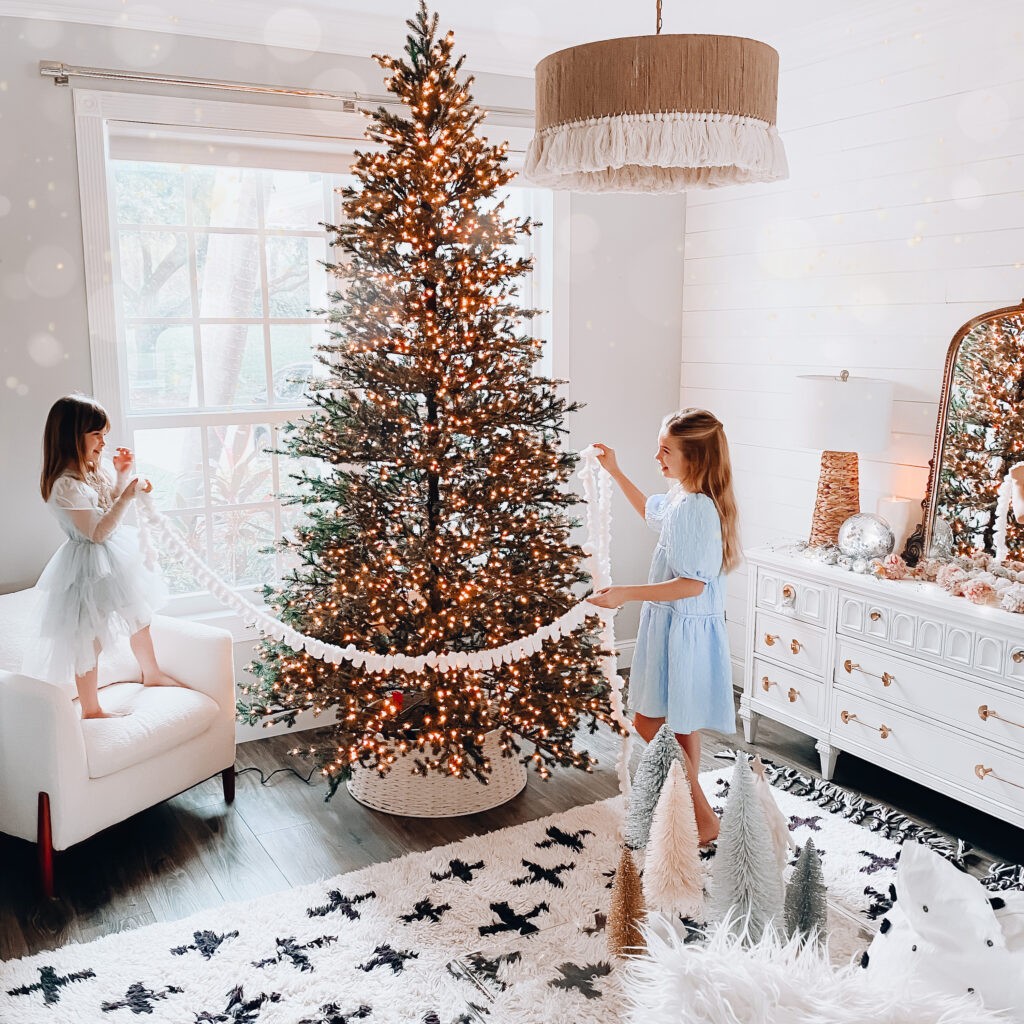 5. USE AN ASSORTMENT OF ORNAMENTS
Using different kind of ornaments on your tree really adds character to it. I love using a variety of ornaments. Glass ornaments are beautiful if you don't have to worry about little hands getting to them. They reflect the light that creates a gorgeous glow. Felt ornaments are my favorite. Target and Anthropologie are my favorite stores to score the cutest felt ornaments. Bells are also an inexpensive way to decorate your tree I like to tie on mini bells to the end of the branches with ribbon. Tassels and Pom Poms make great ornaments and you can make those yourself. Choose your favorite yarn and go to town. Give yourself ample time to make them they are easy to make but time consuming. See my Reel here on Instagram for a tutorial for making the Pom Poms. 
You can see below how I used a variety of ornaments and beautiful chiffon ribbon on our pink tree Peppa Twig that is in my office.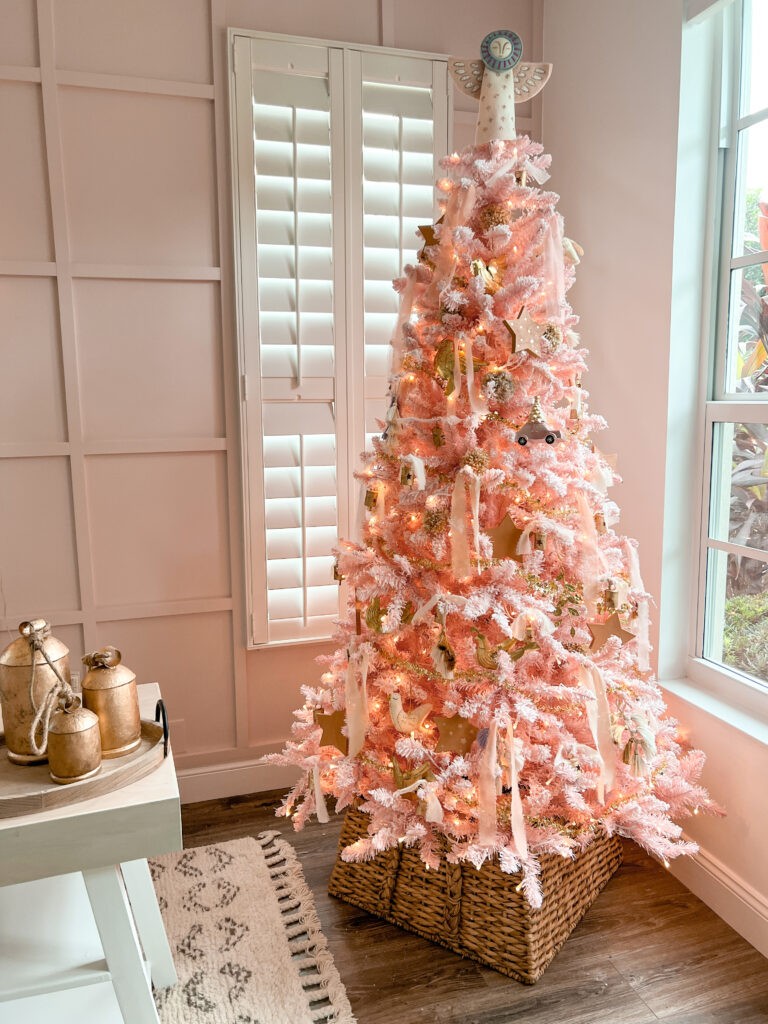 6. TIE RIBBON ON THE BRANCHES
The possibilities are endless when adding ribbon to your tree. I choose to tie my ribbon onto the ends of the branches for a whimsical look. an assortment of my favorite ribbon in different color palettes to use is linked here. Velvet ribbon is gorgeous if you are going for a more luxe feel. You can use ribbon to tie on your ornaments as well. I used the chiffon ribbon to tie on the bells for my pink tree. Sharing my favorite bells for the season here.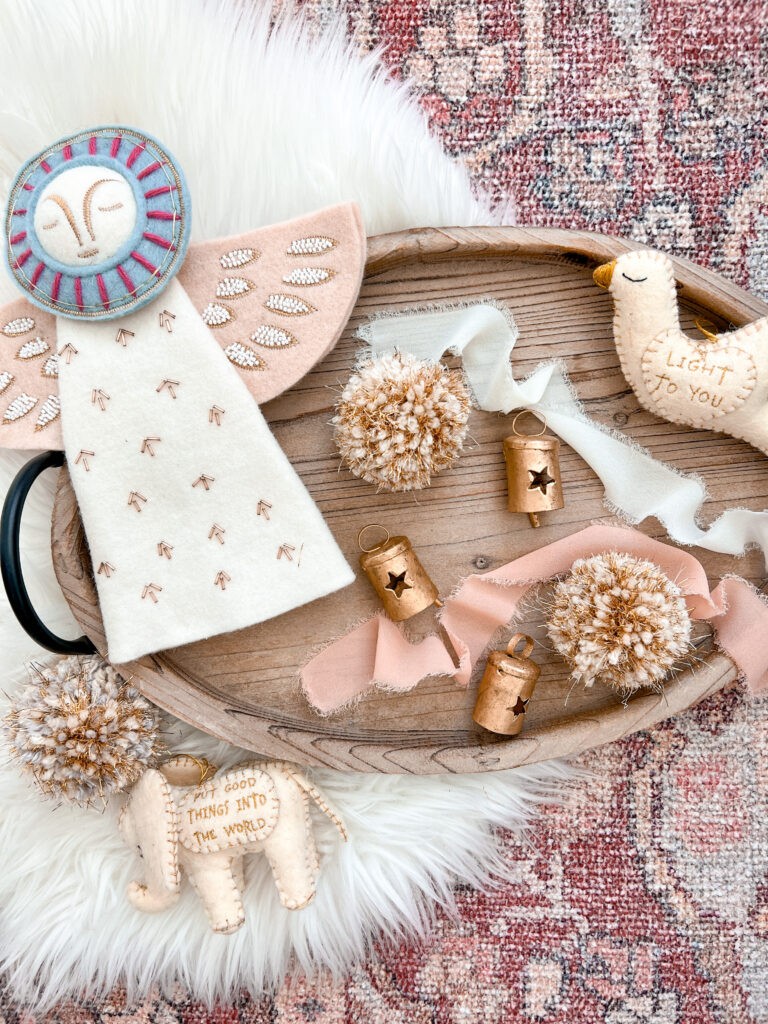 SHARING A FEW OF MY FAVORITES BELOW!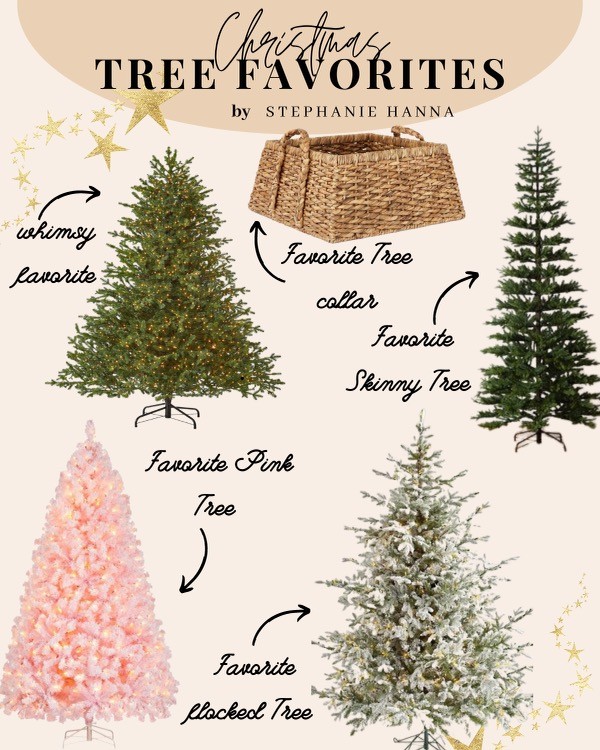 Shop my favorite Whimsy Tree here
Shop my favorite Tree Collar here
Shop my favorite Skinny Tree here
Shop my favorite Pink Tree here
Shop my favorite Flocked Tree here
I hope you have an amazing Holiday season and that you enjoy putting up and decorating your tree. As always please feel free to email me with any questions and save this post on Pinterest to refer back to. Follow me on Instagram for more fun Inspiration.