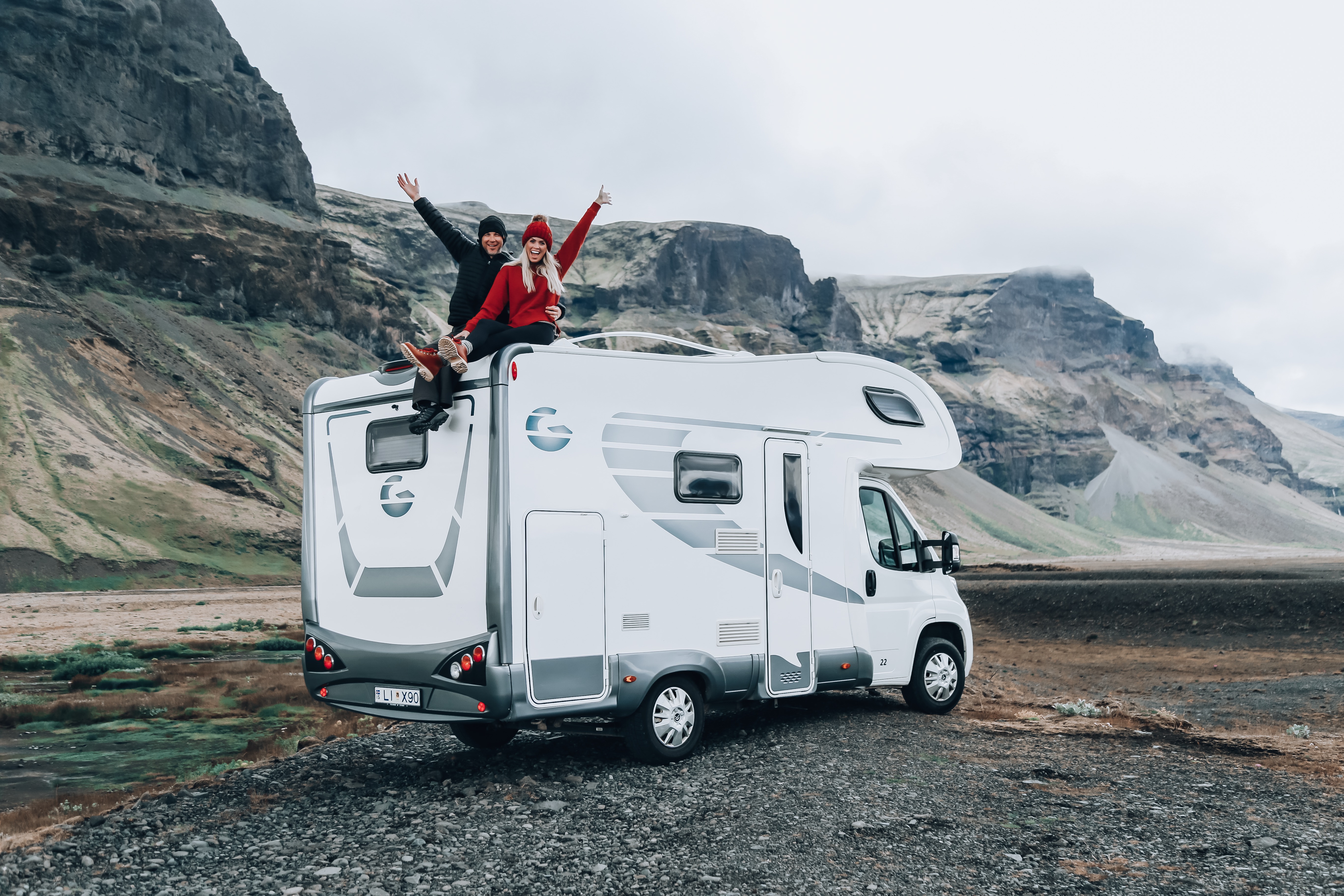 I've wanted to go to Iceland for 3 years. I have family and friends that have gone and they all rave about it so I knew I needed to go. Iceland is obviously cold most of the year so I knew we had to go in July or August when it is typically warmer. Rusty is not a fan of the cold and I didn't want him to pout. We chose July 18-25. We were going to have 6 full days on the RV that unfortunately turned into 5 days due to flight cancellations and delays. An ideal trip would of been 7 full days, I did feel a little rushed. We concentrated on the south coast. The weather was beautiful – most days were overcast in the 50's but the weather changes on a dime there. Always be prepared for rain. Our adventurous trip was definitely one for the books and I'm sharing what we achieved on our Iceland bucket list.
I do want to say Iceland Air was an amazing airline. They were friendly and helpful. We had our worst traveling experience to date with Delta. Avoid them at all costs. Trust me on this. I won't go into the details but they were rude and unwilling to help us.
I had a friend of a friend rent a RV in Iceland for a vacation and she said it is the best way to see the country. Now keep in mind in the 22 years Rusty and I have been together we have never camped. I am a baby and I like my amenities. I asked my friends how do I even ask Rusty if he wants to take a RV he is not going to be down for that, he likes his amenities too. To my surprise when I told him I had something crazy to ask him and laid out my RV plan he was intrigued! We ended up renting a 3 person RV from Geysir Rentals near the airport and it was perfect. Tiny bathroom, shower, two beds and a stove. We named him Squatty. I've linked it here for you, The company was great and accommodating. I would definitely use them again.
https://www.geysir.is/vehicle/Motorhome-3-persons/17
When we got the RV we went to the Bonus grocery store to get food. One thing you must know is that as soon as you leave the city, food is very hard to come by and not very tasty. There is no fast food and definitely no Starbucks! The water there is arguably the most pure in the world. If you buy a bottled water you might get laughed at. You can drink straight from the tap. It was so good! I will definitely miss that in the States. We bought alcohol at the duty free store in the Reykavik airport but in hindsight I would only buy wine. For some odd reason it is really hard to find ice! So my tequila didn't taste very good warm. The Somersby ciders are really good and we found them at most gas stations and small stores.
In the summer it gets dark for roughly 3 hours. Usually somewhere around midnight-3am. This was amazing! We got to see and experience so much more for our stay because we stayed up late. Some of our best experiences were late at night while everyone else was sleeping!
I'm sharing our itinerary below. We had to change a few things around since we were delayed in NYC for so long. The Blue Lagoon is near the airport so I recommend starting or ending your trip with a stop there. I would give yourself 3-4 hours there but you could definitely stay longer.
Iceland is so diversely beautiful. We can't wait to go back there is so much more to discover!
Fun fact: There are over 10,000 waterfalls in Iceland! Say what?!?!
Travel Essentials & Hiking Gear

July 19- Friday
6:55 AM – Arrival in Reyjavik
8:30 – 10:30 – Pickup Motorhome
11:00 – Grocery Shopping – BONUS
1:00 – Blue Lagoon (20 minutes from Grocery Store) This is a must! We had to move this to the last day because of our flight delays and they were really nice and accommodating.
4:00 – Drive to Thingveller National Park Campsite – Explore the park
July 20– Saturday
8:30 – Silfra Snorkeling. https://www.dive.is/diving-snorkeling-tours/snorkeling-day-tours/silfra-snorkeling-day-tour. This was probably my least favorite thing we did. The dry suit was really tight, I had to get out half way through. They also made us pay $100 to reschedule our day and time because of our flight delay. I thought that was pretty ridiculous.
10:30 – Drive and Explore the Golden Circle
NIGHT 2 CAMPSITE IN VIK – PAKGIL (THAKGIL) – Sigtun 6, Vik 870, Iceland
July 21– Sunday
Drive from Vik to the Glacier Lagoon – 2.5 hours
1:10 PM – Glacier Lagoon Zodiac Tour https://www.extremeiceland.is/en/activity-tours-iceland/sailing-tours/boat-tour-tickets-glacier-lagoon A must!
3:00 – Diamond Beach – Across the street from the Glacier Lagoon – A must!
Head to Skaftafell waterfall in VATNAJÖKULL NATIONAL PARK A Must! – Explore the National Park
Camp here
July 22 – Monday
National Park waterfalls and hikes
Fjaorargljufur canyon – A Must!
Eldhraun Lava Field – A Must!
Campsite around Vik
July 23 – Tuesday
Ice Cave Tour https://www.extremeiceland.is/en/ice-cave-tour-iceland/katla-volcano-ice-cave-vik 10:00 am – A must!
Seljalandsfoss Waterfall – A Must!
Gljufrabui Waterfall is on the trail at the end down from Seljalandsfoss its a little hidden, if you wade in the water a bit and balance on the rocks you can go inside to the most amazing sight!!! – A Must!
Skogafoss Waterfall (early or later in the day – 500 steps to the top of the waterfall) – A Must! Very crowded
Black Sand Beach – A Must!
July 24 – Wednesday
Explore around Reyjkavik- we unfortunately never got to make it to the city since we lost a day due to flight delays.