Every year, I look forward to continuing my tradition of putting together Easter baskets for my kids. Curating beautiful and useful kid-friendly Easter baskets is so special to me. I love thinking of them while I shop for things that they want or need. I am also strategic about what I put in them and what I use for the basket.
In the past, I would buy Easter themed baskets, but once the holiday was over, I would store the baskets in the attic which was taking up room and collecting dust. Being more strategic, I learned to get aesthetically pleasing baskets that I can use anywhere in the house. I have certain types of baskets that I like to use that can repurposed. For example, I like to use baskets that are solid or not see-through so that I can really make the goodies inside stand out. This part of holidays always gets me excited because I was able to develop something I loved while also making them so excited to celebrate any and all holidays!
This post may contain affiliate links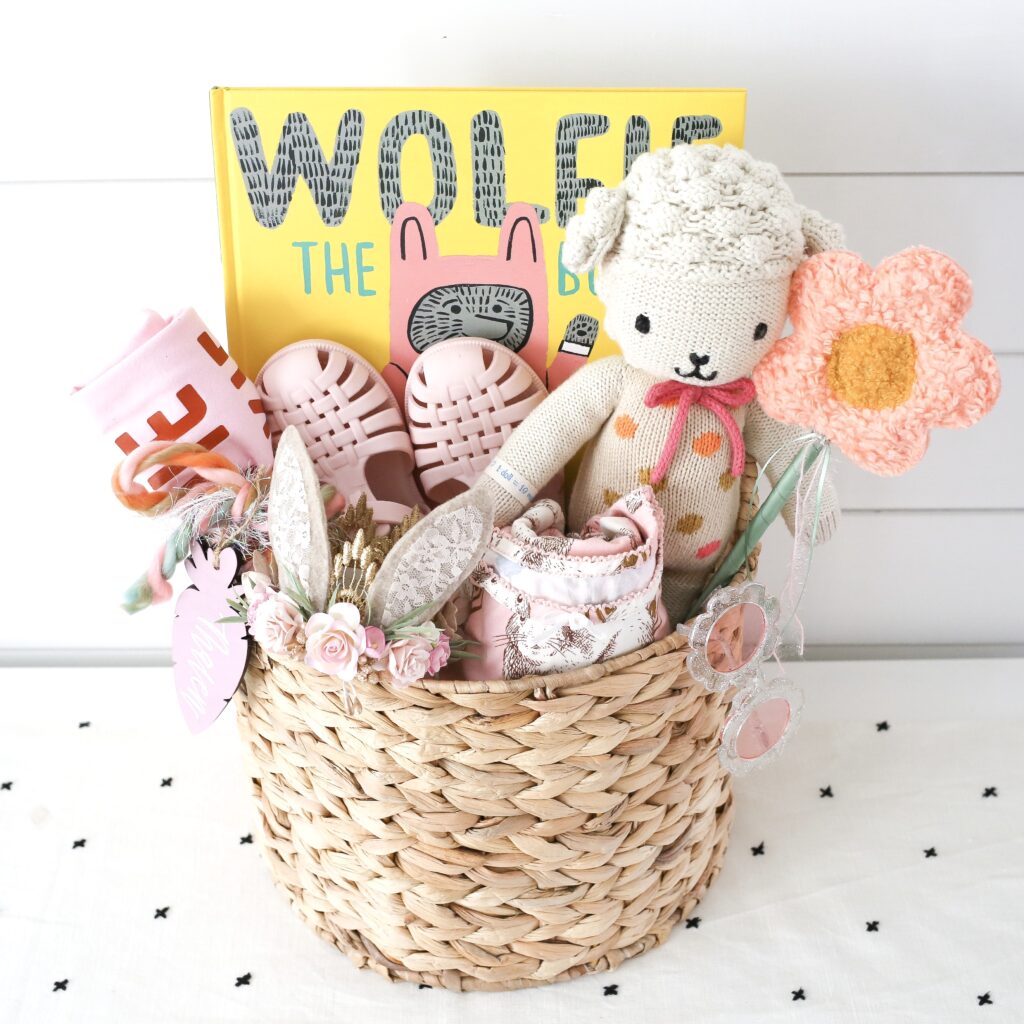 Kid-Friendly Easter Basket Stuffers
Now, for the main attraction: the stuffers. You can use pretty much anything your kid enjoys. I like to use things that I am going to buy for them anyway or things that they need. I take this opportunity to take inventory of what they already have so it doesn't create too much clutter. Do they already have a water bottle that they use or do they need a new one? If they need a new one, you can add that in there.  I add cute stickers that match their individual personalities. I usually like to add bathing suits for my girls that they will end up using for the summer since they probably already outgrew the one from last year. It starts to get warmer around Easter so this is a great opportunity to give them something they can use right away outside. 
I like to add little candies or snacks that I know they will love, like Kinder Joy eggs that fit the theme of Easter. Things to help them get creative like Piggy Paint, markers, or pencils for school is always fun for them and sparks their imagination. I love adding a book that I can use for their bookshelf that is Easter themed and cute sunglasses that they can use when they are playing outside. You can also add things that they might need like a new toothbrush, cute sandals or slippers, or even accessories like hair ties and headbands. 
I love staging their baskets and seeing how surprised they are when they get to open their little gifts! I gathered some really great ideas below if you are looking for some inspiration.
I put together the details of what I used to create kid-friendly (and parent approved) Easter baskets. I hope this sparks some inspiration for you to do the same for your kids!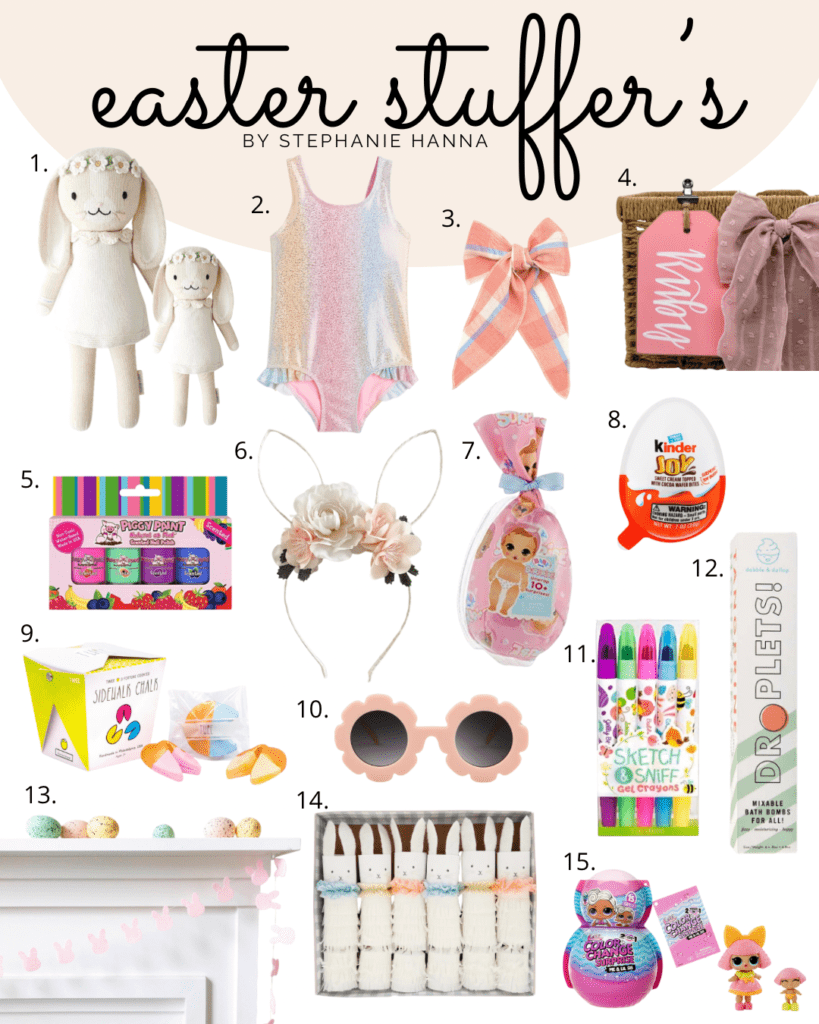 Kid-Friendly Easter Basket Ideas
Let's talk baskets! I love using baskets that I would like to see around my house. Usually these are made from materials that compliment my existing home décor, but I also found really cute Easter ones if you really want to stay on theme.  If you want to use baskets that are Easter themed, you can always reuse it every year and change the contents so you don't have a ton of Easter bunny baskets around. These baskets can be used to store miscellaneous items after Easter, like blankets or toys.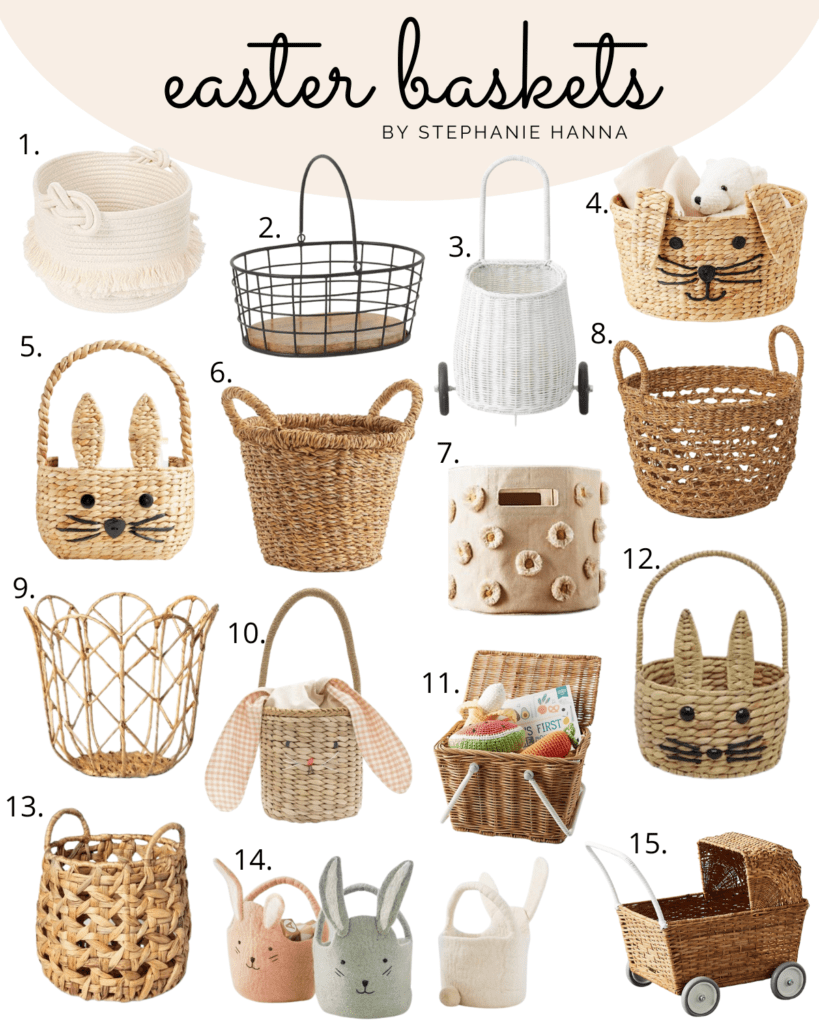 I linked a few favorites that I found here:
Putting together these baskets is so much fun for me and I hope that this inspires you to create a new Easter tradition with your kids! I know my kids love it.