Mother's Day is around the corner and whether you are shopping for your partner, your own mother, your daughter, or sister – I know the plethora of choices can be so overwhelming.
This post may contain affiliate links.
It can be hard shopping for someone special, especially superheroes in disguise. Mothers truly deserve the world. The moment someone becomes a mother, their entire life changes. Their wants and needs take a back seat, and their days are consumed caring for another and ensuring the wants and needs of their children are met first and foremost. Becoming a mother can be so fulfilling and yet so draining at the same time.
From sticky kisses and cuddles to planning every day to ensure their kids make it to all appointments, school, they are fed and clean with snacks on hand, the mom job can be daunting and challenging. Though moms do an amazing job at making it all look fun and easy – inside, we all know they truly need a break from the everyday task of raising tiny humans. So, what do you get for the people that truly deserve the world? Luckily, I have you covered.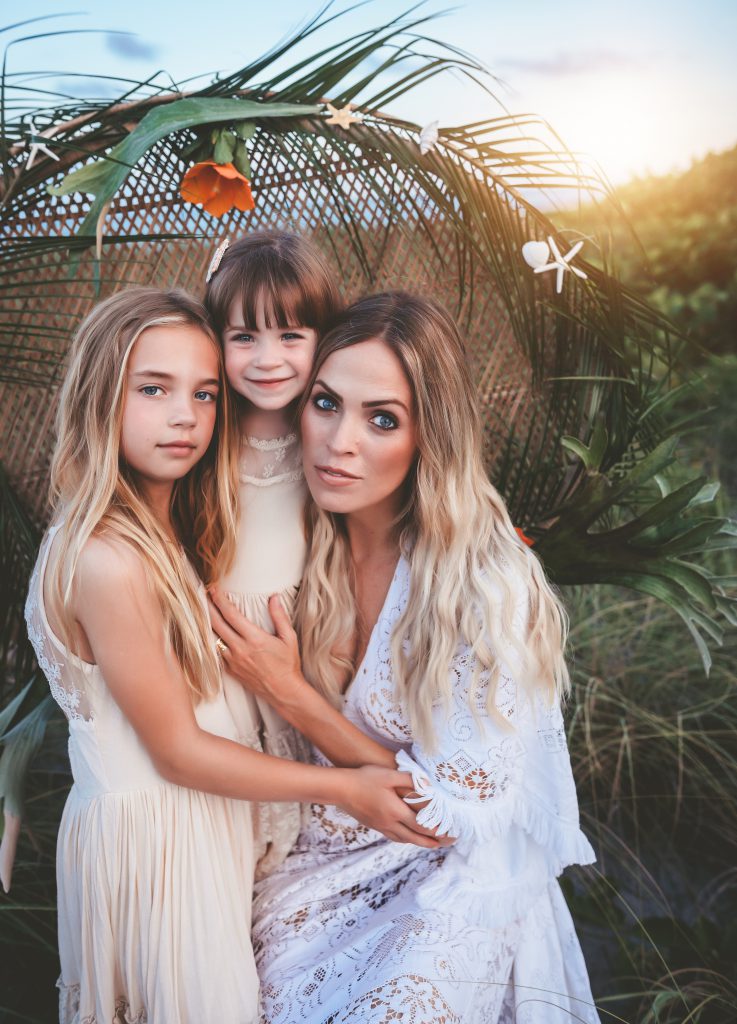 I have put together a gift guide for that truly amazing mama in your life, mainly comprised of things I would love to receive or use constantly and highly recommend. Some items are absolute necessities to get me through my day, others are luxuries that I cannot seem to live without. Many are pieces of happiness that add just a little glam to our everyday lives to help make us moms feel that extra sparkle throughout our day. All the items are universally loved by many and sure to add value to that lucky mom in your life.
Shopping for someone so important can be stressful but it does not have to be! I am so happy to provide you with tips and tricks on how to make that important person in your life feel absolutely special. After all, they work hard to keep the wheels turning and definitely deserve a day to feel pampered and surprised.
I hope this list inspires your shopping; I know she will love each one of these picks.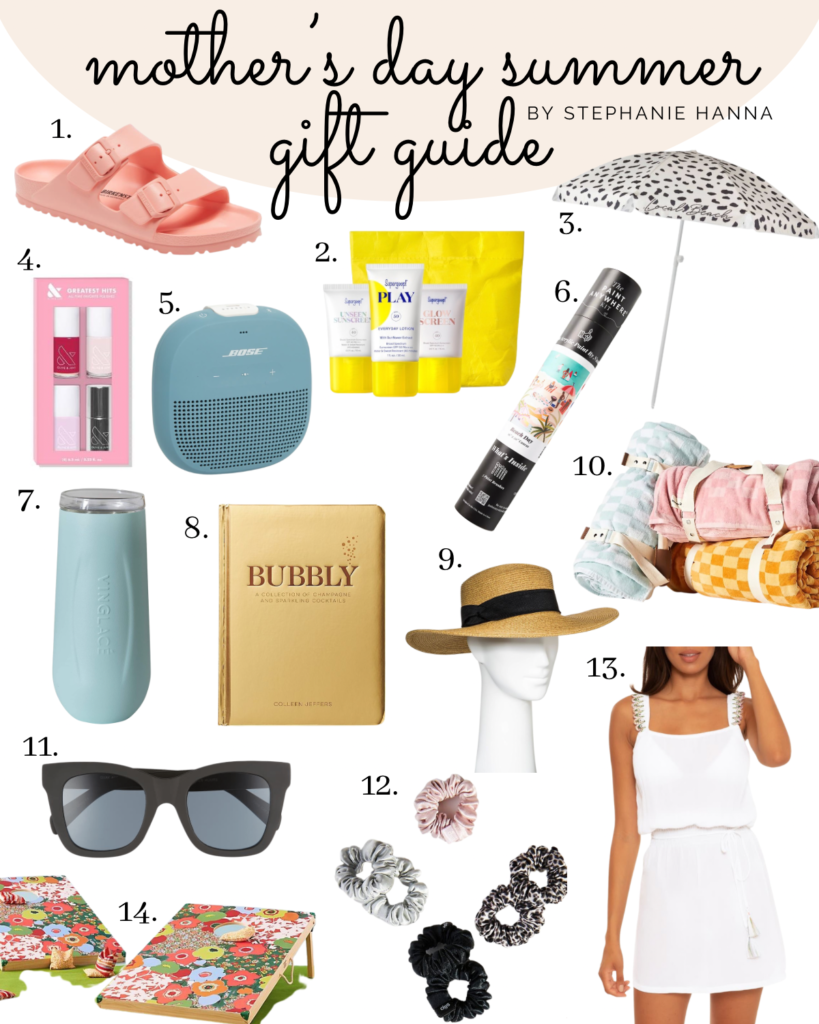 Essentials Arizona Waterproof Slide Sandals Sandals are the among the best gifts for Mother's Day because they can be used for so many different things! Wearing them around the house or out, they can be dressed up or down. The Arizona Waterproof Slide Sandals from Nordstrom are an absolute must for this summer. They are trendy and comfortable, and best of all: waterproof means they can be kept in tip top shape by just spraying them down or giving them a wipe. The straps are adjustable to fit any size width and the quality is great, so the mom in your life can wear them all summer without having to worry about them wearing out. The material is made of a rubber-like texture. The sandals are definitely true to size so be 100% sure when ordering. They come in so many different colors and patterns at a great price – $49.99 at Nordstrom.

Supergoop! sunscreen is neither sticky nor thick, it feels so amazing to apply and has very little (if any) smell. My kids can put it on themselves because it applies so effortlessly into the skin. . The ingredients are clean, so I don't have any fear slathering it on my children. Play sunscreen has the consistency of a lotion yet is SPF 50, meaning it is keeping my skin and my family's well protected during any activity. It doesn't run down your skin when you sweat like some sunscreens can. The Supergoop! Glow Screen is the most illuminating facial sunscreen ever. It is a little thicker than the Play sunscreen however, it provides a beautiful dewy finish to your skin that no makeup can match. It gives me a chance to keep my skin as natural as possible while knowing I am fully protected. If the mother in your life is looking for an invisible shield of moisture and protection, Supergoop!'s Unseen Sunscreen is the perfect match to bring out natural beauty and leaves no white cast like most sunscreens. It has a way of providing an invisible later of protection while also being so light weight on the most delicate parts of the face. This whole kit will transform the mother in your life's experience being outside in the sun and heat that she will thank you for. The whole kit retails at Sephora for $25.

If you were to ask me what I want for Mother's Day, it would be to relax in style – this beach umbrella absolutely does the trick. Not only is this cheetah umbrella perfectly stylish – it's portable so you can use it in your backyard, at the beach or lake, and it provides UPF 50+ protective sun coating. Sun protection is so important to prioritize on hot sunny days and it gives me piece of mind knowing that I am double protected by my umbrella. This umbrella comes with a pointed end so that it can be installed easily in grass or sand. The best part is that it comes with a carrying bag and a strap so that it can be transported easily and protected from dust when not in use. This umbrella retails at Target for $79.99 and comes in different styles and prints to perfectly match the personality of the mom relaxing under it.

Every mama deserves to look and feel her best and for me, manicures really do the trick. However, I know most moms have a busy schedule and making time for a trip to the nail salon is tricky. Luckily, Olive & June has a kit of 4 nail polishes with trendy colors and their nail polish is so much more durable than other brands I have tried. This kit comes with 4 colors in a perfect palate to mix and match. Olive & June has so many options to choose from and this is a great way for mama to get in some pamper moments that she deserves. It is a great bargain at $17.99 and can be found online or in store at Target.

If your special someone does not have a Bluetooth speaker yet, this is the greatest addition to their daily routine. This Bluetooth speaker is small but mighty with crystal clear speakers that perfectly emulate the bass with each beat. With hundreds of positive reviews from Nordstrom, we can attest that Bose makes the most quality speakers that last forever. This speaker can be clipped to almost anything for great tunes on the go. It can hook to a bike for a nice ride through the neighborhood, a strap for easy transporting in a bag and the best part is that it is waterproof! It can accompany guests in the pool or give mom a nice break in the shower. The instructions to set it up are so simple to use and connect to your smart device with just a few clicks – anyone can use it! It is a great accessory to provide a zen ambiance during yoga, sweet tunes when gardening, an easy beat to follow during running, or just about any other self-care hobby that the mama in your life probably desperately needs. The strap is secure, which means that it is sure to not fall or break and many reviewers mentioned they have been using it for years without complications. Though it is pricy at $119 at Nordstrom, it will pay for itself over the years of continuous use.

Anthropologie continues to find ways into my creative heart. They definitely hit the mark with the Beach Day Paint-By-Numbers kit. This art kit provides entertainment that can be as mindless as anyone needs it to be to take a moment to themselves and simply relax. I absolutely love a creative moment, but a creative moment that doesn't require any critical thinking is like two gifts in one; a perfect moment to yourself with the finished art product. This kit comes with everything you need for a beautiful masterpiece. The kit includes five paint brushes, 25 paint colors, and one canvas so that after it is completed, it can hang proudly or gifted to a loved one. The finished product is a beautiful beach scene and requires no fancy artistic skills to look amazing once completed. At only $44, you can give your favorite mom a perfectly relaxing hobby to escape from the hustle and bustle of everyday life.

Almost every mom I know can use an ice, cold drink. Vinglace has the cutest accessory to make that happen. Vinglace's Champagne Flute provides an icy cold beverage for the upcoming summer days. So whether mom is lounging at the beach or taking a moment to herself, her drink is sure to be so much more enjoyable. The flute has a glass inner layer that is surrounded by stainless steel which keeps the champagne colder for longer. Since I am almost always interrupted mid drink, this insulated feature is beneficial so that I can enjoy my drink for much longer. One of the best things about this is that the glass inset can be removed by twisting and pulling it away from the stainless steel, meaning this cup can be thrown in the dishwasher for quick cleans. The stainless steel should be hand washed, however. The cup comes in multiple cute colors, making it picture perfect. A perfect drink at $29.99 is a steal that she can use over and over, especially in the next summer months.

Speaking of champagne and Anthropologie, "Bubbly" makes a gorgeous addition to your bookshelf or coffee table and stores secrets of amazing cocktail recipes inside. This is the perfect start to summer gift and will provide so much delicious entertainment all summer long. Whether it's for pool parties or dinner with friends, this is the book that will keep on giving. Plan out perfectly curated drinks to match the mood or simply close your eyes, open the book to a page and pick the drink of the night Russian Roulette style. It retails at $19.95 which means it's a lot less expensive than other recipe books but looks 10 times as beautiful. When not in use, use it as a décor piece on a bookshelf to add beautiful gold flair.

Every fabulous mama needs a fabulous hat. Thanks to Target, I finally found the one. This boater hat is so versatile with a wide range of outfits that it can be styled so many different ways. The hat can be dressed elegantly, chic, or casual and is the perfect accessory whether she is out shopping or lounging at the pool. It is lightweight, meaning it will keep your head cool for longer and will not add any strain on the neck. The hat comes in two different colors, black and natural. Either color adds a perfect amount of glam to any outfit. You can snag this at Target for only $20, making it a great and affordable accessory.

Lately, I have been really loving the Business & Pleasure Co. line at Anthropologie. The line was founded by two Australian friends and was inspired by a classic Californian Aesthetic – these beach blankets are all that and more. Made from ecofriendly materials, these blankets are pretty and high quality. They are 100% cotton and come with a strap to easily hold them – so no more stuffing beach towels into your beach bag, leaving little room for anything else. They are easy to maintain and the best quality that will give your skin something soft to relax on, even on top of sand. These beautiful pieces currently retail for $139 and come in a few different colors that the mom in your life will be sure to love.

Quay is taking the leading trend with stunning styles for every style. Though they have hundreds of styles to choose from, I prefer the After Hours 50 mm square sunglasses. These frames look fabulous on any face and the black frame on black lenses add chic to any outfit. At $55, these frames will add flair without breaking the bank.

Looking your best on the go should not come at the expense of the health of your hair. There has been so much information released recently regarding the benefits of using silk pillowcases. However, taking that advice up a notch and using silk hair ties will help keep the mama in your life happy, since traditional silk ties can tug at her hair and be painful to remove. Anthropologie's silk scrunchy set is a great accessory – whether it's on her wrist or in her hair and keeps everything in its place. The reviews mention that while they are definitely mini, they can hold hair tight and prevents uncomfortable headaches that traditional scrunchies can cause. The set comes with 12 scrunchies at $39 at Anthropologie. While this can be seen as more expensive than traditional hair ties, the mama in your life will be saving so much more in hair products to repair the damage caused by traditional scrunchies.

If you intend to help that mom in your life relax as much as possible, help her do so in style with the Layla Cover-Up Dress. This scalloped lace dress is a perfect addition to any style bathing suit and is easy to get on and off, especially if mom is getting in and out of the pool. It is perfect for a day at the beach or laying out by the pool and has a sinched waist that adds a flattering form-fitting look. The scalloped details on the strap add a little special something that doesn't take away from the shape of the dress and it can be dressed up or down, depending on the occasion. This currently retails at Nordstrom for $78.

If your special lady is anything like me, she adores any and all accessories from Anthropologie. If she is exactly like me, she loves to be outside and especially loves when she can be surrounded in beautiful outdoor pieces that can count as beautiful décor. The Sarah Campbell Cornhole Game is not only super fun on a beautiful breezy day, it is also super cute. So many outdoor games are catered to look masculine and to be frank, they are not that stylish. However, Sarah Campbell literally changed the game. This line took an outdoor activity that is usually plain and makes it bold and exciting, not to mention a great yard accessory that will look amazing all year around. Pair this with a flute of champagne and you've just made that special lady in your life's day. Don't forget to let her win a few, she deserves it! The game retails for $178 at Anthropologie.

Summer is only getting hotter and a fresh spritz of hydrating facial spray is needed sometimes. Help the mama you are shopping for relax by providing her with Evian's Brumisateur Natural Mineral Water Facial Spray. Good on all skin types, this facial spray can be used at any time of the day by spraying lightly after applying makeup. This facial spray provides a blended look and can be reapplied as desired throughout the day. It can also be used for as a boost of hydration before makeup application, before facemasks or spa treatments. At only $13.50 at Sephora, this facial spray is a perfect refresh during a hot summer day at the pool or beach.

You all know how much I love Anthropologie. Anything on this list makes a perfect gift for anytime throughout the year.
Pin this photo for great gift ideas for any woman in your life. Follow me on Instagram for more recommendations and inspiration.