We chose a Valentine's Day inspired Galentine Birthday party for Maven's 4th Birthday with everything pink, pink , pink per her request. Her birthday is February 1st so the timing is perfect to find all the pink pretties in the stores. I started with brainstorming a cute saying for the Galentine's Day birthday party. We came up with Four Ever Loved since she was turning 4.
This post contains affiliate links.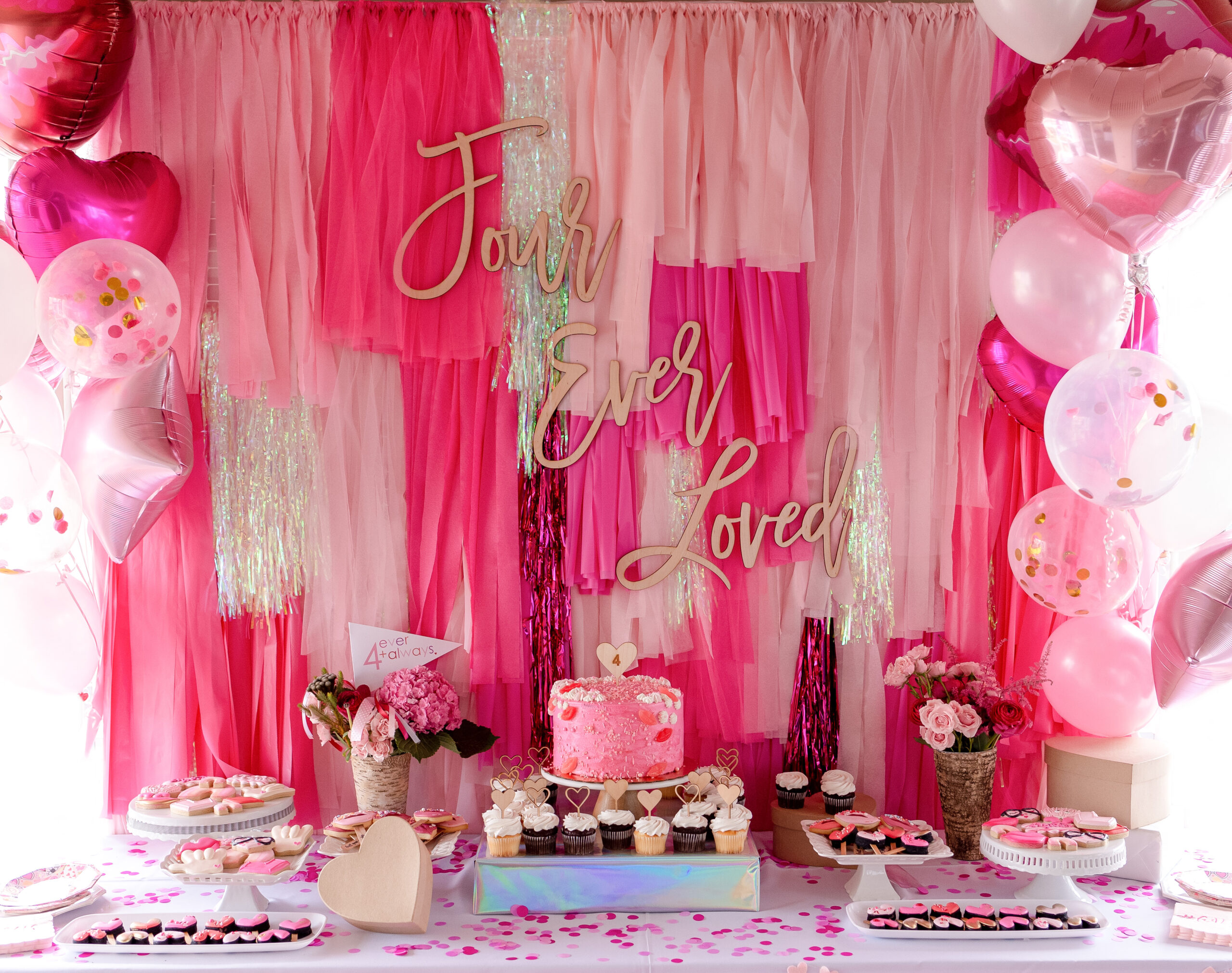 We also used Love you Four-ever on the invitation.  Modern Birch Co. made us the cutest wooden Four Ever Loved sign for the dessert table backdrop. Hey Cute Design made us invitations and a tag for the favors.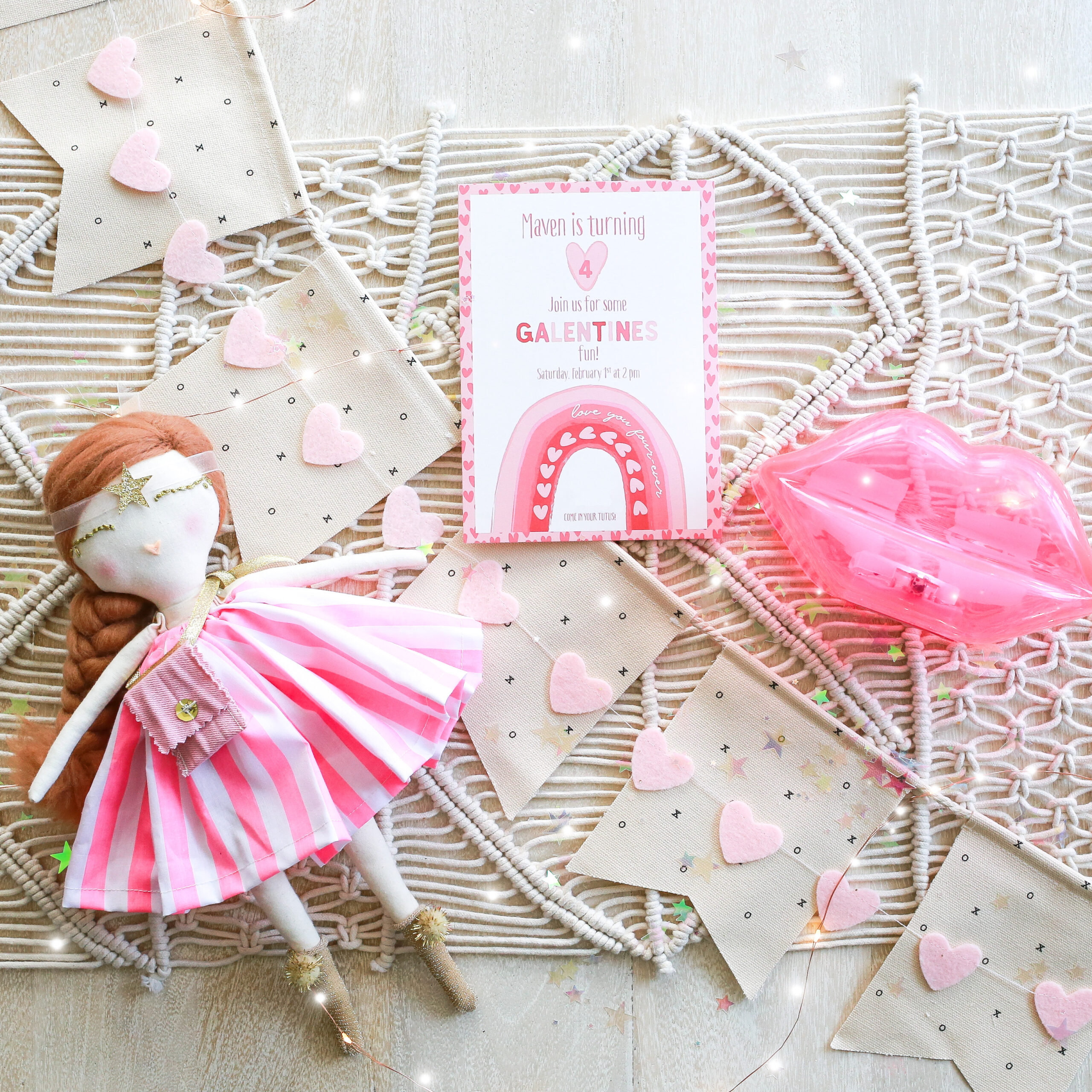 We decided to have her party at home and invited 15 little girls to join us. We hired Ariel to come visit with the girls and of course she had to come in her pink ball gown. Maven was so in love with Ariel.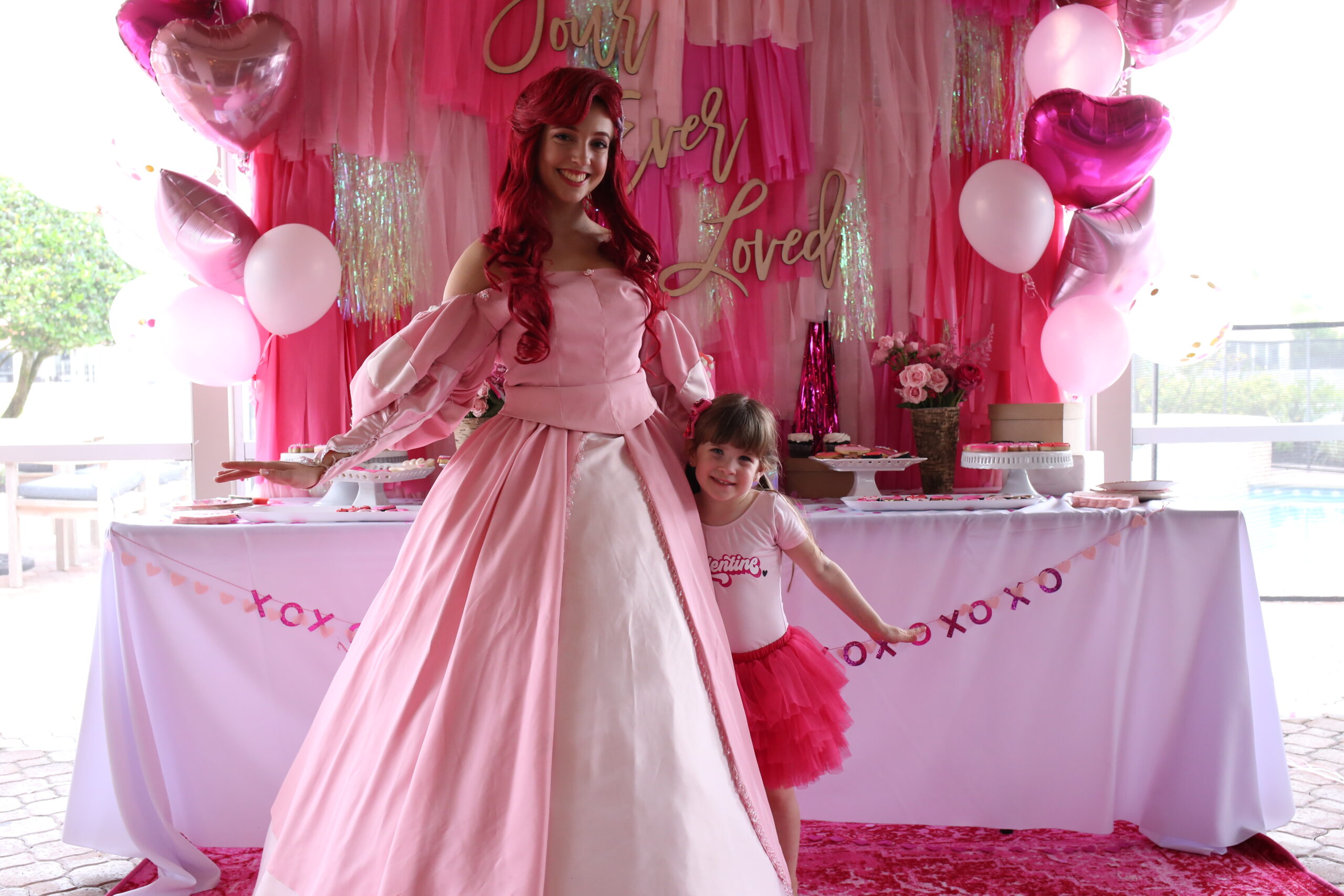 They played games, danced and sang together. He set up a photo app with a balloon wall from Party Hop Shop. 
I love the ombre look and yes I bought a pink rug for the party. I know it's a little over the top. I always use the excuse you only turn ___ once! In this case 4. Fill in the blank with whatever number you need to. LOL.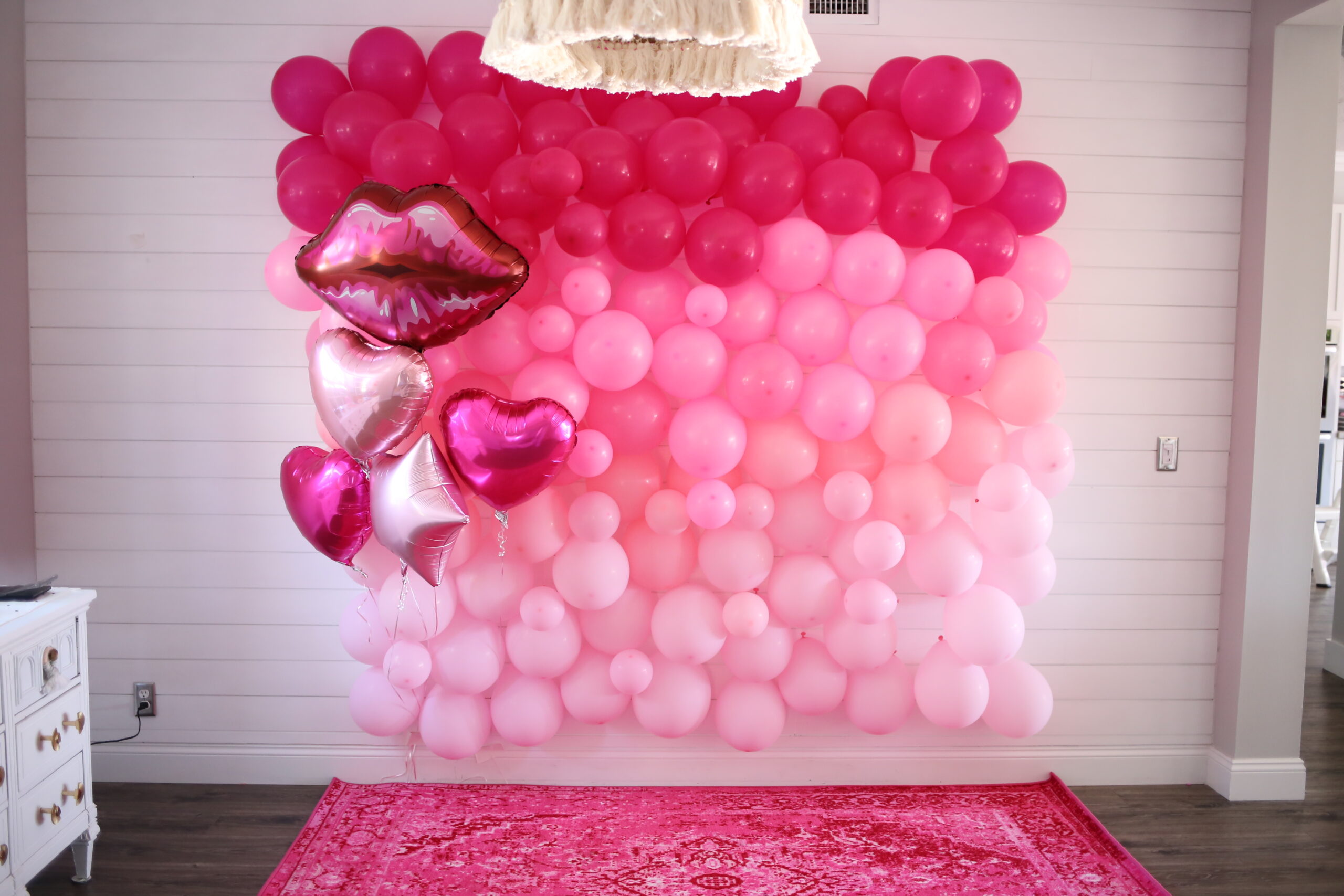 All the girls got their photo taken and decorated a frame with fun stickers. I used the Canon Selphy printer to print out the photos right there so they could take them home with them. I loved being able to print their photos at the party. We painted bird houses from Michaels that had little hearts for windows.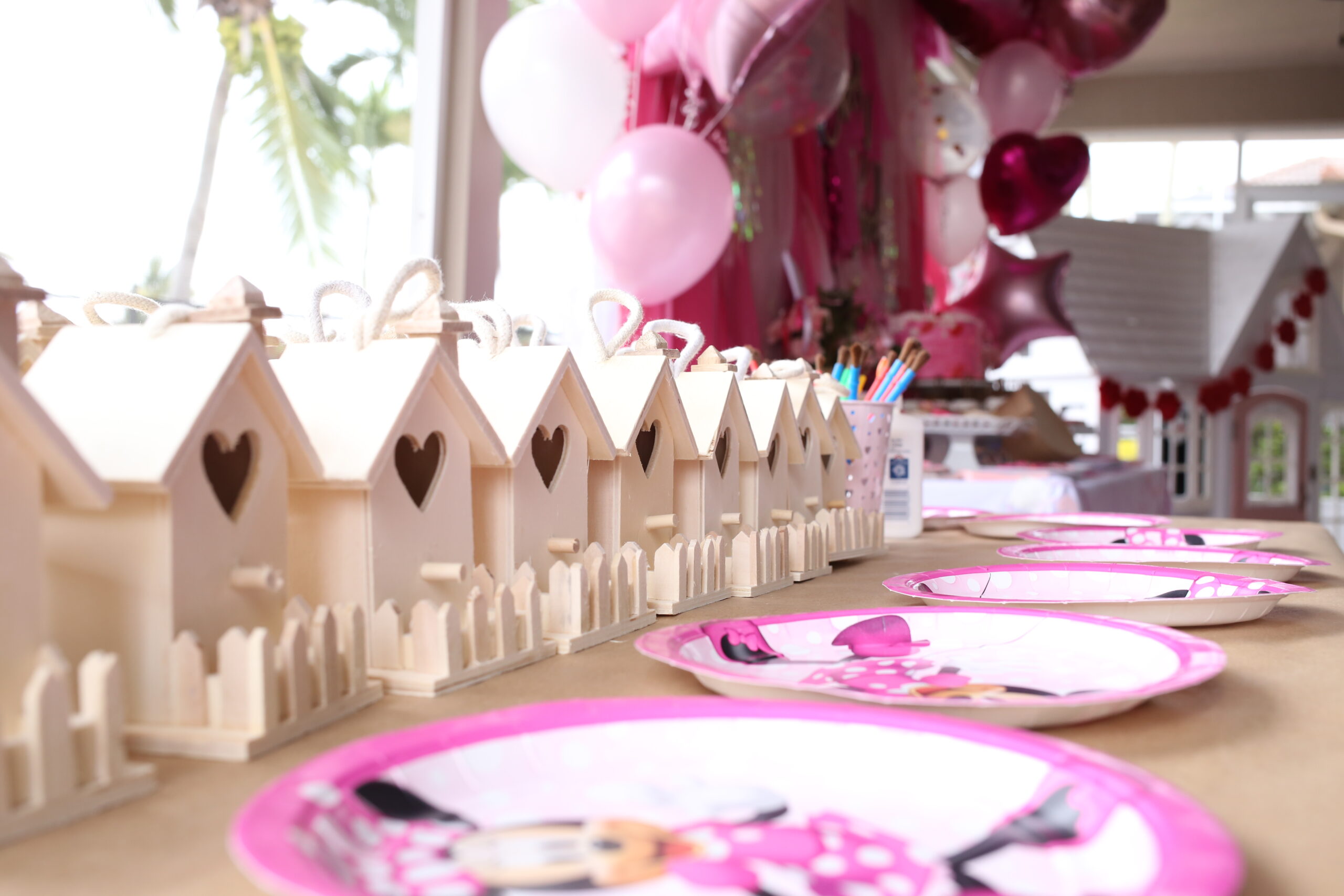 A balloon artist came to make fun balloon animals for all of the girls too. We also rented a huge bounce house that was so much fun! The weather in Florida is always a gamble unfortunately that day it rained. I had to move everything inside it was not ideal but I made it work.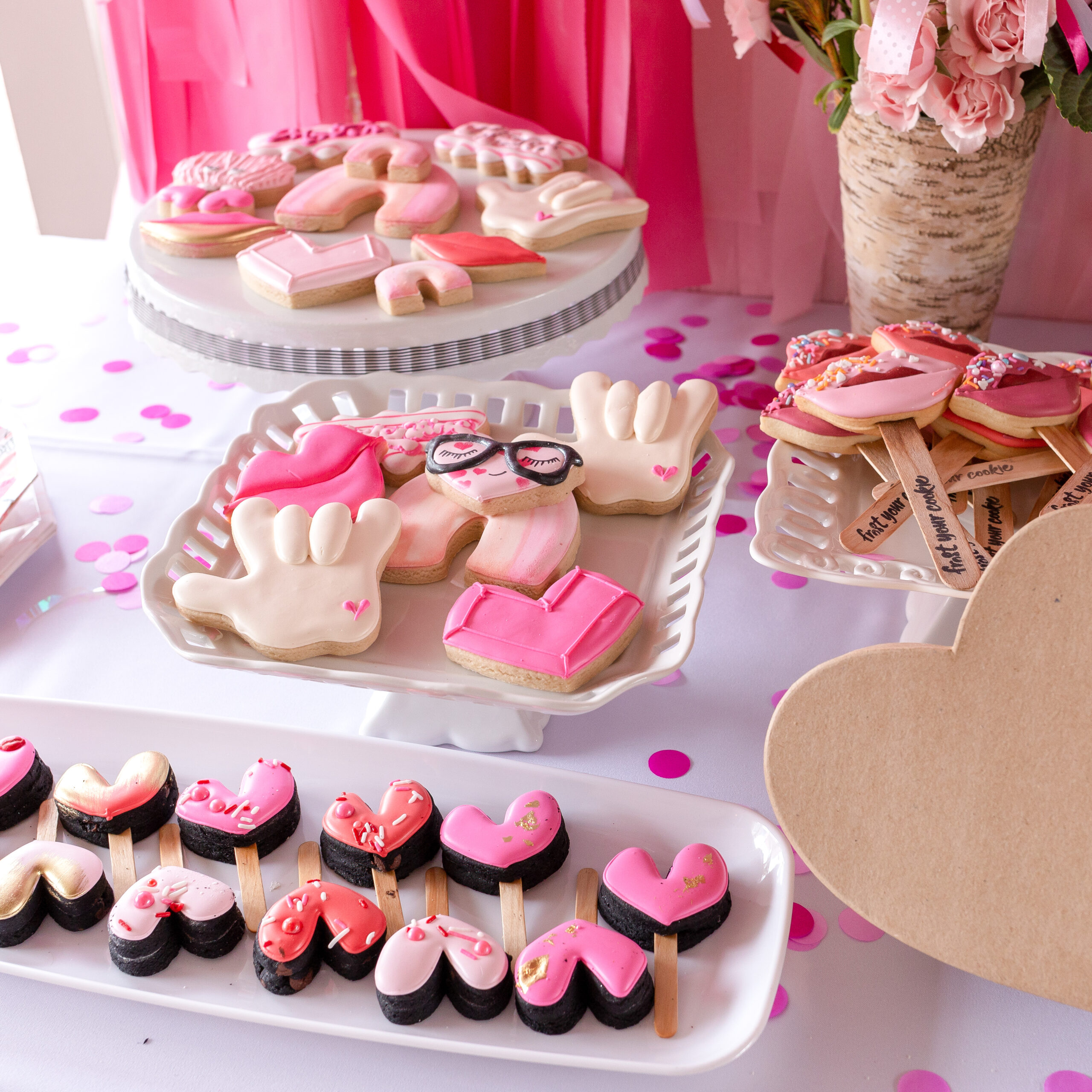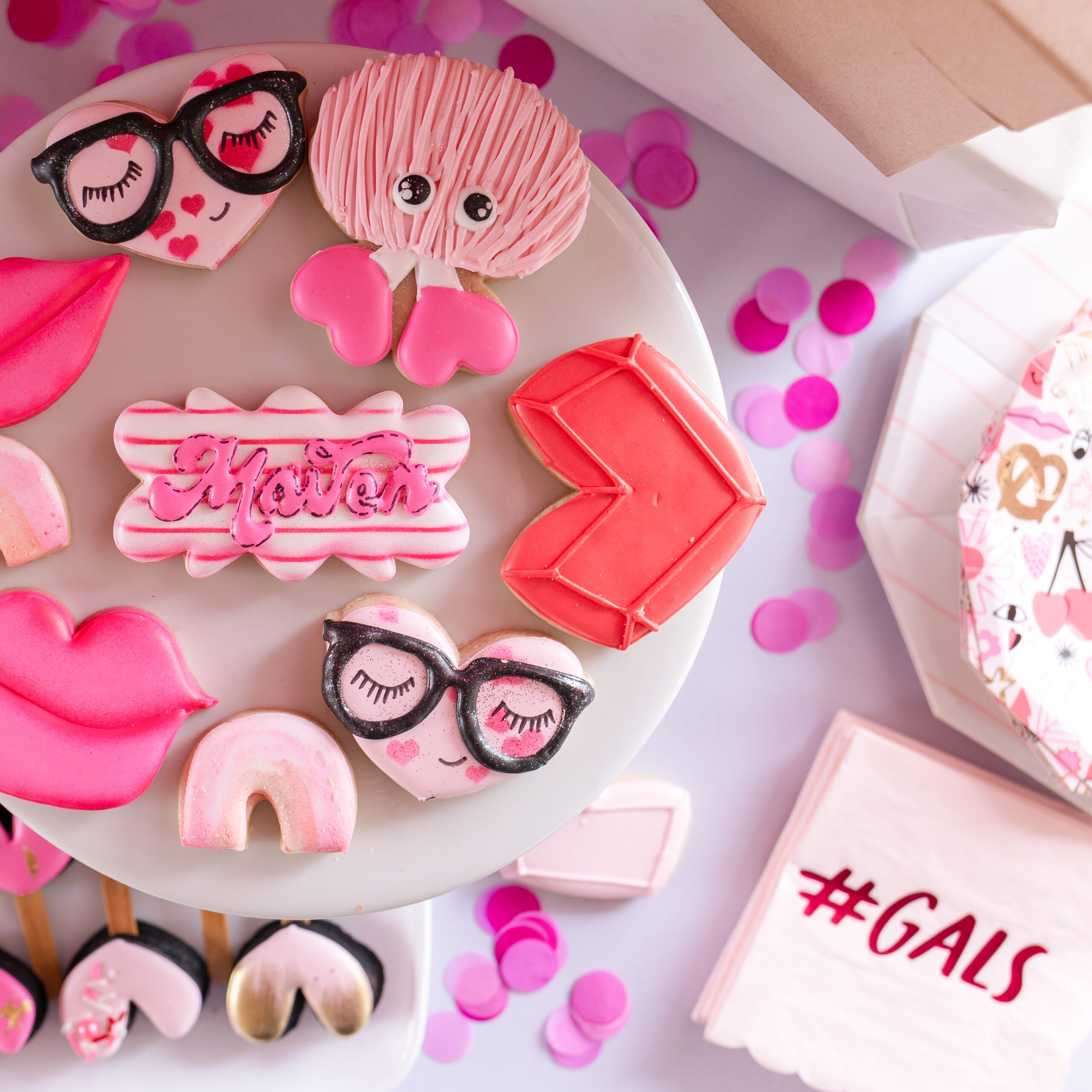 The dessert table was my favorite. I made the backdrop out of plastic table cloths, streamers, crepe paper and fringe door hangers. I bought white fencing for the base and tied the table cloth strips to the fencing. I have a large wooden base that I hung the fencing on that I've used for all of my parties for years. I also use command hooks to hang my fringe backdrops. This backdrop was huge so I felt more comfortable hanging it on the wood base. The Four Ever Loved Sign was hung with fishing line.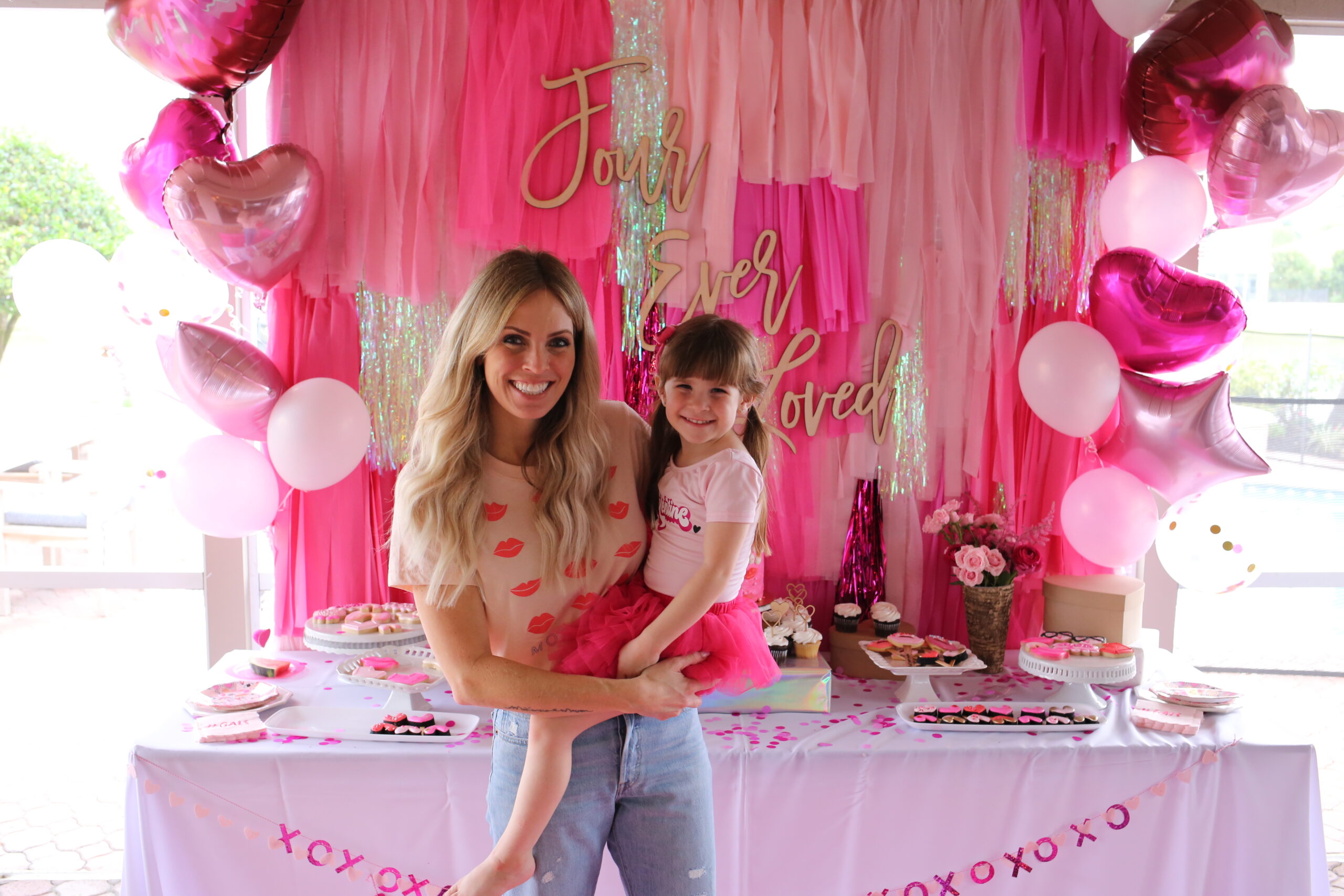 Royally Iced made the most amazing cookies that were a huge hit! I bought a plain store bought cake and cupcakes from Publix and decorated them with candy and sprinkles to make them look more custom for a fraction of the cost. The cake and cupcake toppers are also from Modern Birch Co.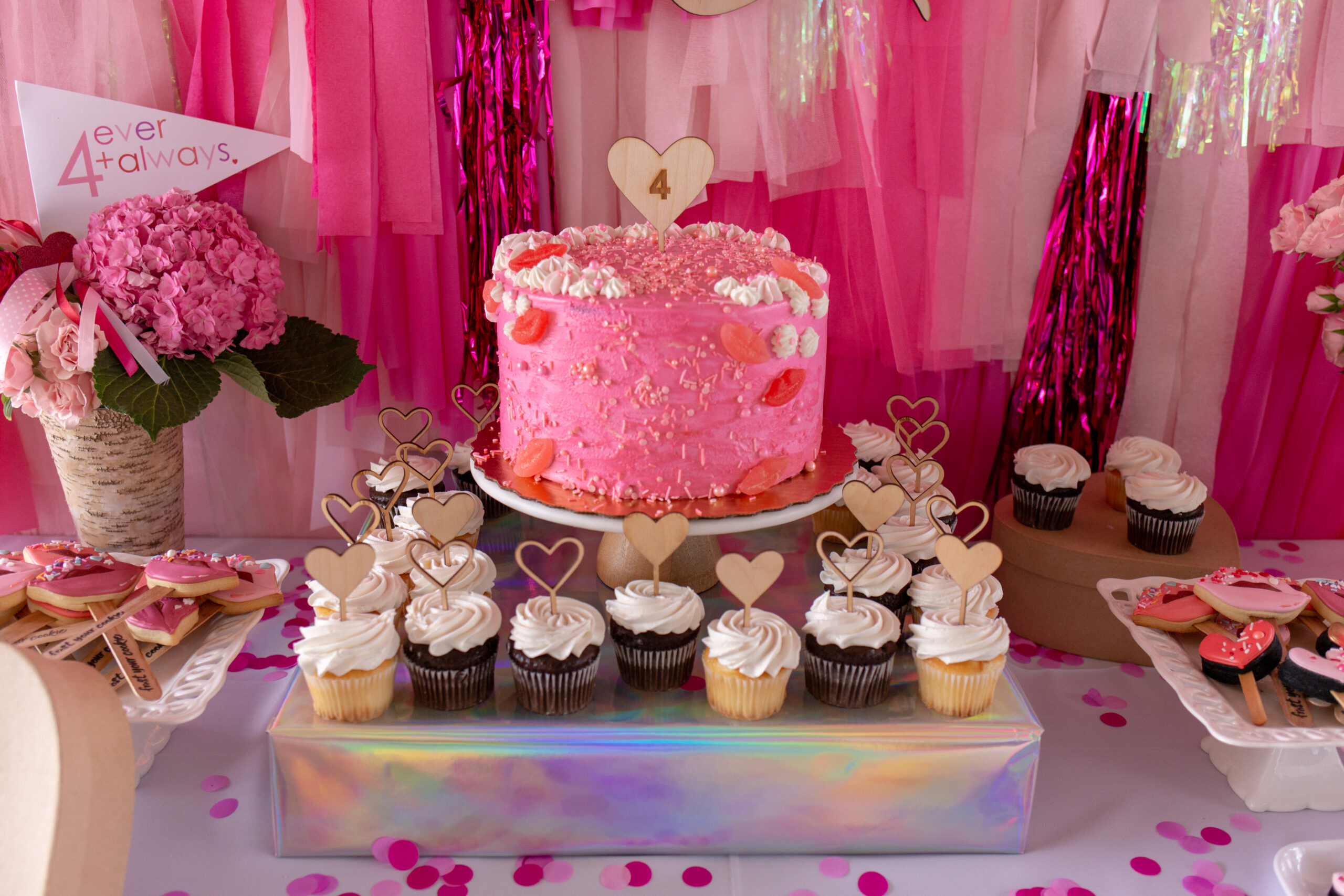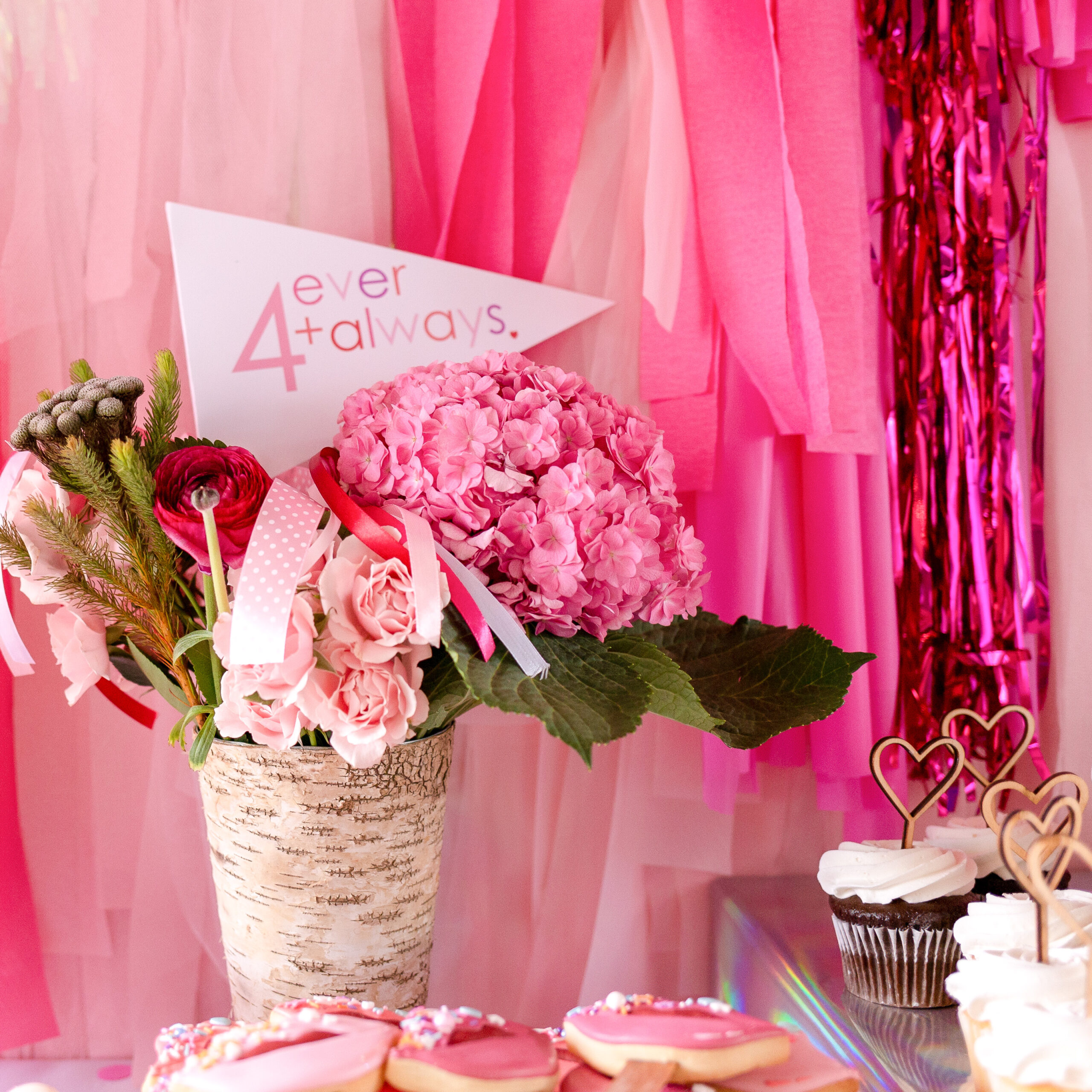 Frost Your Cookie sent the cutest lips cookie pops on a stick. We had fun trying to put sparkly hair extensions in the girls hair and we made bracelets! All of the girls went home with a cute treat bag. I ordered cotton candy push pops from Etsy. Hey Cute Design made me a sticker for the push pops and I found acrylic heart push pop stands on Amazon. The heart shape is unavailable but I found a similar stand on Amazon. They were displayed on a high top table with a floating balloon lip design.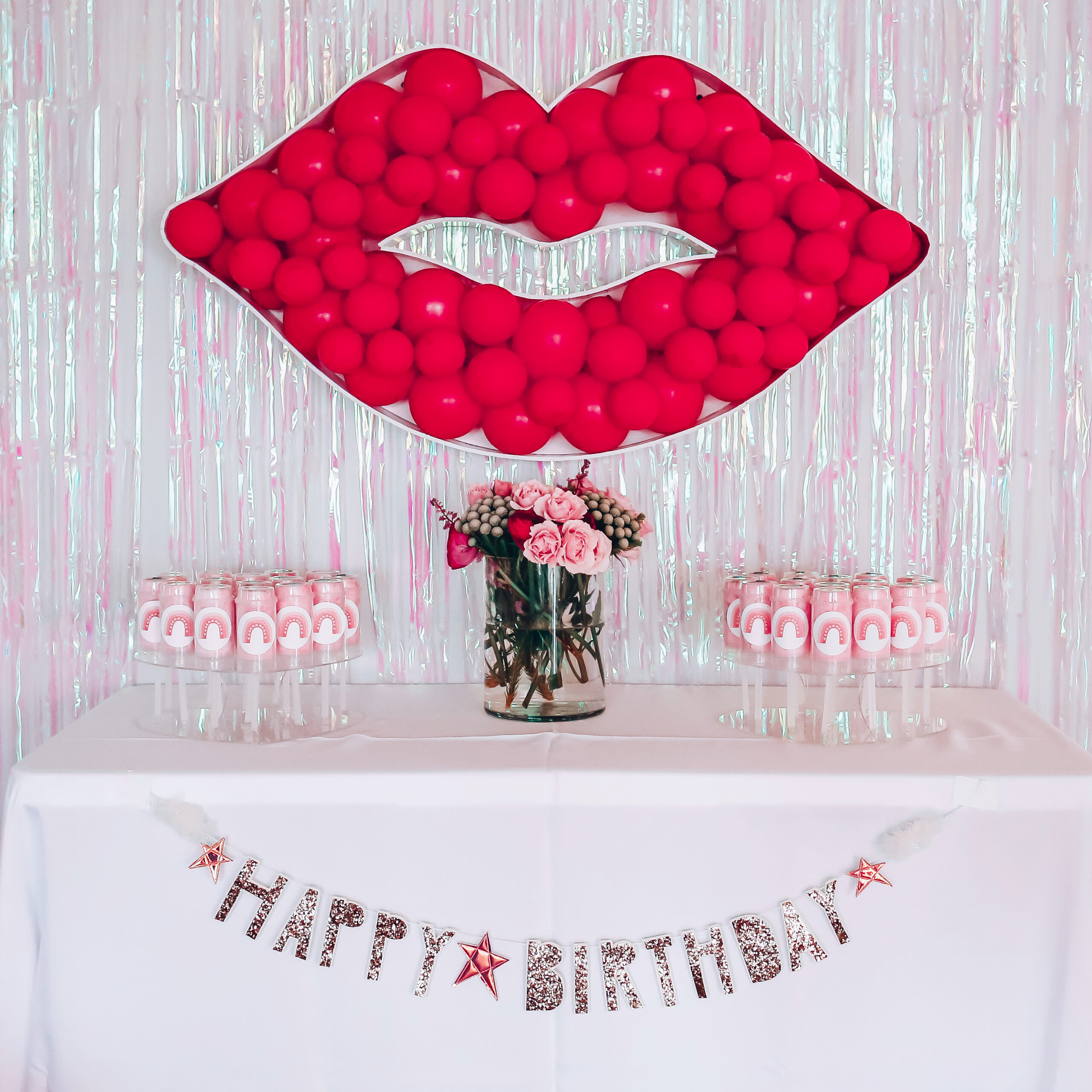 Maven's outfit was the perfect mix of girly fun but comfy enough for there to run and play while jumping in the bounce house. Her bodysuit is from NoraMadison Designs and her tutu is one of the greatest Amazon finds ever! The tutu's come in a ton of different colors.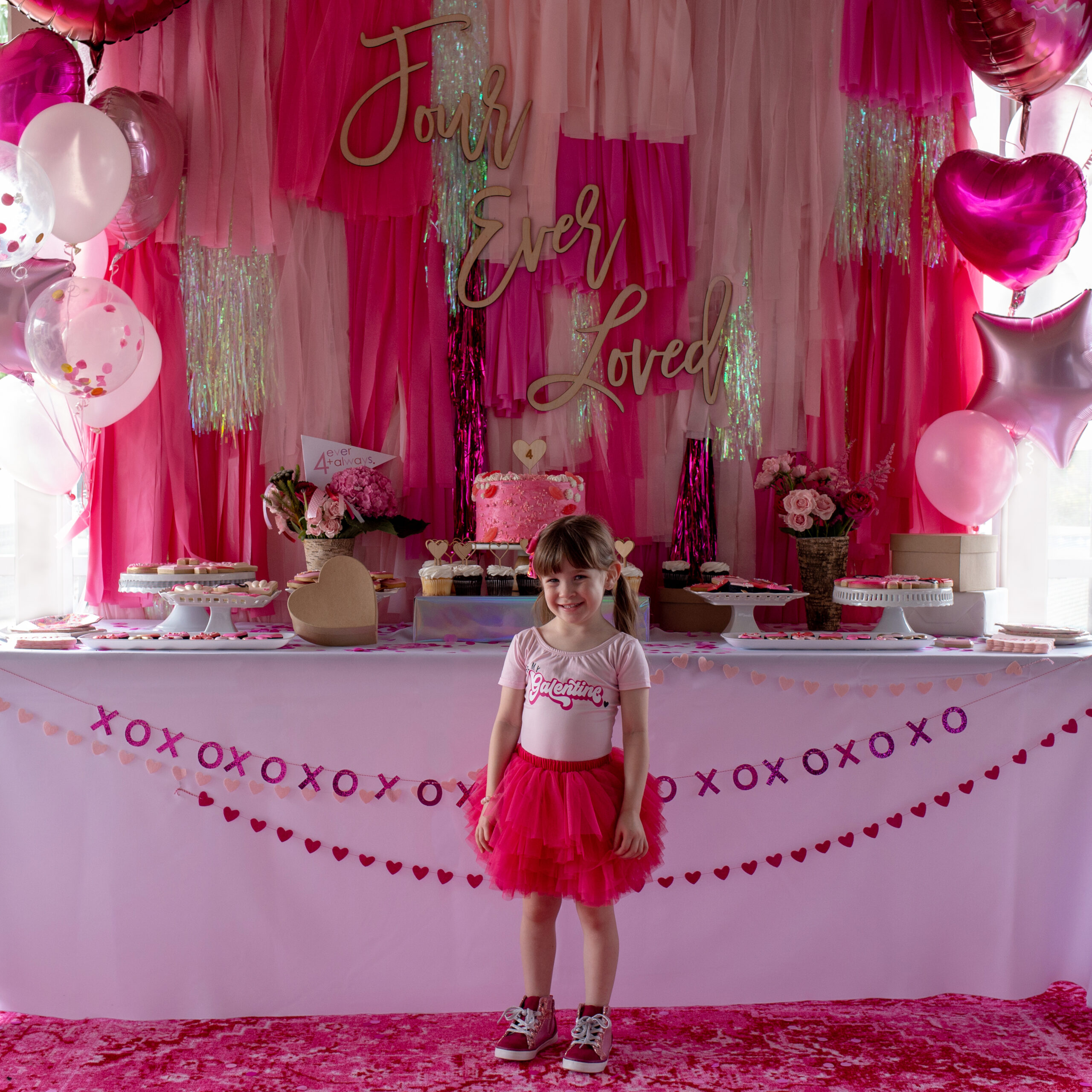 All of the guests went home with their photo, bird house, bracelet and a treat bag. The tags were made by Hey Cute Design and said BFF's 4 ever! Such a fun theme you can do so much with. Pin these photos for later!!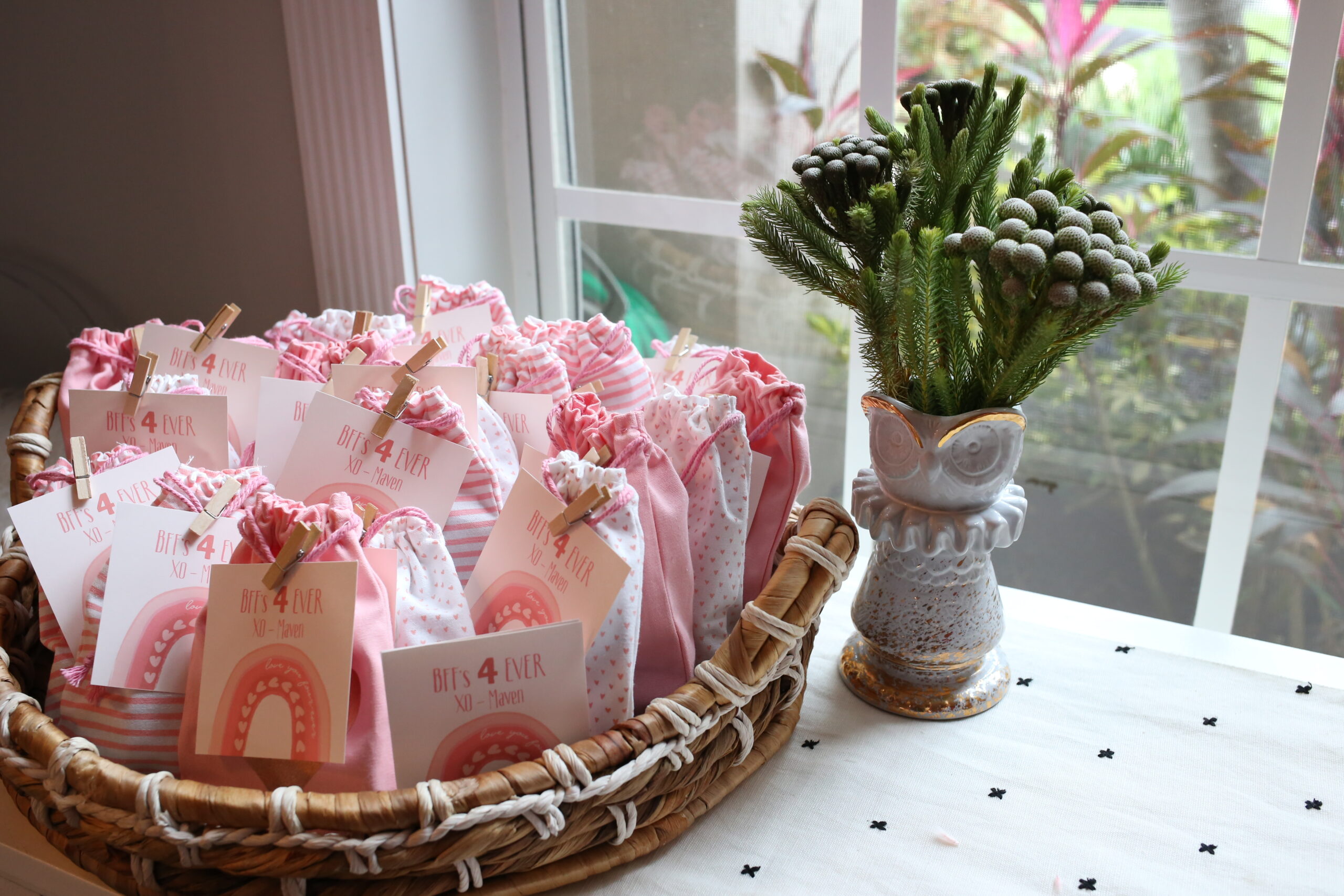 GALENTINE'S DAY BIRTHDAY PARTY