Maven told me months ago she wanted a mermaid 5th birthday party celebration. Both of my girls have a healthy obsession with mermaids. I really can't blame them they are pretty magical. When I start planning a party I typically start with a color scheme and a saying for the party. I search Pinterest for clever sayings and beautiful color combinations. There is so much you can do with the mermaid theme. Here is a list of sayings that I found for a 5 year old mermaid birthday party. You could use several different ones for invitations, games, backdrop, favor tags etc.
This post contains affiliate links.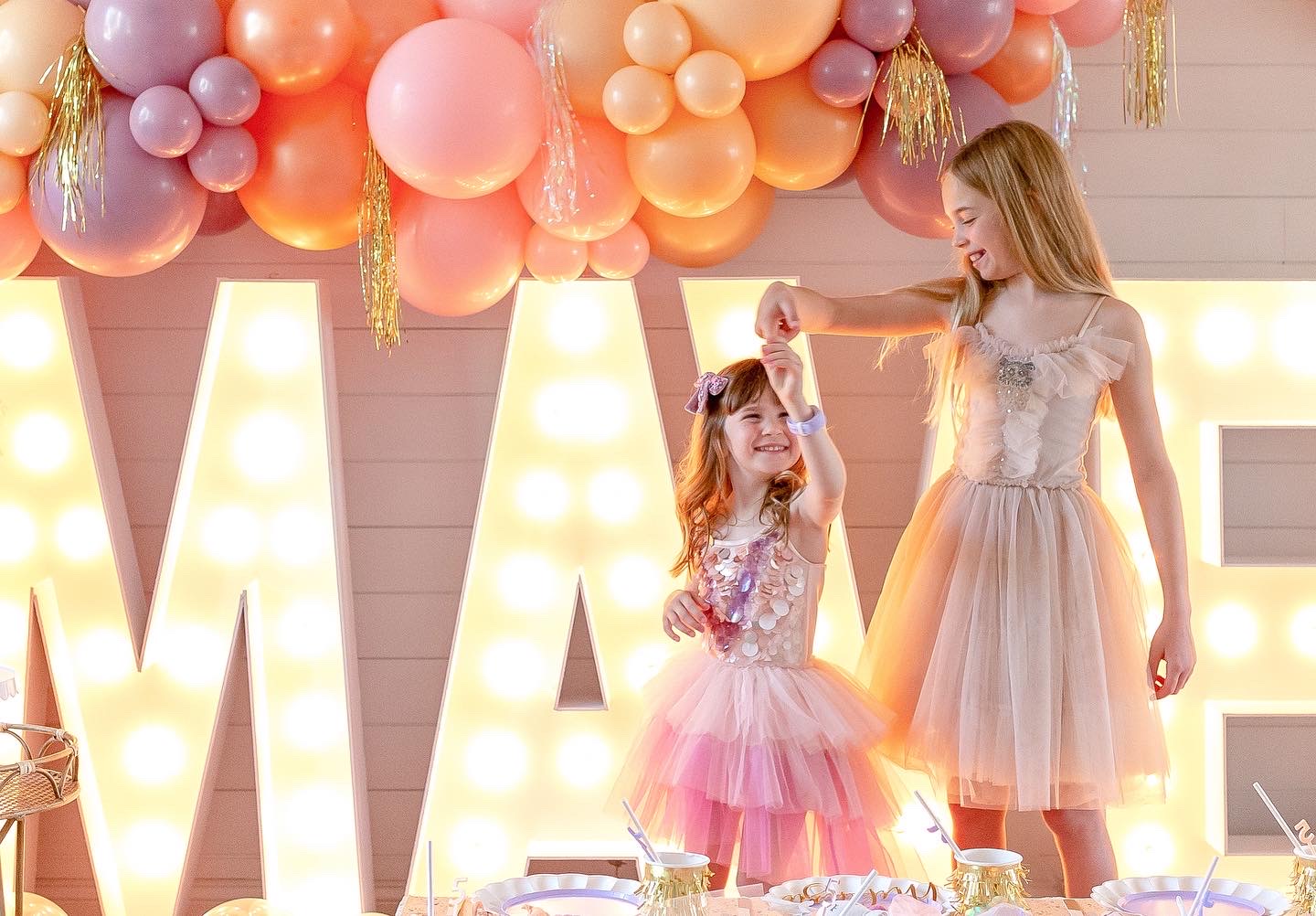 Mermaid Sayings
Five and Free. Wild as the Sea.
Darling Let's Be Mermaids.
We mermaid to be friends.
Let's Shellabrate.
Mermaid wishes and starfish kisses.
Happiness comes in salt water.
Mermaven
Fintastic
Today I want to be a Mermaid
Tail Mail
We mermaid to be sisters
The world is your oyster
Dive into Five
I chose Five and Free, Wild as the Sea for the backdrop and Let's Shellabrate for the artwork on our Samsung Frame tv. This celebration is definitely different than our typical parties. We are keeping it small with family only. We didn't do a lot of games and favors but just in case you need some ideas here are a few Mermaid Party games that I thought would be fun.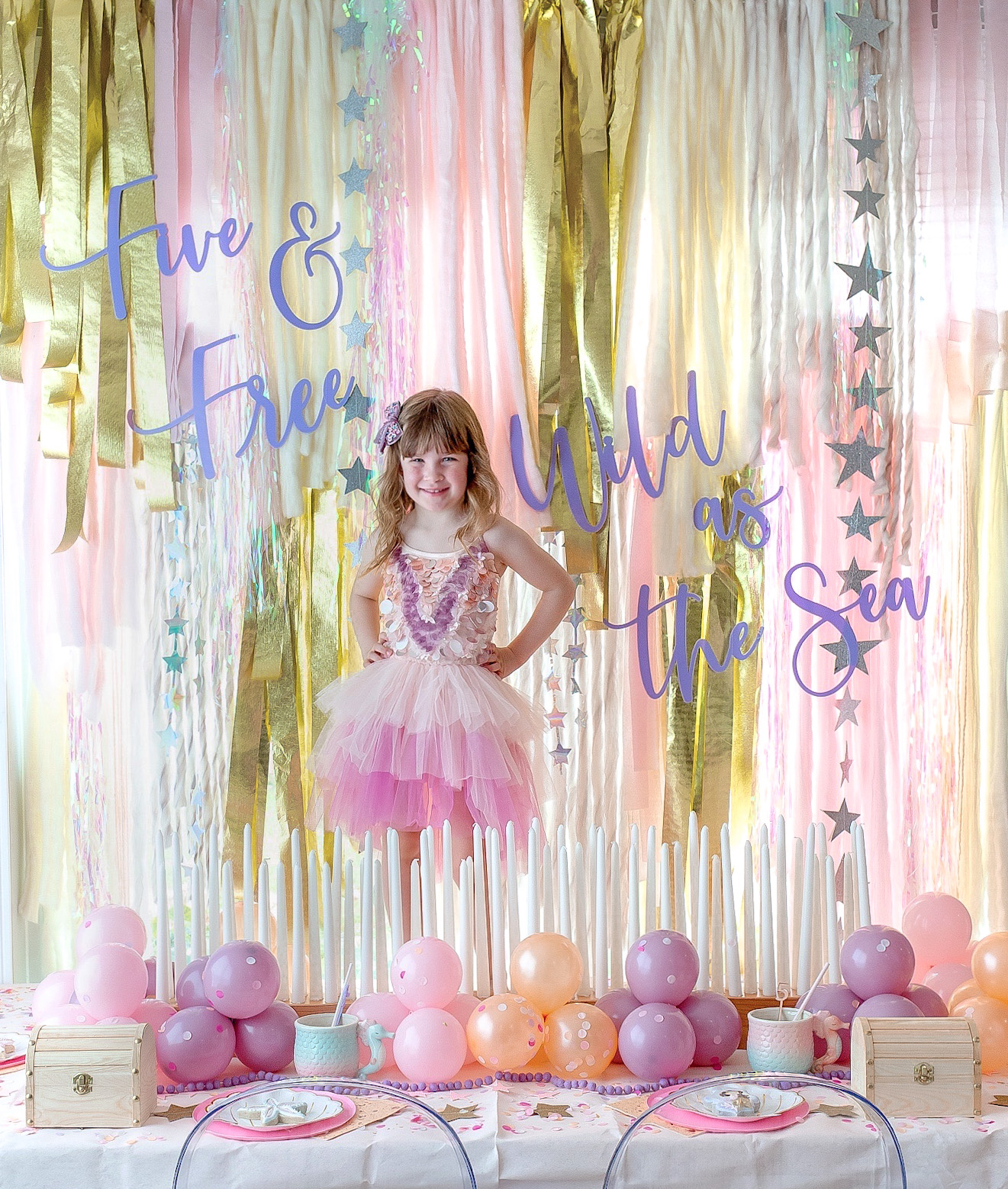 I made a fringe backdrop for the kitchen table set up. I used Showstopper yarn, metallic streamers and iridescent fringe from Hobby Lobby. The backing is barrier fence. I will dedicate a blogpost soon to exactly how to make one yourself. I also have a saved highlight on my Instagram showing how I've made the fringe backdrops in the past. The Five and Free Wild as the Sea is from Modern Birch Co. They also made me tags for her gifts, drink stirrers and both of my daughters names in gold for the place settings. Such elegant and beautiful pieces you can use again and again!
Mermaid Party Games for kids
Treasure Chest painting
Pin the tail on the Mermaid
Mermaid Treasure Hunt
Mermaid Tail potato sack races
Mermaid Bingo
Paint Seashells
Make mermaid crowns
Sand Art
Bubbles
Mermaid theme parties are typically teal and purple and while that is cute I just wanted to do something different. I like to make things challenging obviously. LOL I wanted a boho feel too. I chose pink, peach, ivory, and lavender with gold and iridescent touches. I added natural elements with the seagrass, fishnet and cane pieces. I absolutely love the way the color combination came out, its perfect. Maven loved it too of course. Maven and McKenzie's dress are from the ultimate TutuduMonde
What do most kids love about their birthday? Cake and presents, right? I mean kids are smart. I put a lot of time and effort into getting her meaningful gifts and cute mermaid gifts that she could have fun playing with. I love picking out gifts for my kids and I also love decorating them after Rusty wraps them. LOL My husband and I have a deal. I'll get all the gifts if he wraps them and then I get to decorate them. I chose a mermaid Rifle Paper Co gift wrap and my go to kraft paper for the rest. Embellishments and a chalk marker made them personal.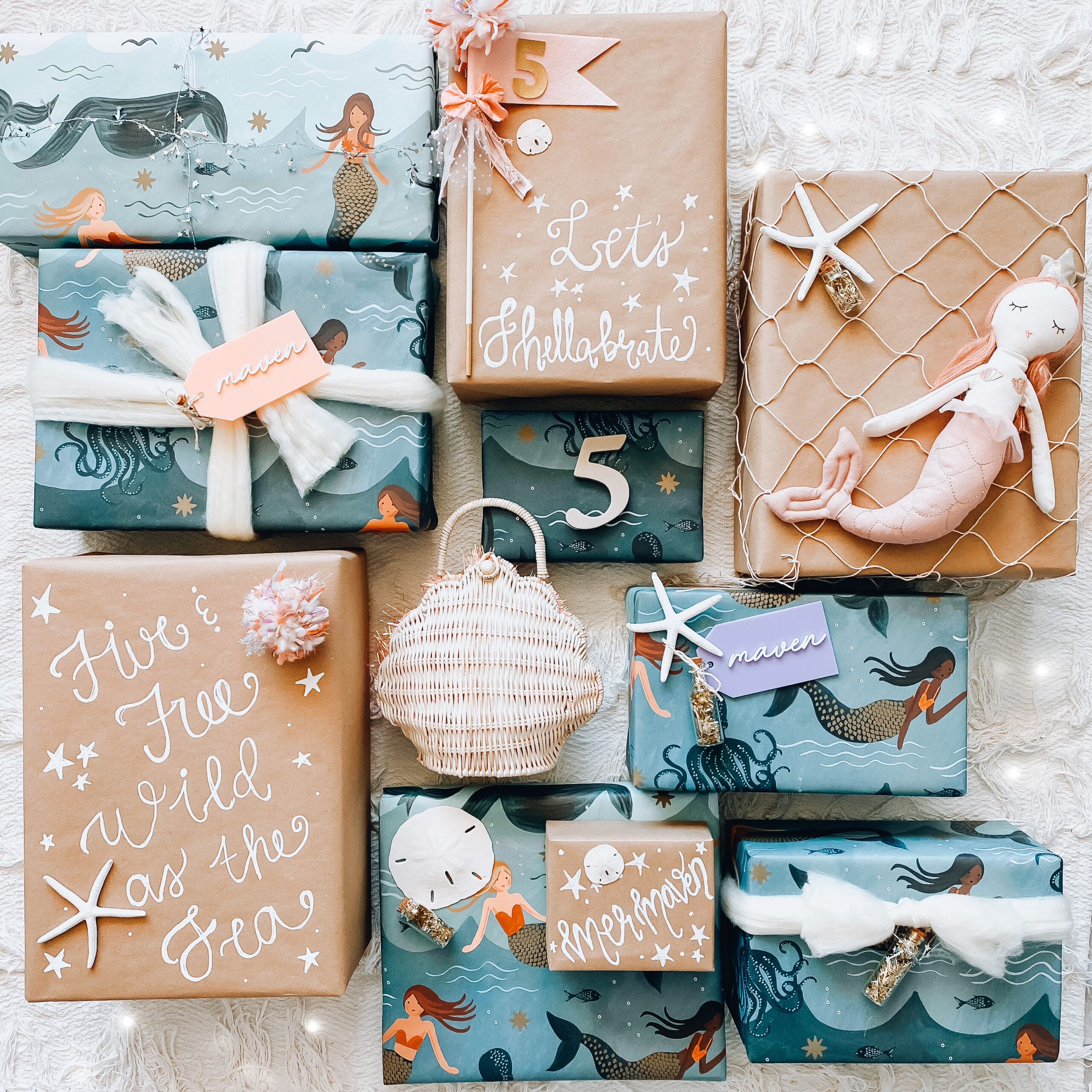 Choosing the gifts is also so much fun and I wanted to share with you my top picks! I always like to get gifts they can use everyday, gifts they can wear, gifts they can play with and gifts for using their creativity. Maven loves these and I think the 5 year old in your life will love them too. Shop by clicking on the links below. As always thank you for shopping my links!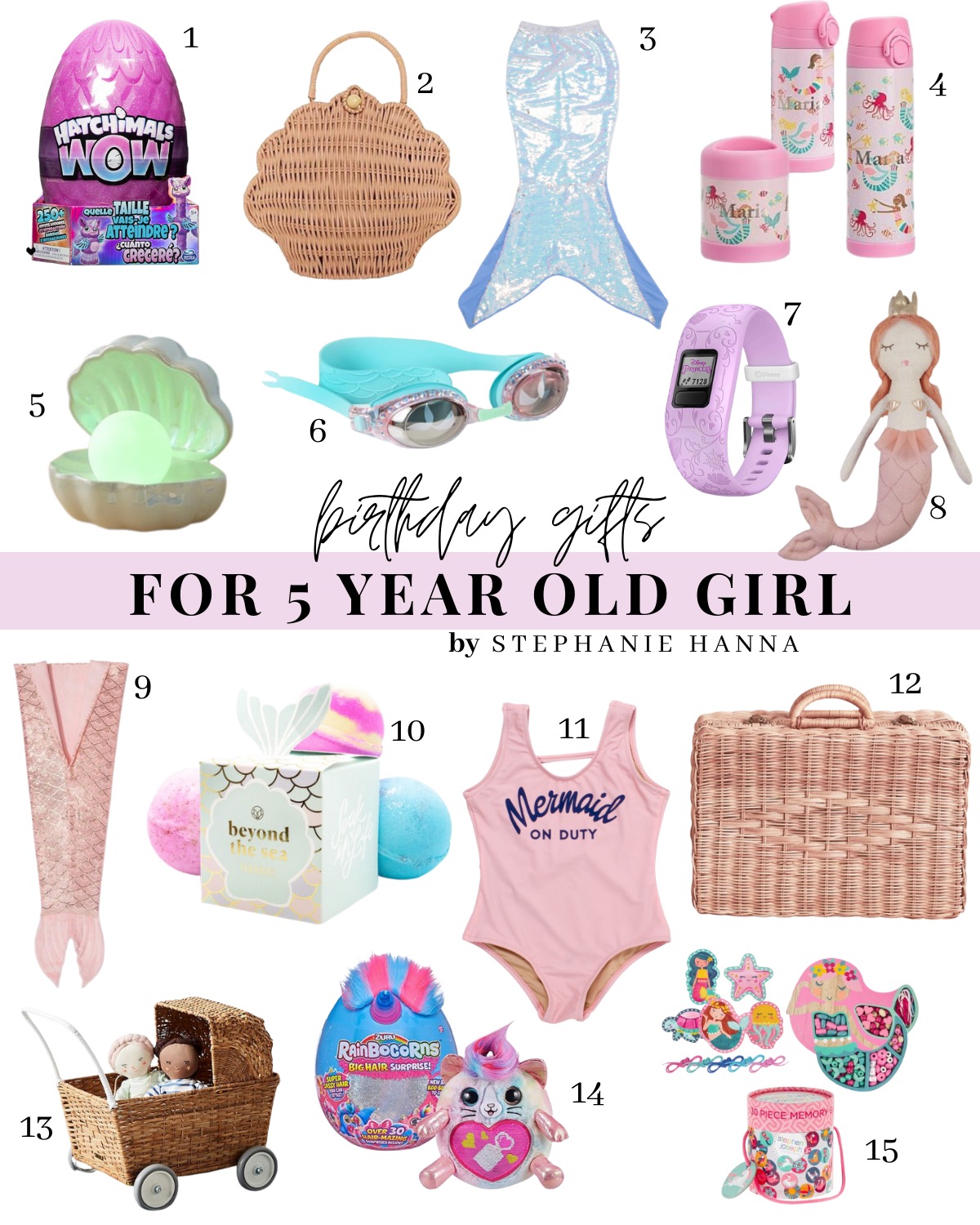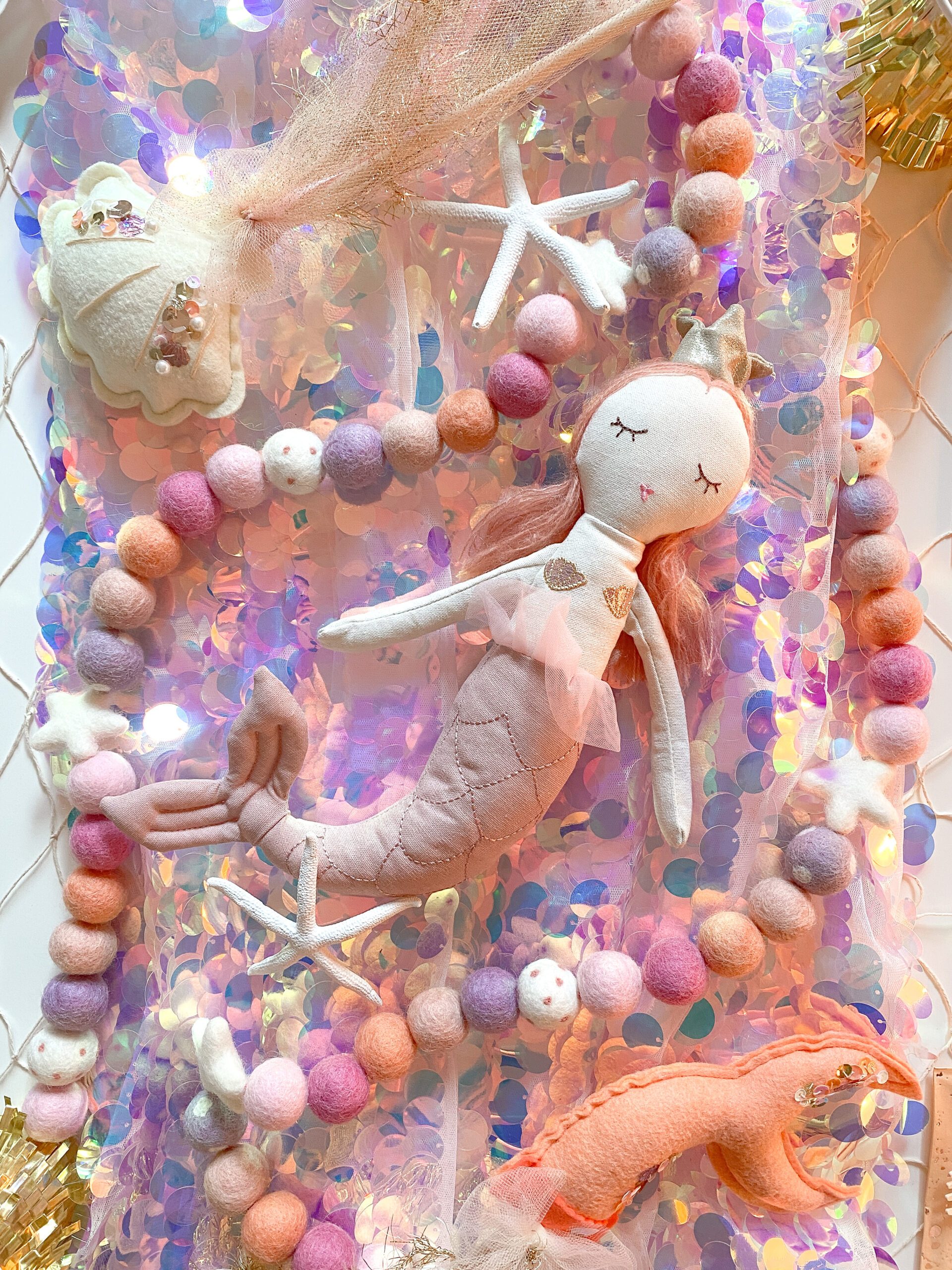 The Marquee letters that spell Maven's name are definitely a show stopper. I've been seeing them as a fun trend lately and knew we had to have it for Maven's birthday. I hired Party Me Pretty to install the light up letters and the Mermaid balloon tail. Wow, it couldn't have been any more gorgeous and they were wonderful to work with. If you are local to the South Florida area I highly recommend them!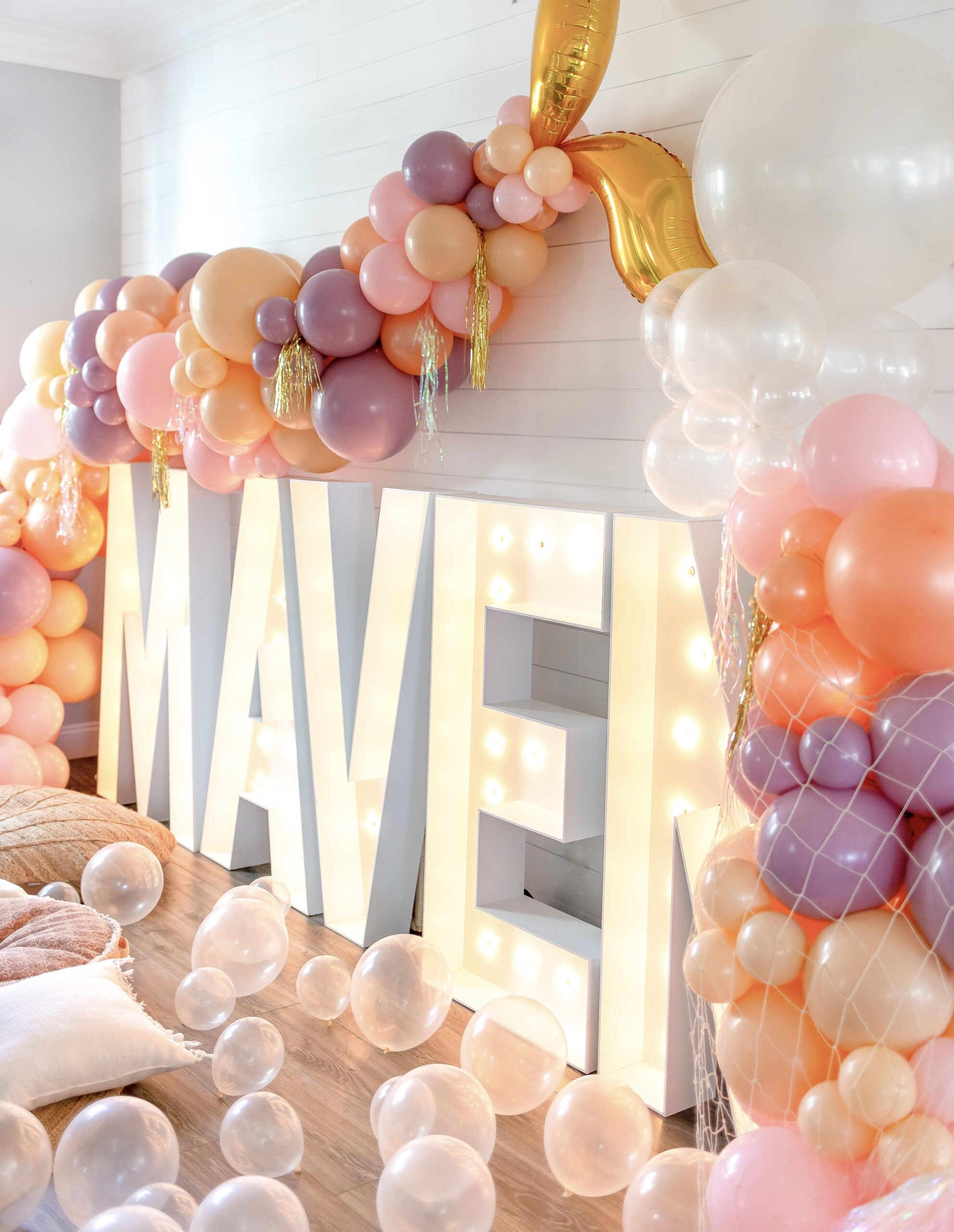 Party Me Pretty also brought the low white table and shell chair for Maven to sit on. She loved it and felt like a princess. When styling the table I chose all of my tableware from Ellie and Piper. I loved the combination of the white scalloped plates, lavender smaller plates, peach and gold napkins with the gold fringe cups! It's so much fun! I started with the fishnet as the base added the sequin fabric I bought from Joann's as a runner then layered the Pearl and Jane garlands, starfish, Sew Stinkin Cute Mermaid wands, mermaid doll and lastly those amazing flowers from Boho Garden Crowns.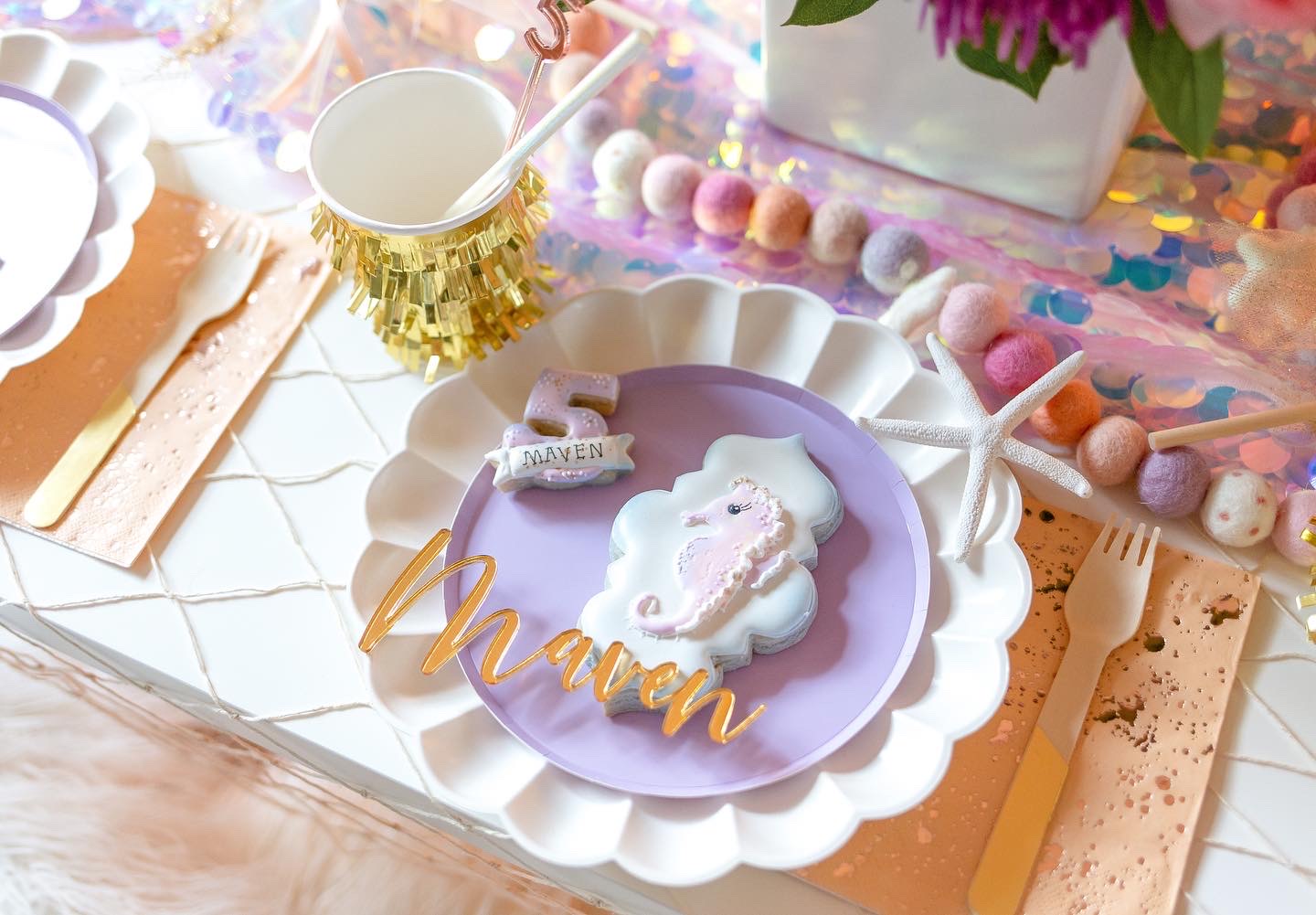 My go to for every special occasion and party for the most amazing cookies is Royally Iced. Not only are they little works of art they taste amazing!!!! My girls fell in love with these cookies they were so perfect.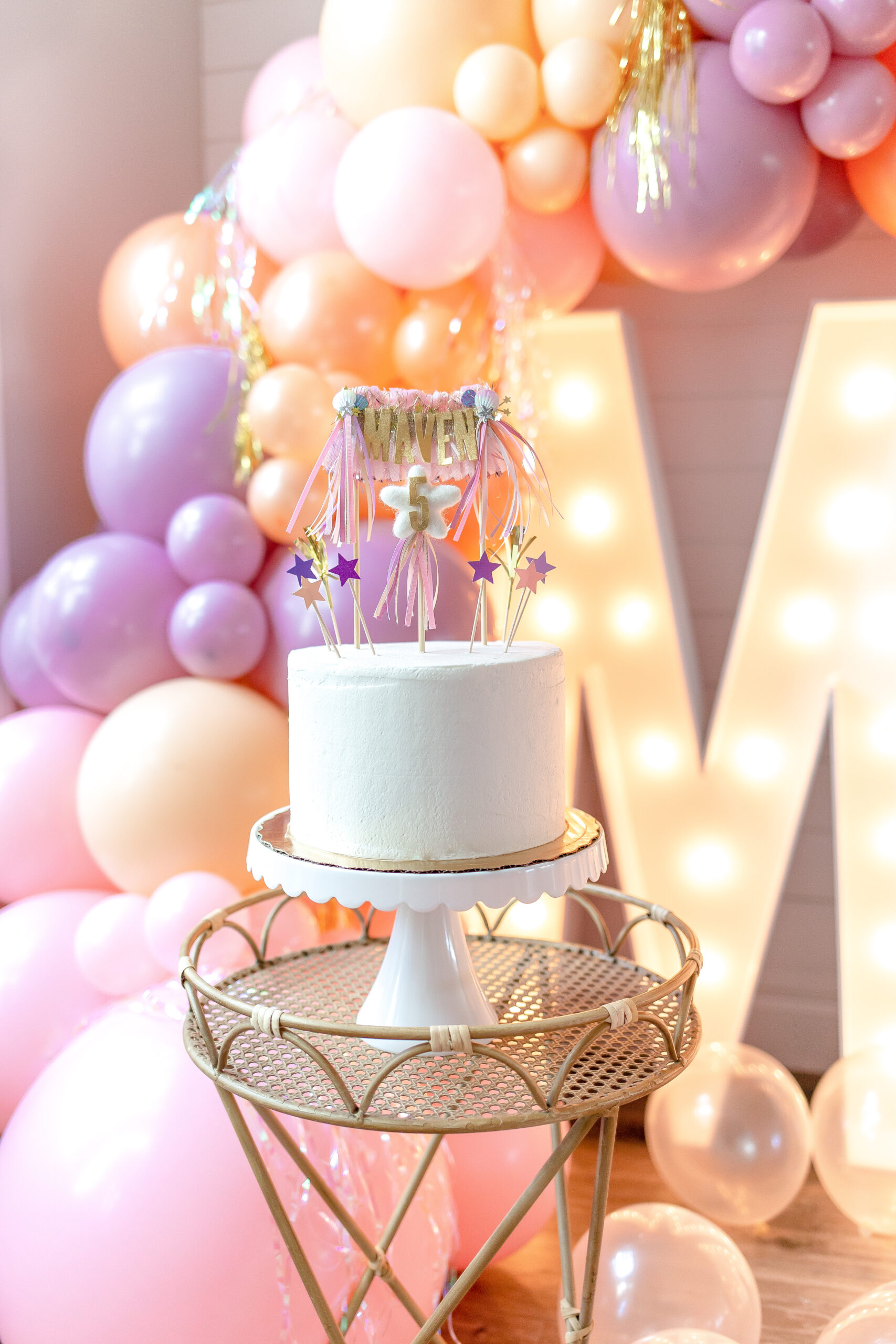 I had to save on her cake since I did splurge a little on her decor. I bought a funfetti cake from Publix with buttercream icing. If you do order a cake from Publix you can request an extra layer, it really elevates the look of the cake. I topped it with the cutest cake topper of all time! This fringe name cake topper and star 5 are both from Fancy Free Finery and I love them so much!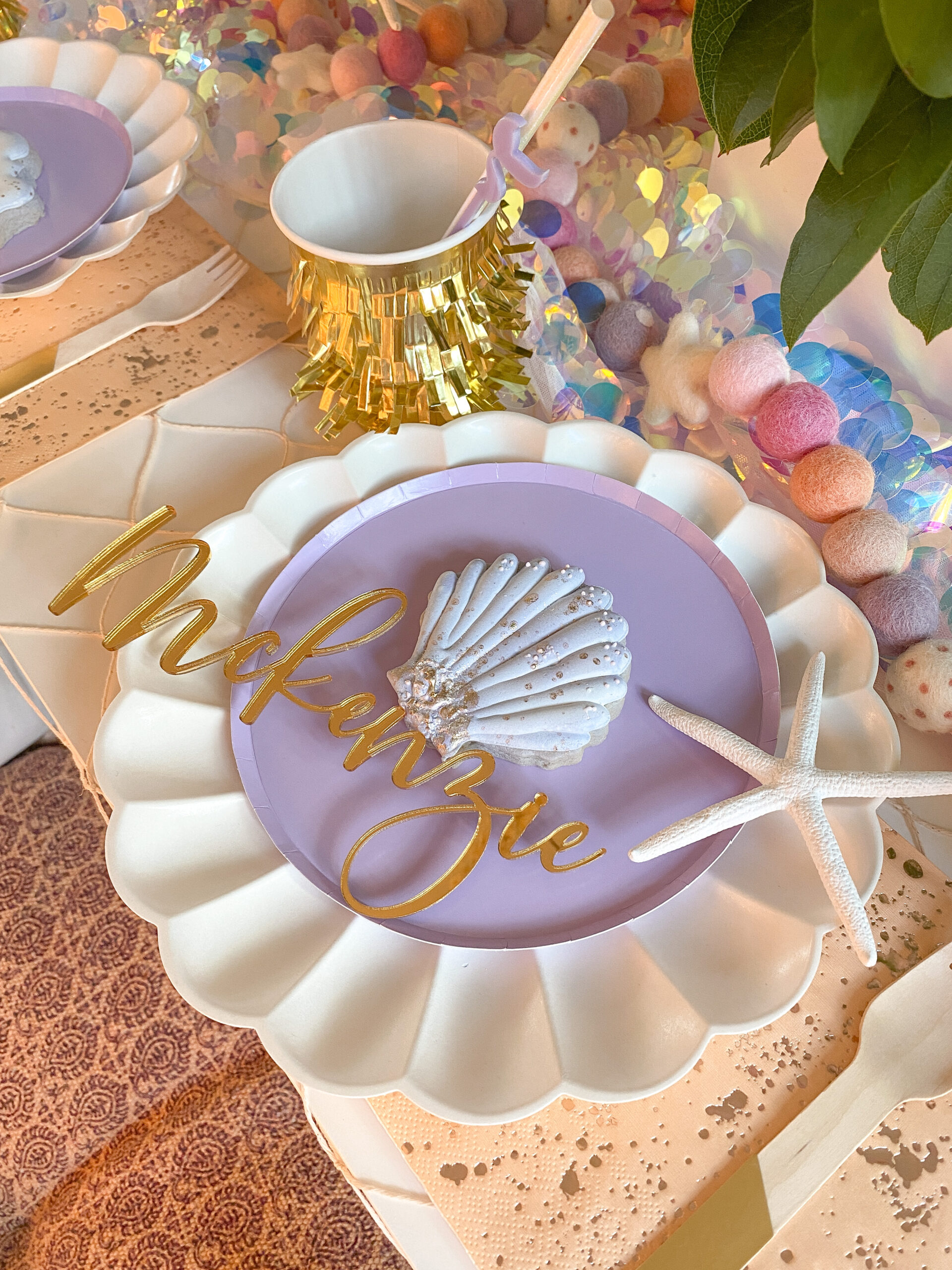 To me the details of the party are the best part. I love every bit of it and hope you do too. If you have any questions you can always email me [email protected]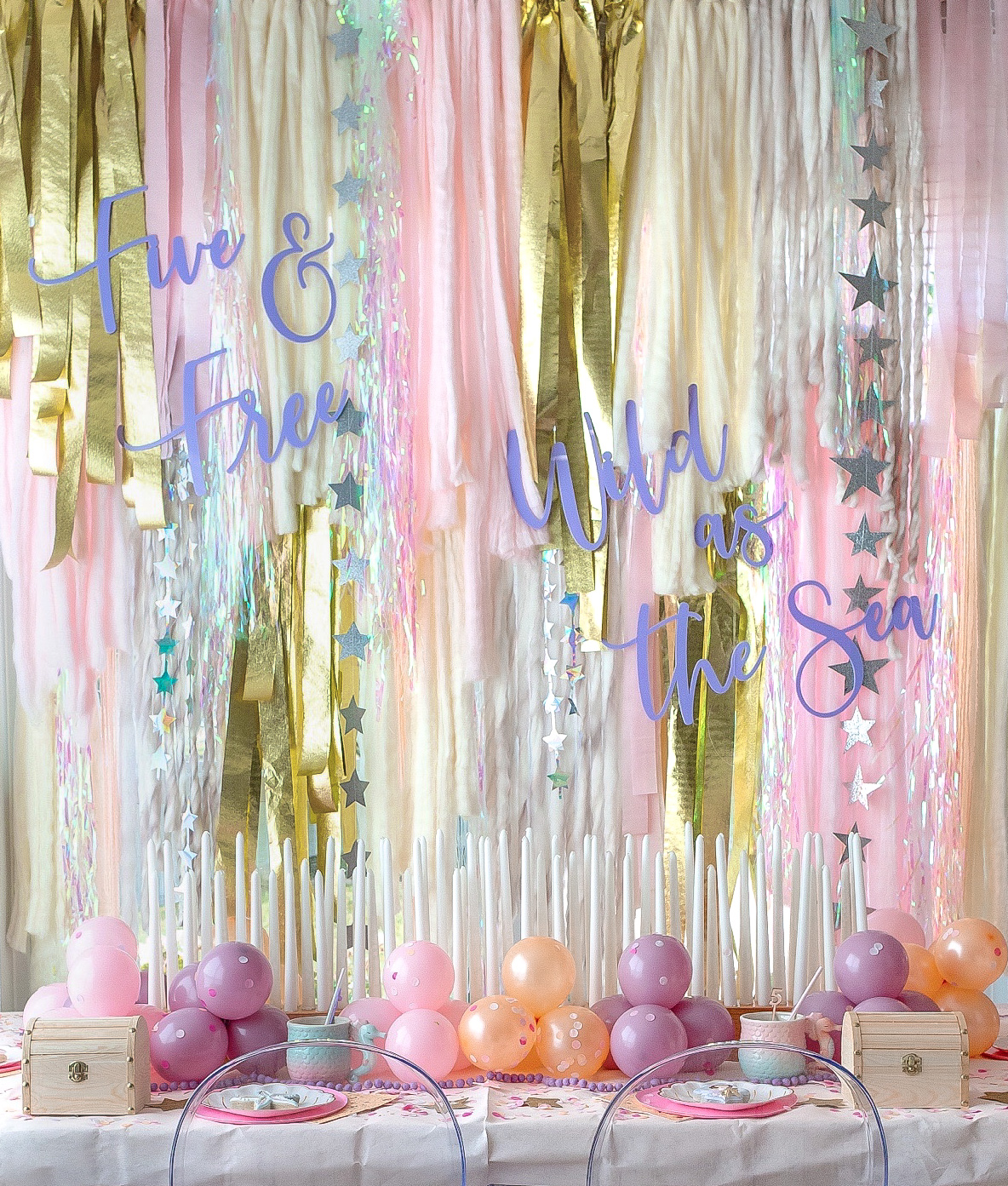 It seems surreal that my baby is turning 5. Life goes by in a flash. They are only little once so I plan on making every birthday of their childhood as special as possible! Maven told me that she felt loved and it was the greatest birthday of her life! Mission accomplished.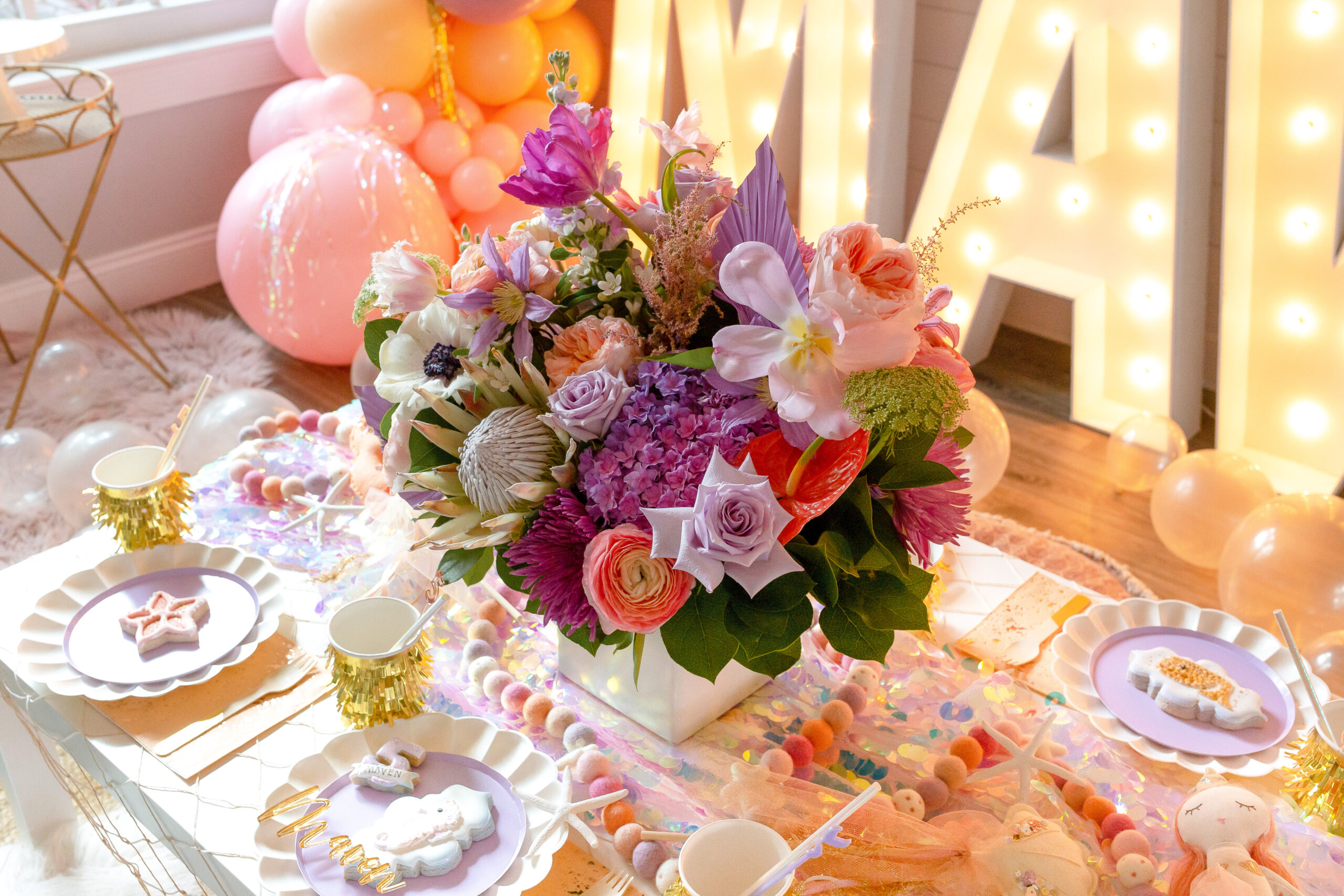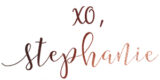 MERMAID BIRTHDAY PARTY