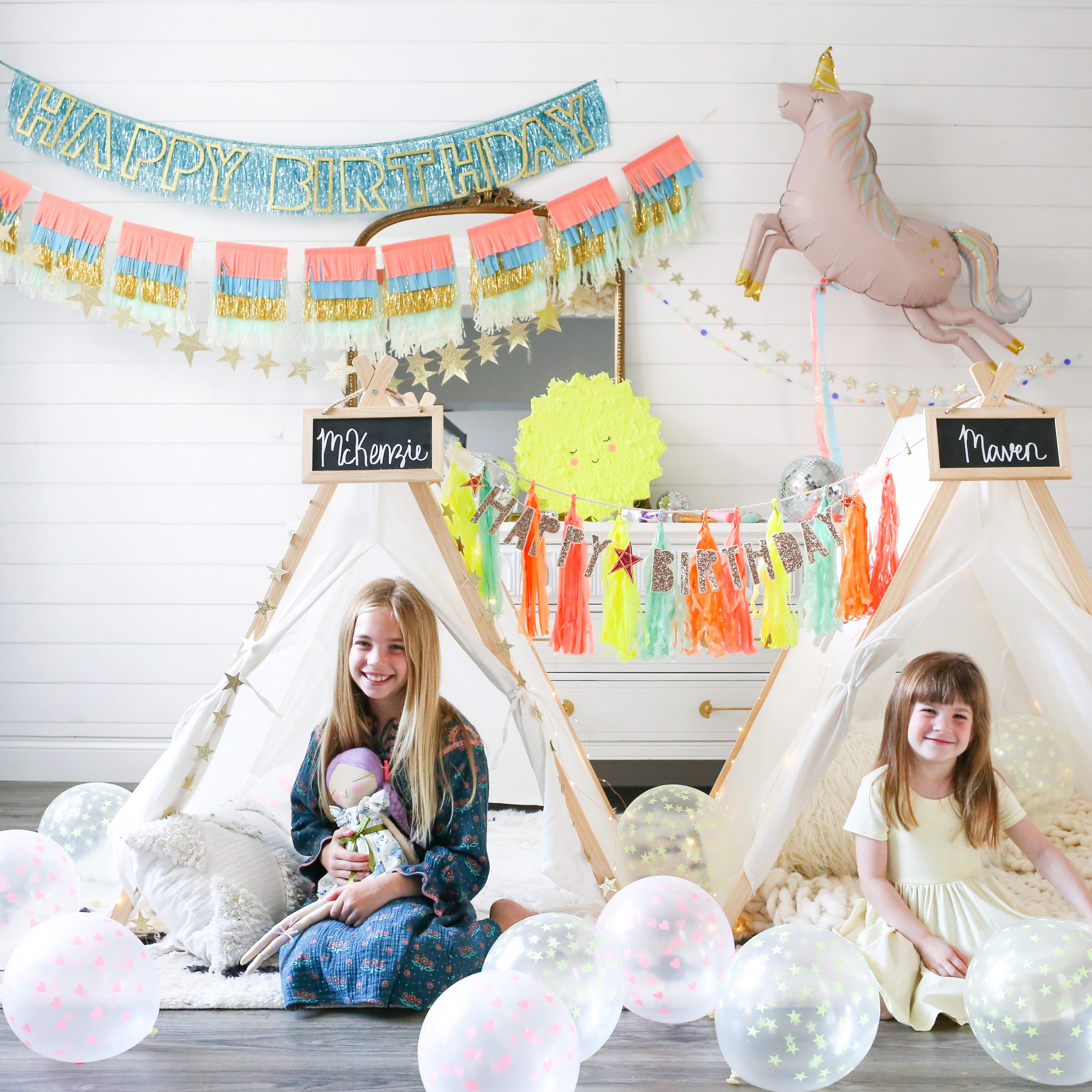 Never in a million years would I have imagined that we would be unable to go anywhere or have anyone over to celebrate McKenzie's 9th birthday. We had a surprise trip to Utah planned for her. She loves snow! 3 weeks before her birthday it became apparent that we would have to cancel our trip and plan for a celebration at home just the four of us. With having the kids home all day and doing homeschool I didn't have the time like I usually do to make party decorations. I turned to the whimsical party company Meri Meri for some inspiration. I knew I wanted it to be happy and bright. I found so many cute things on their site and knew throwing it all together would get me that carefree whimsical feeling I wanted. Keep scrolling for whimsical birthday celebration ideas.
I planned the day out with a timeline. I know that sounds a little over the top but I knew if I didn't have a plan that the day would get away from me. This was my plan.
7am-8am
Sprinkle Pancakes with Whip cream for breakfast
Blindfold her and surprise her with yard sign.
8am-11am
Online School
Class to sing to her.
11am-1pm
Scavenger Hunt for gifts
1pm
Star Cut out sprinkle sandwich with fruit
2pm-4pm
FaceTime with friends and family
4pm
Surprise Car Parade
4:30pm
Piñata
5:00pm
Make homemade pizza
6:00-7:00pm
Dinner and Cake
7pm
Play games.
8:30pm
Watch movie, family face masks, sleep in tents
Everything was so fun and the day was perfect. The huge yard sign was a hit. I rented it for the day. The company is
Sign Dreamers in North Broward County, FL. They come in the middle of the night or very early in the morning to set up the sign in your yard and then the following night they remove it. The rental was $80.
The scavenger hunt for her gifts was so much fun. I think I'll do this every year. She really had a blast. It made opening her gifts last a little longer. If you would like the Scavenger Hunt Clues click on this link to download the document from Dropbox. Cut the clues into strips and put in each spot along with the gift.
McKenzie is a very picky eater. Being creative with her food is so hard. I took her everyday foods she always eats and made them a little special. I made a cutout peanut butter sandwich with sprinkles. She was so excited about this. I used her disco ball cup, fun Meri Meri plates and napkins for a happy little setting.
I ordered two cakes for her. I know, I know one would have been enough. I have a local bakery that I absolutely love and since this Corona Virus mess has cancelled so many events I wanted to show my support for them and I knew I could always freeze the leftovers. The cookie cake was so gorgeous as is everything Earth and Sugar does and it tasted delicious. McKenzie loved that it was in the shape of a nine. The big cake was equally as beautiful and delicious. She was so surprised and so happy. The sparkler candle we used on her cake was a big hit too.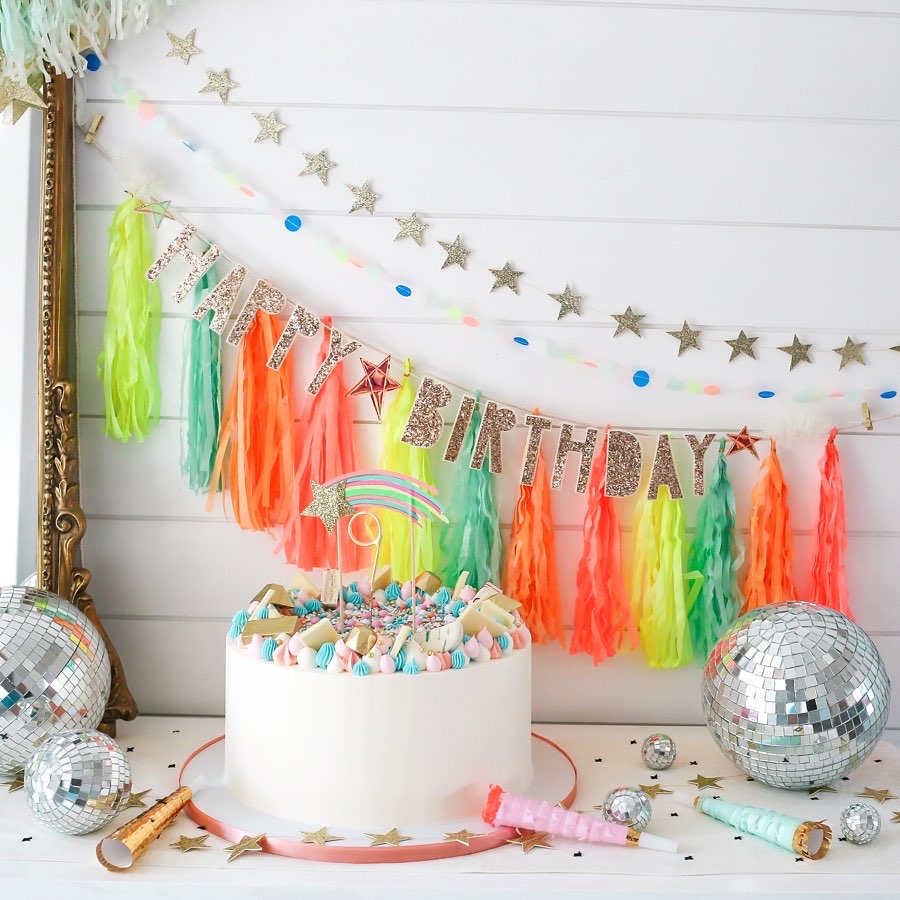 The car parade that her friends did for her was the highlight of the day. I told her I wanted to take her in the front yard to take a few more photos of her with the yard sign. When our friends came driving by with signs, hanging out of their cars, screaming and honking it brought me to tears. McKenzie was so surprised and so touched. Obviously it is not the ideal situation but we made the best of it. We are so thankful for our friends and family that went out of their way to make her day special.
The animal face masks from Amazon were so fun. My best friend sent them to her for her birthday. We all did one and watched a show together. After our face masks we tucked the girls into their tents. The tents are the perfect size for ages 4-12. They are from Overstock linked here. They absolutely loved them. I wrapped them with twinkle lights and put there duvets from their beds inside to make it comfy. The twinkle lights I use for everything are linked here. They are the best and come with a remote. Their zip up onesie pjs for their "slumber party" are from Target, linked here.  McKenzie slept like a baby in her tent and Maven ended up with me on the couch. We had a packed day of fun and I know she felt so special. She told me it was one of the best days of her life. Mission accomplished.