Rusty and I wanted to take our girls McKenzie (6) and Maven (1) on a vacation with nice spring weather, lots to do and blooming flowers of course (because that's important). Texas offers all of those things and more! We had a few friends that have been to Austin and loved it, so that was it! The flight from Fort Lauderdale is 3 hours and with Maven running around everywhere we figured we couldn't endure a flight that was much longer. We had a great time! The city is unique and has a vibe all of its own. I'm listing the top 10 things to do in Austin with kiddos in hopes it will help you a little when you decide to travel there!
1. Lady Bird Botanical Gardens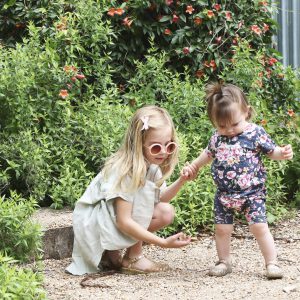 Wow! This was truly breathtaking. Gorgeous flowers everywhere, wide open fields to run in, a family garden that is geared towards children and their love for play. There is a beautiful tower there that McKenzie pretended like she was Rapunzel. Hidden spots for photos and a tiny door leading to a children's room with toys and crafts. This is a must see! Probably my favorite spot we went to.
2. Westcaves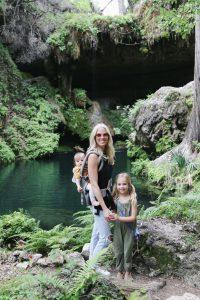 This was a great hike down to a gorgeous grotto/cave. The hike was fun and doable for 4 and up. Maven rode in her Lillebaby carrier and soaked up the giant trees and babbling brook. You have to take the guided tour to see the cave so call ahead to check out the tour times.
3. Torchy's Tacos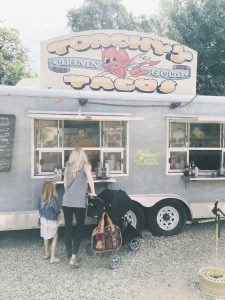 The tacos. The queso. The fried chocolate chip cookie balls. OMG dead. Enough said. Go there and order a dozen of those puppies. You will thank me later.
4. I love you so much mural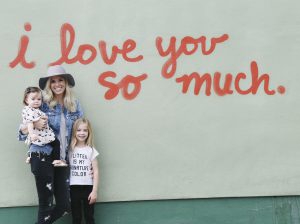 It really is the cutest photo op. It's on the side of Joes coffee. So check it out in the morning and grab a coffee and danish. So delish. Weekdays are the best. Weekends there was a line wrapped around the building.
5. The Bats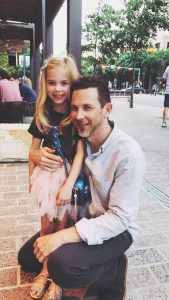 Yes I said bats. On Congress Bridge there are bats that come out in swarms at dusk. This was a daddy/daughter date because Maven was  in a mood and needed to go to bed. McKenzie loved it! Not something you do everyday. Don't blink or you might miss them!
6. JW Marriott Corner Star Restaurant
Ok, this might be for mom and dad too but hey don't we deserve a little bit of swanky? The food and service here are amazing. We took McKenzie here for her 6th birthday celebration and they treated her like a princess. Ask for Kevin he was great!
7. Day road trip to San Antonio
San Jose Mission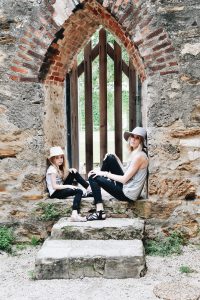 We wanted to venture out of the city for a day so we headed to San Antonio. We went to the San Jose mission where McKenzie earned her first Park Ranger badge! She loved that! This Mission is so beautiful. Great place for the kids to play and so many gorgeous nooks and crannies to take pictures.
Riverwalk boat
This was McKenzie's idea. I'm so glad we listened! It was a lot of fun to hear the history of San Antonio and the boat captain gave fun little facts about the city that we all thought was interesting.
8. Uchiko Sushi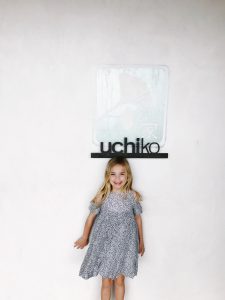 I know this is a list of the top ten things to do with kids but this you MUST do! If your kids are picky eaters like McKenzie just bribe them with candy to sit still and not speak while you experience the best sushi of your life. (Skittles work well) the ambiance, the staff and the SUSHI are unlike anything I have ever experienced.
9. Old Settlers Park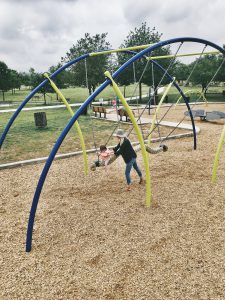 The wildflowers are gorgeous here. We had the girls photos taken in the wildflower fields and it was amazing. The blue bonnets, Indian paint brushes and the Mexican hats were in bloom. The playground there is unique and tons of fun. After the park check out Round Rock donuts they are so buttery. Melt in your mouth. We ate a lot while on vacation as you can see. 
10. Pedicab ride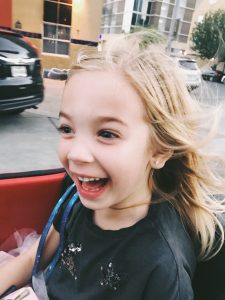 I know you can do this in any city but I never thought to do this with my kids. McKenzie was so excited to ride through the city. We had the most amazing time laughing and waving to everyone we passed. Sometimes the simplest of things turn out to be the best memories. I hope you've enjoyed reading about the top 10 things to do in Austin!
TOP 10 THINGS TO DO IN AUSTIN